Gluten Free Dog Treat Recipes
These gluten free dog treat recipes make it easy to give your dog tasty, delicious and nutritious homemade dog treats that won't cause the digestive upset that result from gluten intolerance.
Of course, your dog doesn't have to have problems with gluten to enjoy these treats!

Each recipe is packed full of natural, nutritious, healthy and flavorful ingredients which are actually good for him. 

Plus they come without the steep price-tag of store-bought or gourmet gluten-free dog treats. It's a win for both of you.
Are gluten free and grain free the same thing?
Actually, no they're not.
Gluten is a protein found in only certain grains... specifically barley, wheat and rye. Spelt, farro, durum, bulgur and semolina are all wheat varieties and do contain gluten.
Other grains such as buckwheat, oats, rice, corn and millet are gluten free.
You might like to check out my page on the different flours you can use for dog treats, it has loads of information and a whole host of different gluten-free options you can try.
Pros and Cons of Gluten Free Dog Diets
If your dog has been diagnosed with a gluten intolerance, then he will already be eating gluten free dog food and it's a no-brainer that you should also give him gluten free dog treats.
According to veterinary opinion, gluten intolerance is rare in dogs (with Irish Setters in the UK being the only breed with a congenital gluten intolerance) and it would seem that the vast majority of dogs don't need a gluten free diet.
Veterinary opinion about grains for dogs is also divided. A small number of dogs may have grain allergies, but beef, followed by dairy, are much more likely to cause allergies than grain.
Whether dogs actually NEED grains is also up for dispute, but research shows that dogs have evolved to digest carbohydrates (including grains) and do perfectly well as long as grain is just part of a well-balanced diet.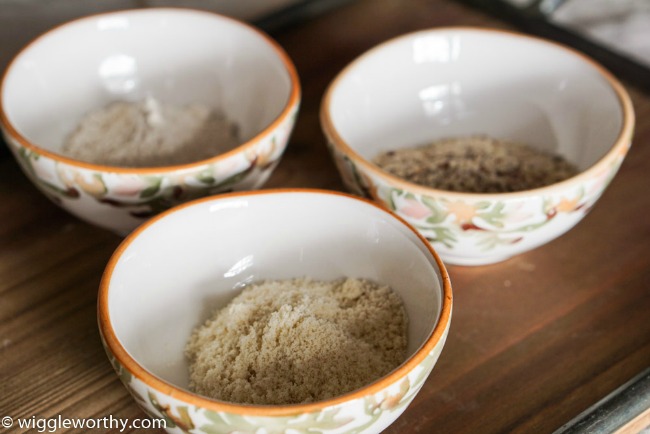 The FDA is also looking into the possibility that there is a link between grain-free diets and the condition of canine dilated cardiomyopathy (a heart condition). So balance is the keyword here.
The dog treat recipes on this page use a variety of different flours and natural, human-grade ingredients (including flour-less or frozen treats) so that there's more than enough variety, and healthy delicous-ness, to go around. 
Enjoy My Gluten Free Dog Treat Recipes
All these treats have all been dog-tested and approved by Ivan and Dax. I hope your dogs enjoy them as much as mine did.

This website is constantly a work-in-progress and I add new recipes weekly. I hope you enjoy making your own homemade dog treats so much that you come back regularly for new inspiration!
You Might Also Like These pages...
Gluten-Free Dog Treat Recipes