Peanut Butter Pumpkin Dog Treats
These tasty peanut butter pumpkin dog treats contain only naturally delicious, and nutritious, ingredients and are gluten free.
How sweet are these little flowers? Actually they're as sweet as they look because they contain a blend of creamy peanut butter, pumpkin puree, pure maple syrup and hint of cinnamon. Chopped pumpkin seeds add a little bit of crunch and the cute pumpkin seed decoration is the perfect finishing touch.
Of course your dog won't care how cute they look, but he will appreciate the yummy taste, so everyone will be happy.
Warning:
Remember to double check that your peanut butter does NOT contain Xylitol. This sweetener is toxic to dogs. Peanut butter doesn't need to contain anything other than peanuts!
Ingredients List
3 cups brown rice flour
1 1/4 cups oat flour
1/2 cup pumpkin puree
1/3 cup peanut butter (creamy or crunchy, your choice)
1/3 cup roughly chopped pumpkin seeds*
1 cup water
1 tbsp maple syrup
1 tsp cinnamon
* If you're making large treats you can add the pumpkin seeds whole if you want to, but for smaller treats they need to be chopped or it's impossible to cut them out properly. 
Yield:
This recipe makes approximately seventy-six, 1 1/2" peanut butter pumpkin dog treats
Instructions
Preheat oven to 350F
Line baking tray with silicone baking mat
Chop pumpkin seeds using sharp knife
In large bowl combine flour and cinnamon (sift oat flour into bowl to get rid of any lumps), stir to mix
In small bowl combine pumpkin puree, peanut butter and maple syrup
Stir chopped pumpkin seeds into flour mixture
Slowly mix wet ingredients into dry, alternate between adding pumpkin/peanut butter mixture and the water. Stir well each time
Form dough with your hands and knead well
Turn dough out onto a sheet of liberally floured wax paper
Use floured rolling pin to roll dough out to approximately 1/4" thickness
Cut dough into desired treat shapes using cookie cutter
Gently but firmly press one pumpkin seed into center of each cookie before baking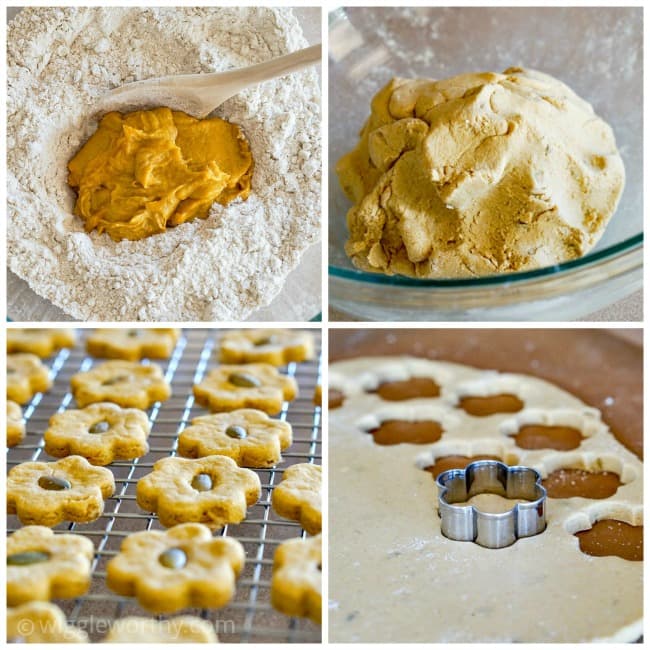 Bake treats at 350F for 30 minutes
Remove from oven and allow to cool completely
Store in airtight container in the refrigerator for 7 to 10 days
Working with this dough...
Dough made with gluten-free flour is often a little more difficult to work with than wheat flour dough. This peanut butter and pumpkin dog treat dough is soft, a little sticky and a little fragile so it needs to be handled with a bit of extra care. 
First of all I divide the dough in half, a smaller piece is easier to work with during the roll out stage.
I suggest you use a sheet of wax paper underneath the dough helps to prevent it from sticking too much (don't forget to put a silicone baking mat or some type of non-stick mat under the wax paper to prevent it slipping around). I don't use a second sheet on top, just a liberally floured wooden rolling pin and a light hand.
Gently lift and turn the dough two or three times to minimize sticking, dusting the paper underneath with more flour at the same time. Doing this with a big sheet of dough is much more difficult than with a smaller sheet which is why I divide it into two before I start rolling out.
I hope these tips make the rolling and cut out process a bit easier!
Nutrition Facts Per Treat:
Servings: 76 (one treat per serving)
Serving size: 15 g
Calories per serving: 41
Total Fat: 1.2 g
    Saturated Fat 0.2 g
Total Carbohydrates: 6.5 g
    Dietary Fiber 0.6g
    Total Sugars 0.4 g
Protein: 1.1 g

Vitamin A: 251 IU
Vitamin B3: 0.6 mg
Vitamin C: 0.1 mg
Vitamin E: 0.2 mg
Calcium: 4 mg
Folate: 3 ug
Iron: 0.3 mg
Magnesium: 15 mg
Manganese: 0.4 mg
Phosphorous: 39 mg 
Potassium: 39 mg
Selenium: 0.7
Sodium: 1 mg
Zinc: 0.3 mg


You Might Also Like These Recipes...
Peanut Butter Pumpkin Dog Treats
Peanut Butter Pumpkin Dog Treats