About Us
We're so happy to have you here at Wiggleworthy.com, thank you for visiting and let's get those introductions started!
We'll start with me, Sue, the human member of the Wiggleworthy team. I wear a lot of  hats around here:  creator of recipes, baker of recipes, writer of recipes and Jill-of-all-trades when it comes to everything website building and blogging related.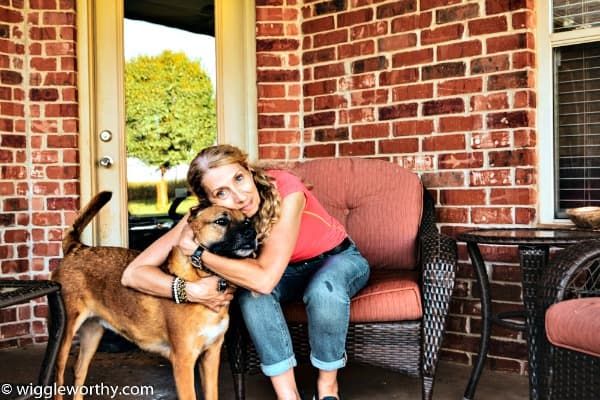 Me, loving on my son's dog Radar
Then, we have the canine team members, Ivan and Dax...


Ivan - Senior Taste Tester at Wiggleworthy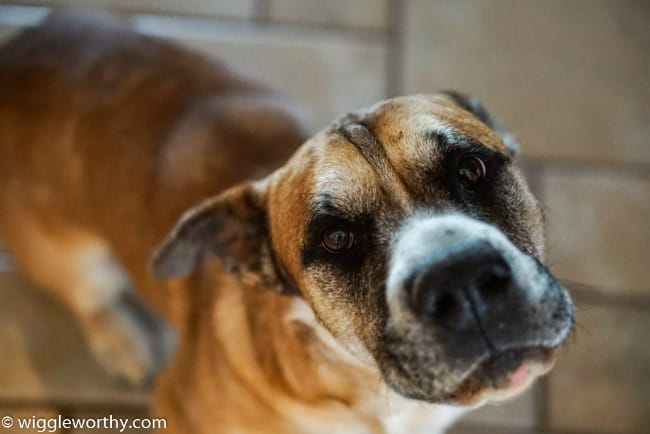 Ivan is (at our best guess) a Basset Hound/Great Dane mix. Yes, that is as odd as it sounds. His short legs and long body are definitely Basset-ish and his big head is Great Dane-ish. For reference he looks a lot like Scrappy Doo, just shorter. 

He's the sweetest boy and, at around seven or eight years old, is the most experienced in-house taste tester.

Ivan's work history is a little spotty as I adopted him from the city pound a few years ago and he had no background information other than 'stray'.
Luckily, that hasn't been a problem and his Basset Hound sense of smell is a bonus on the job. Ivan takes his role seriously and is so happy to come to work every day that he is the wiggle behind wiggleworthy.com


Dax - Junior Taste Tester at Wiggleworthy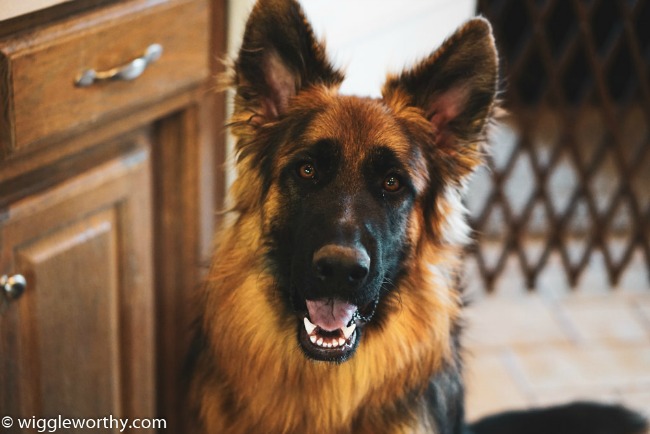 Dax is purebred, plush coat German Shepherd and in spite of being three times Ivan's size he is still the little brother! 
Dax enjoys his job immensely. He's a teenager right now so his work ethic isn't always up to par, but that will improve as he matures. 
This beautiful boy has the dubious distinction of being the only dog I've ever owned (or met for that matter) who doesn't like peanut butter. I've owned, raised and trained dogs my entire life, that's a lot of decades, and never come across a dog who didn't love the stuff with a passion.
I guess there's a first time for everything... and Ivan is very happy to be the only qualified taste-tester of dog treat recipes which have peanut butter as an ingredient!


Sue - Recipe Creator/Baker & Webmaster
A life-long dog lover, I've owned, trained, loved (and been loved by) many dogs over several decades (I'd rather not count how many decades right at this moment).
I'm a vegetarian and interested in eating healthy, and that approach extends to my dogs too as I'm careful about what they eat. I was never a huge fan of cooking big meals but I've always loved to bake and making  homemade dog treats is a great way to keep my boys safe from questionable (or even dangerous) ingredients plus it's a fun hobby.
I've been an entrepreneur and website owner for almost twelve years now (I have another website devoted to all aspects of dog care) and love the freedom it gives me to work flexible hours from home and spend more time with family, while using my experience to help other dog owners take better care of their pets.
All of these things seemed to come together when I decided to combine my love of dogs, healthy food, baking and website ownership to create wiggleworthy.com and both Ivan and Dax thoroughly approve of this new venture.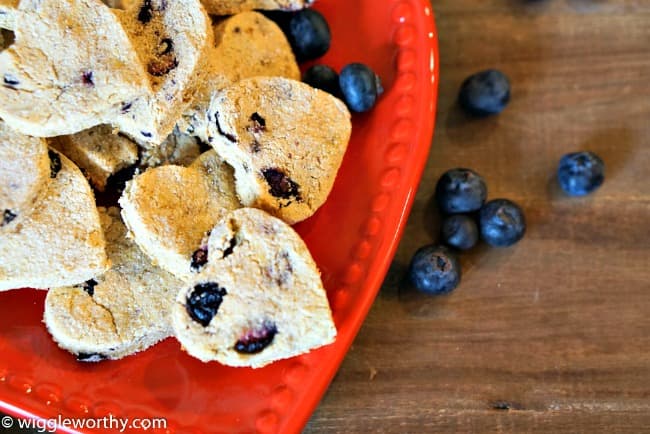 I hope you enjoy all the dog treat recipes on our website. Each one has been carefully created and lovingly taste-tested to make sure that you can create the same delicious goodies for the dogs in your life. If you have fun making them, and your dogs have fun eating them, our mission is accomplished.

Thanks again for visiting, please come back and see us often. New recipes and articles are added regularly!