Making Dog Treats
Making dog treats at home is my favorite way to spoil the fur-babies in my life.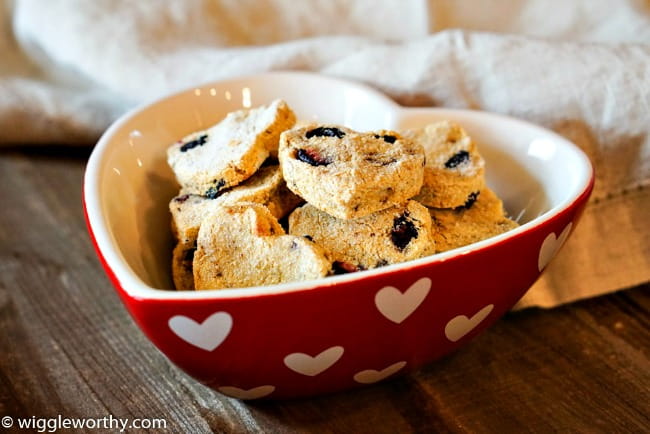 Banana, Pumpkin & Blueberry Hearts
It takes a little more time and effort to actually make your dog's treats, rather than buying them from the local pet store or dog-treat bakery, but the end results are fresher, healthier, and much tastier. 

I'm not a great cook and am intimidated by complicated recipes, but I've always loved to bake and my dogs are always appreciative of my efforts. I'd bet yours will be too.
Why Homemade Dog Treats?
There are so many reasons why homemade dog treats are a better choice for your pooch than store-bought ones.
Quality of ingredients is the number one thing that tells them apart.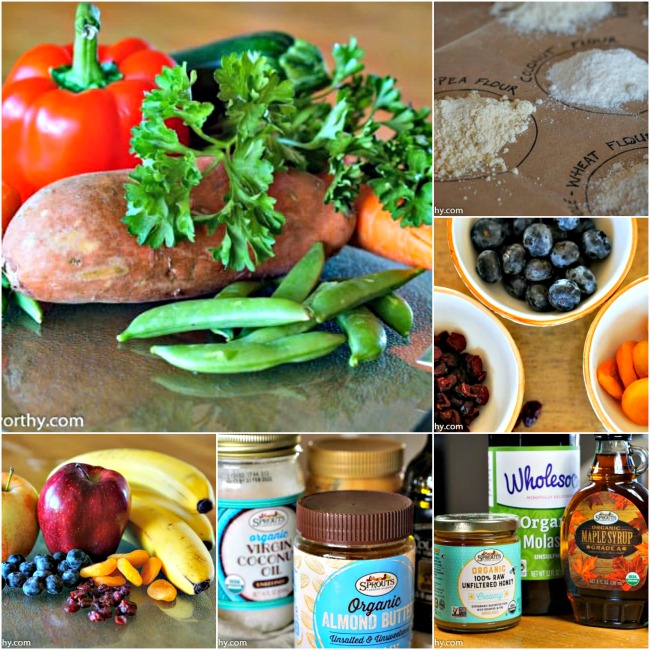 If you look at the label on many popular dog treats you'll see ingredients such as meat by-products, sugar, sodium metabisulfite (a preservative which is a hazardous, highly corrosive substance), propylene glycol, artificial colors and flavors etc. etc. None of these are actually good for your dog.

Some treats are manufactured in countries where ingredient and manufacturing guidelines and regulations are less stringent than they are here in the US. In the past this has lead to serious illness, even death, in dogs who have eaten treats containing chemicals such as melamine, or contaminated ingredients.
When you make your own treats you know exactly what your dog is eating. You can also tailor them to meet his individual taste and any health conditions or allergies he may have.
Common 'People Food' which is Poisonous for Dogs
It's important to know which people-foods are dangerous for our dogs to eat so that you don't inadvertently give your dog a treat which could hurt him. You might be surprised by a few of the items on that list!
It's also easy to make treats which are the right size for your dog when you're in control of their creation!

Small dogs obviously need smaller treats. Older dogs often prefer soft treats. Big dogs might love substantial, crunchy treats. 
If you're making treats to use for training you want them to be tiny, and tasty, because you may be giving your pup a handful a day. 
In the same way we moderate the treats we give ourselves (eg. donuts, ice-cream etc.) so that we don't sabotage our weight goals or health, it's important to be careful about how many treats you give your dog on a daily basis. Use common sense and offer larger treats sparingly. Of course you can always break up the larger ones too.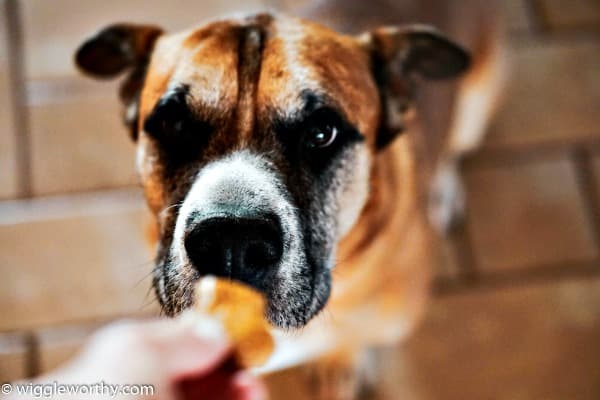 We all know that made-from-scratch home baked cookies and cakes just taste so much better than store bought ones, and the same applies to dog treats and cakes. Your pup definitely knows the difference!
You also know that his yummy goodies are fresh... and of course made with love.
Oh, and there's always the $$$ savings you'll get from using homemade dog treat recipes rather than buying from the store on online.

Many of the generic, popular dog treats cost between $5 and $10 per bag/container. Organic, all-natural or gourmet dog treats will set you back a whole lot more.
Once you've got the basic ingredients in your cupboard you can get so much more for you money by making your own treats (depending on what type you buy you will at least halve your dog-treat-budget, most likely even better), and they'll be healthier, safer and tastier too!
No Special Requirements
Another great thing about making dog treats is that you don't need any special equipment, and you're likely to have the ingredients for at least one recipe in your pantry right now.
If you bake/cook at home regularly, you're probably even further ahead of the curve!
All you'll need to get started are some mixing bowls, measuring spoons, a measuring jug/pitcher, a rolling pin, a wooden spoon, baking sheets, parchment paper and a wire cooling rack. Oh, and if you want to make dog cakes you'll need a cake pan, muffin pan or cupcake pan.
Check out this page to find out which baking items I love to use to find out which baking items I love to use, which ones make the process easier, and which ones are just fun to use!
Banana, Carrot & Parsley dog treat dough
Airtight storage containers are perfect for left-over dough or mixture if you want to keep it to use later.
When measuring ingredients for your recipes use dry measuring cups for flours, oats and other similar ingredients. You'll also want to use them to measure semi-liquid things like peanut butter, applesauce or pumpkin puree.
Use a clear measuring pitcher/jug for liquid ingredients such as water, bone broth, milk and so on.
You can use small measuring spoons for dry ingredients like seeds, salt, cinnamon etc. and also for liquids like honey, molasses and other sugar substitutes.
A little extra help...
I've shared some of my favorite tips and tricks for making homemade dog treats HERE, I hope they help you have even more fun when creating goodies for your special good boy or girl.

All the dog treat recipes and dog cake recipes on this site use human-grade ingredients, and the majority of those are also natural, organic and non-gmo. That's because this is how I eat, so my dogs do too.

If you plan on making treats for your pups regularly you may want to buy some dog-themed cookie cutters or some small cake molds, but you can start out with any type of cookie cutter or baking pans.
Dog treat storage is important, because you want to keep those tasty goodies you slaved over nice and fresh, for as long as possible. Although, if your dogs are like mine those tasty treats won't last too long!
You want to store dog treats and cakes in airtight containers.
Some can be safely stored at room temperature, others (especially moist or meat-based treats) should be refrigerated. 
Making dog treats at home can be quick-and-easy-done-in-thirty-minutes, or it can be an afternoon spent baking and decorating multiple goodies.
Both options are going to produce yummy treats your dog will love, the rest is up to you!
Dog Treat Ingredients
One of the fun thing about creating dog treat recipes is that I can experiment with different combinations of ingredients.

Some ingredients are easy to substitute, others (especially flours) can be a little tricky. Check out my page on making substitutions to find out what your options are, and how to get it right.
Dogs have different tastes to humans, and although I try to combine ingredients that sound compatible sometimes it's the less intuitive ones that my crew like the best.

Every recipe on this site produces treats which are totally safe for people to eat... but of course they are designed with the doggie palate in mind, not the human one. 
In addition to using natural, organic, human-grade ingredients, the recipes are also geared towards using foods that our dogs naturally enjoy and which are safe for them to eat.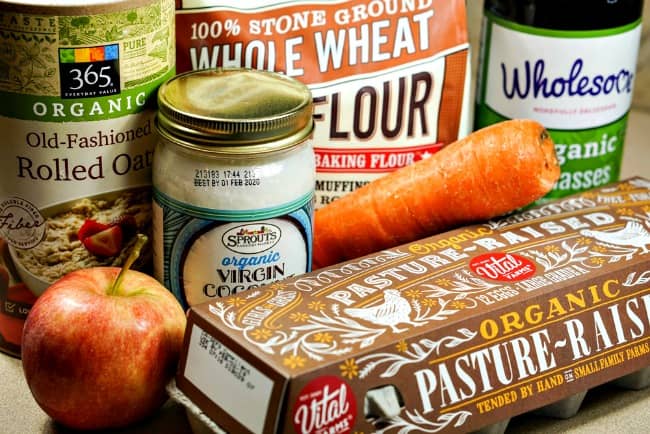 If you follow recipes from my site you don't have to worry about the quality of ingredients, you won't find any questionable ones here!
A Versatile & Customizable Dog Treat Recipe!
If you feel creative and would like to try making unique treats that take into account your dog's taste, health and/or allergies as well as the ingredients you have on hand, check out this page for a DIY recipe that lets you mix-and-match ingredients for custom-made treats!
You Might Also Like These pages...