Banana Carrot Dog Treats
These banana carrot dog treats are loaded up with a whole host of healthy ingredients and the end result is a super-tasty, wholesome and crunchy treat that will be a hit with your four-legged family members.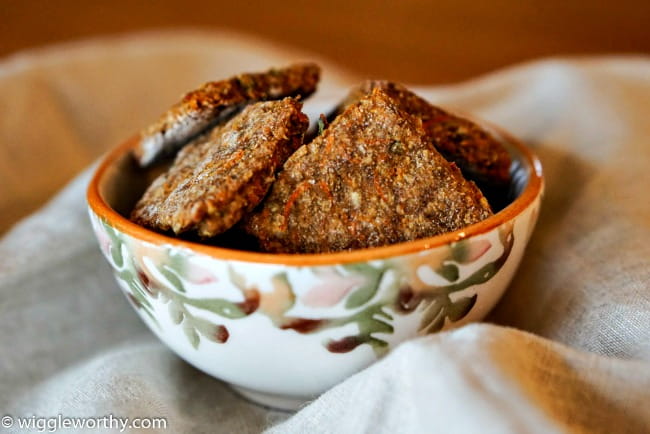 As my German Shepherd, Dax, doesn't like peanut butter (yup, apparently there are dogs of this persuasion, who knew?) I like to make all sorts of dog treat recipes for him to try.
These treats are a favorite!
Of course, what's not to love in this recipe? Crunchy carrots, sweet bananas, fresh parsley, dark and delicious molasses..... they really are pretty amazing.
Ingredients List
1 cup whole wheat flour
3/4 cup oat bran hot cereal mix
1 cup mashed banana 
2 carrots (medium sized)
2 tbsp extra-virgin olive oil
1 tbsp unsulphured blackstrap molasses
2 tbsp fresh parsley (chopped)
1 egg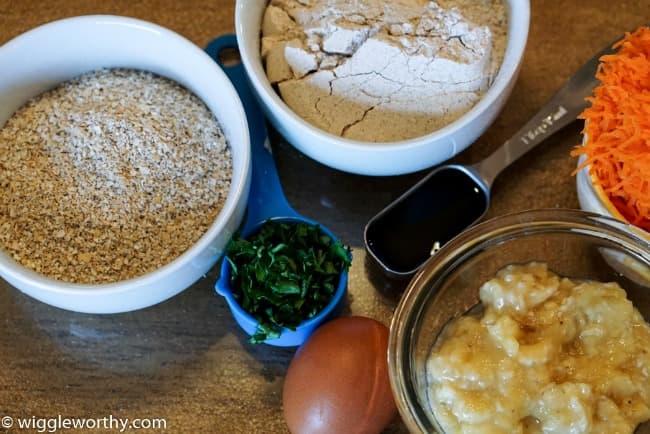 Yield:
This recipe makes approx. thirty-two 1 1/2" square treats.
Instructions
Preheat oven to 350F
Line baking tray with parchment or silicone baking mat
Grate carrots
Mash banana with fork
Chop parsley
Mix flour and oat bran together in large bowl
Add egg and molasses, stir well
Add olive oil and stir into mixture
Add grated carrots, chopped parsley and mashed bananas. Mix well
I like to use finely grated carrots in this recipe because the dough is rough-textured and sticky. Using coarsely grated carrots makes it even trickier to cut out the treats. But as with any recipe, feel free to do it your way, improvise, make substitutions etc!
Form dough into a ball, adding more flour as needed 
Place wax paper on work surface and dust lightly with flour
Put dough on floured paper and press flat using your fingers/hands
Cut dough into desired shapes (simple shapes work best with this dough)
Bake treats on lined baking sheet at 350F for 30 minutes (soft treats)
If you want crunchier treats turn off oven, crack open door, and leave for another 20 minutes
Remove treats from oven and allow to cool completely
Working with this dough
The dough in this recipe is rough textured and sticky, which means it's a little tricky to work with, you'll definitely need to use extra flour during this stage.
There are a couple of ways to deal with it. I like to use lightly floured wax paper underneath, and my fingers/hands to flatten the dough to about 1/4' thick. 
Alternatively you can use flatten the dough a little with your hands, then use a sheet of wax paper on top and a rolling pin to roll out the dough. Be warned, dough might stick to top paper so peel back gently and slowly.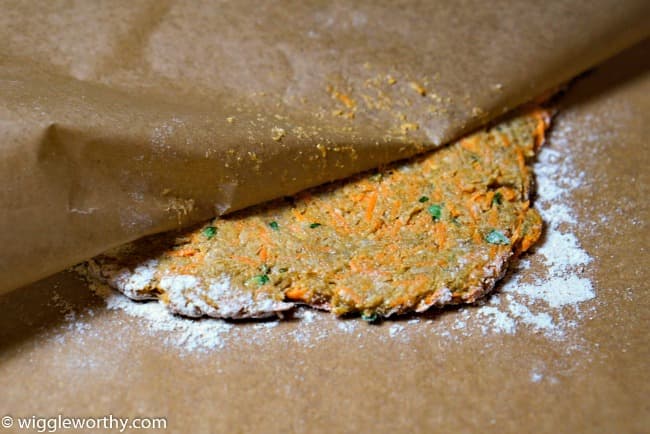 Store treats in an airtight container in the refrigerator for 7 - 10 days. Crunchier treats stay fresher longer.


By the way, these treats smell amazing when they're baking... a bit like banana bread!
Nutrition Facts Per Treat:
Servings: 32
Calories per serving: 40
Total Fat: 0.99g
    Saturated Fat 0.2g
Total Carbohydrates: 7.8g
    Dietary Fiber 1.2g
    Total Sugars 2.2g
Protein: 1.32 g
Vitamin A: 680IU
Vitamin C: 0.8mg
Vitamin D: 2IU
Vitamin E: 0.14mg
Calcium: 8mg
Iron: 0.43mg
Magnesium: 0.31mg
Potassium: 100mg
Zinc: 0.23mg


You Might Also Like These Recipes...