Peanut Butter & Carrot Dog Treats
These peanut butter and carrot dog treats are wholesome, delicious, nutrient dense goodies.
Your dog will love them because they're savory, crunchy... and have a touch of sweetness. You'll love them because they're full of ingredients which are good for him.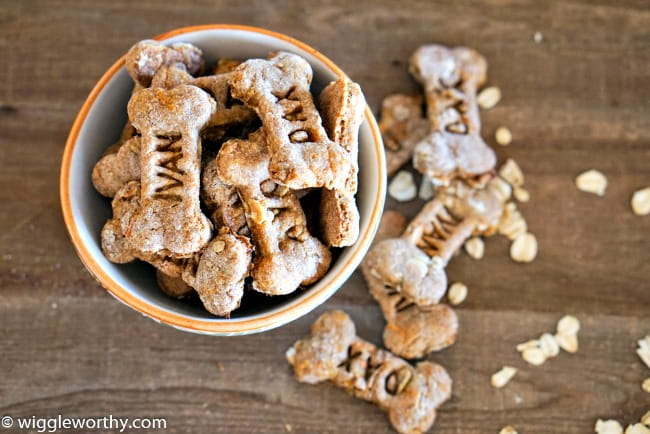 I Love My Personalized Dog Treat Cookie Cutters!
An easy to make recipe that harnesses vitamin rich carrots, protein packed peanut butter, heart healthy rolled oats and the super-food bone broth (plus a dose of nutrient rich wheat germ). 
It's also a versatile recipe!
You can substitute water or milk for the bone broth if you don't have any on hand.
Almond butter works well to replace the peanut butter if you want a slightly different flavor.
If you don't have wheat germ on hand, just leave it out and increase the whole wheat flour to 2 cups.
Warning:
Remember to double check that your peanut butter does NOT contain Xylitol. This sweetener is toxic to dogs. Peanut butter doesn't need to contain anything other than peanuts!
Ingredients
1 1/2 cups whole wheat flour
1 cup rolled oats
1/2 cup wheat germ
1/4 cup creamy peanut butter
1/2 cup grated carrot (approx. 1 medium sized carrot)
3/4 cup bone broth (I used chicken)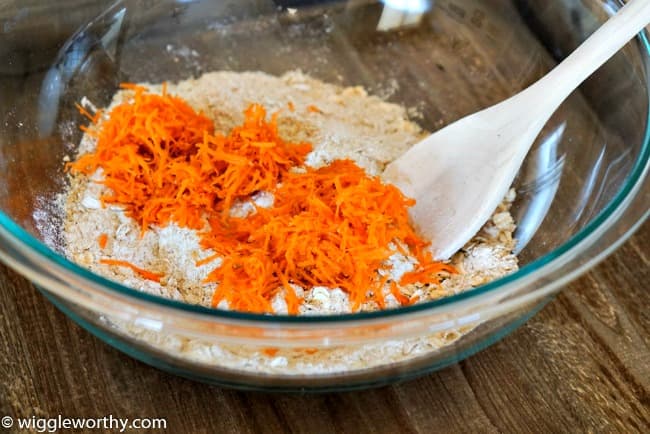 Yield:
This recipe makes approximately fifty-six, 2" dog bone shaped treats
Instructions
Preheat oven to 375F
Line baking tray with parchment or silicone baking mat
Coarsely grate carrot (washed but not peeled)
Put flour, oats and wheat germ into large bowl
Stir well with wooden spoon to mix
Add grated carrot and stir into flour mixture
Add peanut butter and bone broth and stir well to combine all ingredients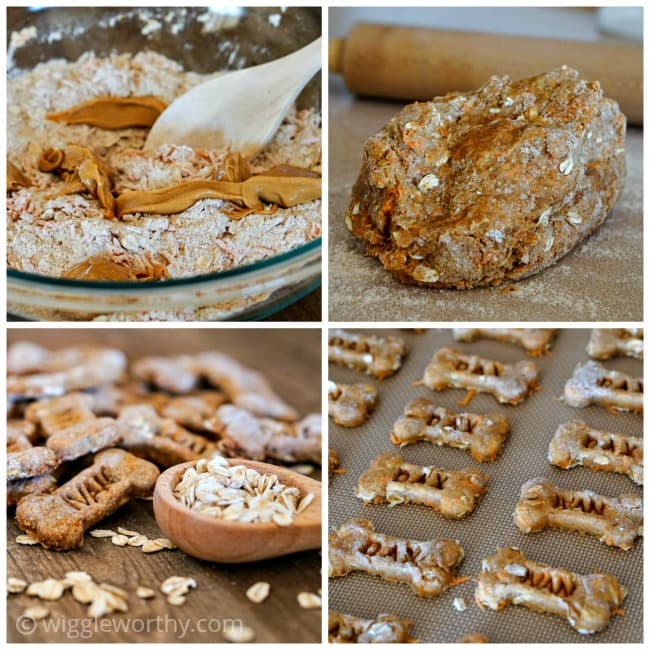 Although it's pretty easy to work with, when rolling out this dough I like to flip and turn it often to prevent sticking. Sprinkling flour underneath when you turn it, and re-flouring the rolling pin also help. 
Use your hands to form dough
Turn dough out onto floured work surface
Use floured rolling pin to roll dough out to 1/4" thickness
Cut out treats using cookie cutter or sharp knife
Bake at 375F for 25 minutes
Remove from oven and allow to cool completely
Treats can be stored in an airtight container in the refrigerator for up to two weeks
If you want crunchier treats, turn off the oven after 25 minutes, crack the door open and leave them in there for another 20 minutes or so.


Nutrition Facts Per Treat:
Servings: 56 (one treat per serving)
Serving size: 13 g
Calories per serving: 29
Total Fat: 0.5 g
    Saturated Fat 0.1 g
Total Carbohydrates: 5.0 g
    Dietary Fiber 0.8 g
    Total Sugars 0.2 g
Protein: 1.2 g

Vitamin A: 164 IU
Vitamin B3: 0.3 mg
Vitamin C: 0.1mg
Calcium: 4 mg
Folate: 6 ug
Iron: 0.3 mg
Magnesium: 13 mg
Manganese: 0.4 mg
Phosphorous: 37 mg 
Potassium: 39 mg
Zinc: 0.3 mg


You Might Also Like These Recipes...
Peanut Butter & Carrot Dog Treats
Peanut Butter & Carrot Dog Treats