Multi Grain Peanut Butter Dog Treats
These multi grain peanut butter dog treats are the ultimate in crunchy, healthy deliciousness.
If you're looking for a hearty dog treat recipe that packs a powerful nutritional punch, this is it.
My dogs love treats of all kinds, they're not picky, but they especially love the crunchy ones. They're not tiny dogs so BIG crunchy goodies are even better and this recipe is one of their favorites especially when I use my large dog bone cookie cutter.
And it's not just the dogs that love these. I don't eat them (although I could if I wanted to, all ingredients are human-grade and delicious in their own right) but I know what goes into them, and every single ingredient is healthy and nutritious. For me, this is one of the best things about making dog treats at home. Peace of mind.
That, and happy dogs of course!
Warning:
Remember to double check that your peanut butter does NOT contain Xylitol. This sweetener is toxic to dogs. Peanut butter doesn't need to contain anything other than peanuts!
Ingredients List
2 cups whole-wheat flour
1/2 cup rolled oats
1/3 cup creamy peanut butter
1/2 cup virgin olive oil
1/2 cup wheat germ
2 tbsp sunflower seeds (unsalted)
2 tbsp nutritional yeast
1 tbsp whole flax seeds
1 tbsp ground flax seeds
1 tbs blackstrap molasses
1 tsp brewers yeast
1/4 tsp pink Himalayan salt
1 cup bone broth (I used chicken)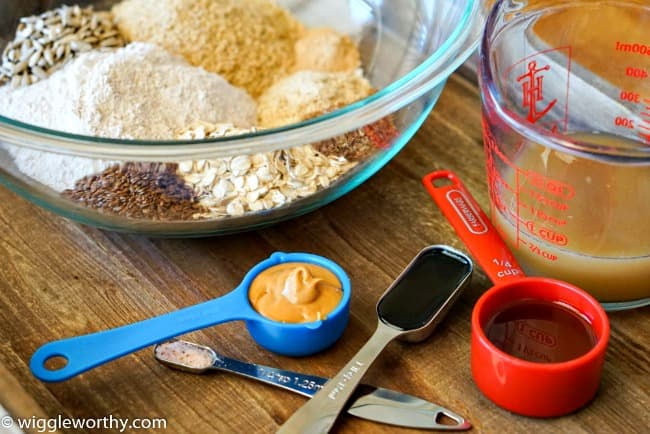 Yield:
This recipe makes approximately eighteen, 3 1/2" bone shaped dog treats.
Instructions
Preheat oven to 350F
Line baking tray with parchment or silicone baking mat
Combine all dry ingredients (except salt) in large bowl
Stir really well with wooden spoon to combine 
Sprinkle salt over dry ingredients and stir in
Add peanut butter, molasses and olive oil and stir into dry ingredients
Stir until mixture looks like coarse breadcrumbs
Add bone broth a little at a time, stirring well to mix
Use your hands to form dough, it shouldn't be too sticky or too dry
Add extra flour or water if needed to get the right consistency
Divide dough in half (dough is fairly heavy-duty and this makes it easier to roll out)
Place first piece on lightly floured surface 
Use lightly floured rolling pin to roll dough out to 1/4" thickness
Cut out desired treat shapes using cookie cutter
Repeat rolling and cut-out with second half of dough 
Bake at 350F for 25 - 30 minutes
Remove from oven and allow to cool completely
Treats can be stored in airtight container for up to two weeks in the refrigerator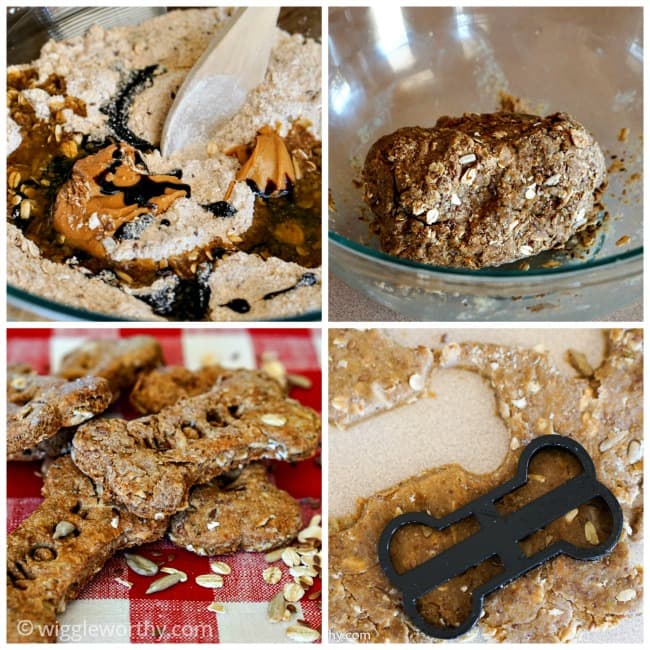 Sometimes I brush egg white onto these treats before I put them in the oven, it gives them a shiny appearance when baked. My dogs don't care either way but I like to change things up now and then!
These multi grain and peanut butter dog treats smell delicious when they're in the oven, and to be honest even the raw dough smells good. If your dog is like mine, he'll be standing guard waiting for these beauties to be ready to eat.
Nutrition Facts Per Treat:
Servings: 18 (one treat per serving)
Serving size: 49 g
Calories per serving: 163
Total Fat: 10.2 g
    Saturated Fat 1.5 g
Total Carbohydrates: 15.7 g
    Dietary Fiber 2.8 g
    Total Sugars 1.5 g
Protein: 4.9 g

Vitamin A: 1 IU
Vitamin B1: 0.7 mg 
Vitamin B3: 4.5 mg
Vitamin E: 1.2 mg
Vitamin K: 4 ug
Calcium: 21 mg
Folate: 112 ug
Iron: 1.2 mg
Magnesium: 51 mg
Manganese: 1.2 mg
Phosphorous: 130 mg 
Potassium: 194 mg
Zinc: 1.1 mg


You Might Also Like These Recipes...
Multigrain Peanut Butter Dog Treats