Dog Treat Ingredients
When it comes to dog treat ingredients, the world is your oyster.... metaphorically speaking!
There is a huge variety of delicious foods and tastes that you can add to your homemade dog treat recipes, there's literally something for every dog.
You'll find all the best ingredients to use in homemade dog treats, plus a quick look at the ones that aren't safe, right here.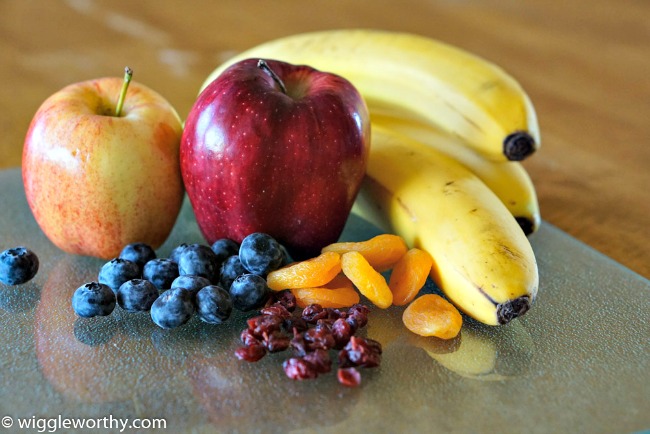 One of the fun parts of making dog treats for my boys, is choosing the ingredients. I know what each dog likes, and what they need.
I have a tried-and-tested list of my favorite dog treat ingredients I just love playing around with different ingredient combinations and ingredient substitutions to come up with a tasty new favorite, or two.
Quick Links:
Every recipe on my site includes only natural, wholesome, human-grade ingredients, each one chosen for it's nutritional value as well as it's taste or texture.
I don't want to feed my dogs anything that's unhealthy in any way, and I'm sure you feel the same. I don't eat junk, so I don't think they should either.
You be confident that the dog treat recipes you'll find here are packed full of nothing but healthy deliciousness! 
Find out which common human-safe ingredients are NOT safe for our dogs HERE .
My Favorite Dog Treat Ingredients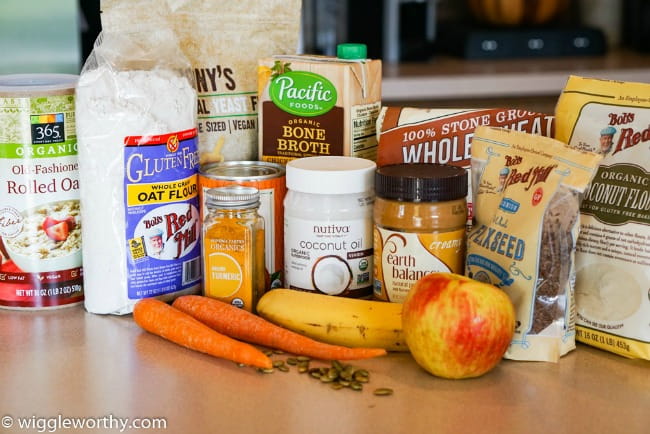 When I'm making treats for my dogs I use a ton of different wholesome and healthy ingredients so that they get plenty of variety and maximum nutrition. I only buy premium ingredients and use organic and all-natural  whenever possible.
Over time I've built up a selection of favorite (and versatile) ingredients which have become my 'go to' choices if I'm in a hurry, not feeling especially imaginative or creative, or just want to make some yummy treats that I KNOW will turn out right and my boys will love.
You'll build your own list of favorites over time, but here's a quick look at mine to get you started.
Click on any link to learn more about that particular ingredient:
But don't forget to have fun with ALL the possible ingredients, and combinations of ingredients, that you can use in your own homemade dog treat recipes!


What's In A Dog Treat Recipe?
This is a bit like the question 'How long is a piece of string?'  Because there are an infinite variety of choices (as there are lengths of string!).
Some simple and quick homemade dog treat recipes have only two or three ingredients. Others have many more. Most ingredients have one or more substitutes which can be used to change the flavor or texture of the treat, or to accommodate health conditions (such as gluten-intolerance) or allergies.
But, there is some structure to the process and certain basic groups of dog treat ingredients which come into play in most recipes. There are flours, fats, fruits, vegetables, herbs, meats, seeds and more.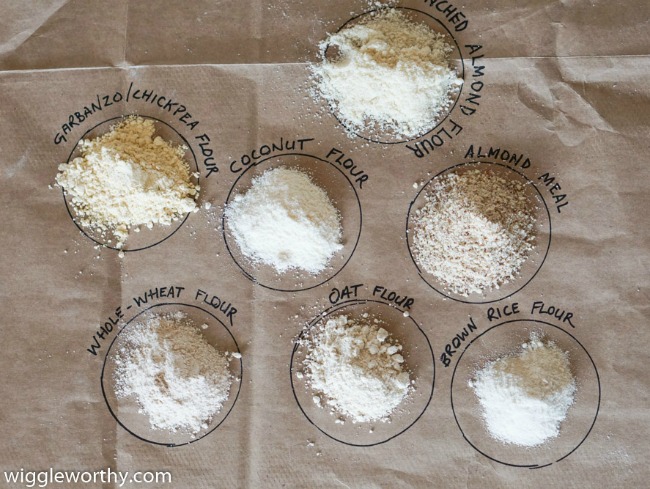 This page takes a look at the big picture, and also links to other pages which take a closer look at some of the ingredients mentioned, either by group or by individual item. 

I've also given a brief overview of the nutritional value and make-up of each ingredient listed below. 
Which Flours For Dog Treat Recipes?
If you're wondering what type of flours can be used in dog treat recipes, the answer is 'several different kinds'. Here are just a few of my favorites.
Wholewheat Flour
Made by finely grinding the whole wheat kernel. Contains the full range of nutrients found in wheat. 
Almond Flour
Almond flour is made from blanched and skinned almonds, which are then finely ground. Gluten and grain free.
Brown Rice Flour
Brown rice flour is finely ground brown rice (no kidding!). Gluten free.
Buckwheat Flour
Buckwheat is not a grain, it's actually the seed of a flowering plant which originated in Asia. Buckwheat flour is low carb, gluten free and grain free.
Chickpea Flour (aka Garbanzo Bean Flour)
Made from ground chickpeas, this flour is grain free and gluten free.
Coconut Flour
Made from ground coconut meat (the white part of the coconut). Gluten free and grain free.
Oat Flour
Made from ground oats. Gluten free.
Quinoa Flour
Quinoa flour is made from finely ground quinoa seeds. Gluten and grain free.
Sorghum Flour
Made from finely ground whole grain sorghum. Gluten free
Find out more about flours...
Learn about each flour listed above... nutrients, texture, taste, recipe recommendations and more Flour for Dog Treat Recipes.
If you're interested in making a gluten free flour blend which you can use to replace whole-wheat or all purpose flours on a cup to cup basis check this article out Gluten Free Flour Blends for Dog Treat Recipes
Adding Sweetness to Dog Treat Recipes
Although dogs don't need extra sugar in their diets, they do enjoy a little taste of sweetness and there are lots of healthy ways to add this to your dog treat recipes.
When you think 'sugar alternatives' you thoughts might immediately go to artificial sweeteners, but those are NOT what I mean.
Instead, I'm talking about the nutrient dense, naturally occurring sweeteners which add more than just a little yumminess to your baking.
Popular sugar substitutions for Fido's treats include:
Barley Malt Syrup
Blackstrap Molasses
Carob
Coconut Sugar
Coconut Syrup
Honey
Maple Syrup
Stevia
A little bit of sugar occasionally won't hurt a healthy dog, and if I do use sugar in a dog treat recipe it is usually brown sugar. If you've ever started a recipe only to find your brown sugar is rock solid, check out this page for tips on how to soften it, and to keep it that way.
It's also worth knowing that there are a handful of sugar alternatives which are not good for your dog, and one that is downright deadly and should be avoided at all costs.
Find out more about sweeteners...
Find out more about sugar alternatives for dogs, including the nutritional benefits and flavors of each one.
Plus learn which sweetener is poisonous to your dog (spoiler alert, it's Xylitol) and the surprising foods it might be hiding in HERE

Best Fruits & Vegetables for Dog Treats 
There are loads of different fruits and vegetables which you can safely include in your homemade dog treats. There are also a handful which are NOT safe and should not be fed to dogs in any way.
Below are lists of the most popular fruit and vegetables used in dog treat recipes, they will give you plenty of options to get started with. Once you are comfortable making your own treats you may want to mix and match ingredients to suit your dog's taste, or what you have in your larder. This is fine, and for me it's one of the fun parts. You might find the same thing.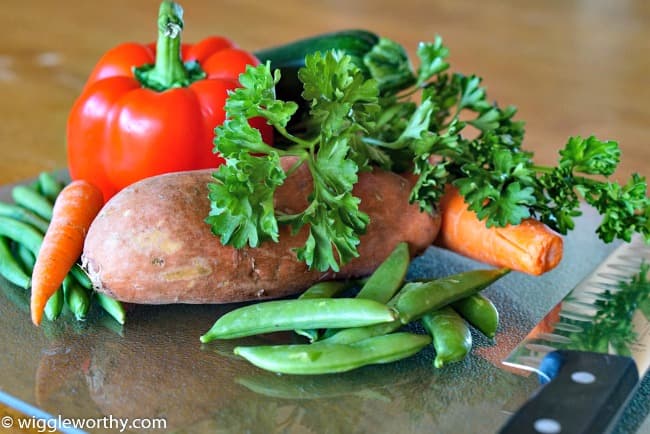 Every fruit or vegetable below is nutrient rich and will add value to your dog's diet.
There is an ongoing debate as to whether or not dogs actually need fruits, vegetables, grains etc. in their diet at all, but whether they do or not, there's not denying that most dogs enjoy some, maybe all, of the dog-safe fruits and veggies we give them, and they're all nutritious choices.
As with anything, moderation is key, and keep the number of treats you give your dog at a level which doesn't impact his weight (gain) or health. If you're ever in doubt about whether or not an ingredient is okay for your particular dog, please ask your veterinarian before offering it.

Dog Treat Ingredients - Fruit
Apples
Bananas
Blueberries
Cranberries
Pineapple
Dried Apricots


Dog Treat Ingredients - Vegetables
Bell Peppers
Carrots
Green Beans
Peas
Pumpkin
Sweet Potato
Zucchini (Squash)
Using fresh veggies is the best way to add their goodness to your homemade dog treats, but frozen or even canned options can work... and are definitely better than not using them at all.
Whether they're added to baked treats or frozen ones, dehydrated to make long-lasting healthy chews, or just given alone as a tasty treat, the nutrients from vegetables are so valuable to your dog.
A super simple and versatile option is to add pumpkin puree to your treats. My site features loads of pumpkin-rich dog treat recipes and there's also a page all about pumpkin, which includes how to whip up some homemade pumpkin puree yourself.
Learn more about adding fruits & vegetables to your treats...
Get all the nutrient information you need for each of the fruits and vegetables listed above, plus more tips and advice about when and how to add them to your dog treat recipes right here.
Herbs & Spices in Dog Treat Recipes
We can't add a huge variety of herbs or spices to our dogs food the way we do to ours, their digestive systems aren't prepared for that, and they don't need them. But there are a handful of safe, and highly nutritious herbs and spices that we can include in recipes which increase the nutritional value of our homemade treats.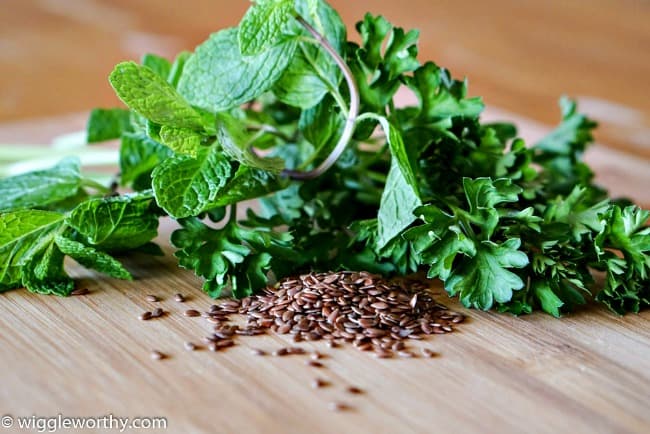 Basil
Basil is a richly scented, and flavored, herb which can add flavor and nutritional benefits to your recipes. It contains vitamin A, vitamin C, vitamin K, manganese and magnesium and has antibacterial and anti-inflammatory properties due to high levels of antioxidants. The flavor of basil works best with savory dog treat recipes, but feel free to be bold and mix and match flavors as you go along. Our dogs' taste buds are different to ours and the only way to find out what they enjoy is to try things out.


Cinnamon
Adding a little cinammon is a sweet way to add a little spice to certain recipes.  It's loaded with an extensive array of vitamins, minerals and antioxidants, and is especially high in vitamin E, vitamin K, iron, copper, manganese and zinc. This warming spice also has anti-inflammatory and anti-bacterial properties, plus it can help keep blood sugars level. Use sparingly in a wide variety of different treats to add a little zing of spice along with a boost in nutrient values.
Only Use Ceylon Cinnamon for dog treat recipes
It's important to only use Ceylon cinnamon in recipes which are designed for your dog. There is another variety of this spice, Cassia cinnamon, which contains a compound called courmarin which,  may be dangerous for your dog to ingest. Check labels carefully and only choose cinnamon which is made ONLY from the bark of the Ceylon Cinnamon Tree.
If you can't find this in your local grocery stores try this organic option from Amazon, it's what I use in all my dog treat recipes.
Garden Mint
Garden mint smells delicious and tastes delicious, and your dog can enjoy all that deliciousness too! Mint is a nutrient dense herb, high in plant-based protein, fiber, vitamins A and C and minerals including calcium, copper, folate and manganese, magnesium, potassium and zinc. It's also rich in antioxidants and is known to have antibacterial, antiviral and antifungal properties. However it's mint's breath-freshening benefits as well as it's soothing effect on the digestive system that makes it a great choice as a dog treat ingredient. As with parsley, I prefer to use fresh mint in my dog treat recipes. If I get the urge to bake up a batch of goodies and don't have fresh mint to hand I'll either use dried mint or, in a pinch, alcohol-free pure mint extract.


Ginger
Ginger is a tasty, warming spice that has a whole host of health benefits and nutrients. The ginger plant is in the same family as the turmeric plant and the raw roots of each one look pretty similar. Perhaps the most well-known benefit of ginger is it's ability to ease nausea and calm an upset digestive system, it works equally well for people and dogs. It's also anti-inflammatory (as is turmeric) and helps boost immune function, it's been shown to be beneficial in treating arthritis. Other areas where ginger can help your dog's health are as part of a treatment plan for heartworm, bloat, even some cancers. When you're using ginger in your dog treat recipes both raw ginger root, and ginger powder are the best options. Ginger root is stronger than powder (both in taste and effect) so pay attention to which option a recipe calls for.
Although it's tasty and generally totally safe for your dog to eat ginger, you don't want to give him too much. Maximum daily intake of ginger for dogs under 35lbs is approx 1/2 tsp, for larger dogs up to 3/4 tsp is fine, tiny or miniature dogs shouldn't have more than 1/4 tsp. As treat recipes generally only call for up to 1 tsp of ginger powder as long as your dog doesn't eat them all in one day there's no risk of him getting too much!
Ginger does have blood thinning properties so shouldn't be given to dogs who may need surgery or who are pregnant. It can also lower BP and blood sugar levels so don't give it to dogs who have diabetes or heart problems.


Parsley
Garden parsley (or curly parsley) is a nutritious herb that's high in antioxidants, is rich in vitamin K and vitamin C, and also contains a huge range of other nutrients including beta-carotene, vitamins B1 and B3, folate, iron, copper, magnesium, potassium, calcium, phosphorous and zinc. Known for it's breath freshening and digestion soothing properties parsley is a popular ingredient in all sorts of dog treat recipes. I always prefer to use washed, chopped parsley in my recipes, but you can also used dried parsley if you prefer. Parsley should not be given to dogs with any type of kidney problems or disease. It also shouldn't be given to dogs who are pregnant, or who are nursing puppies.
Only use Curly Parsley for Dogs!
Curly parsley is a safe and nutritious dog treat ingredient, Italian parsley (the variety with flatter leaves) is not. Italian Parsley is actually toxic to dogs and can cause photosensitization (skin burns badly when exposed to sunlight).
Italian Parsley is sometimes easier to find at the grocery store than curly parsley, but don't be tempted to use it instead.
Turmeric
Turmeric has become increasingly popular recently, mostly for it's amazing anti-inflammatory and detoxing properties. It's good to know that turmeric is as safe and healthy for our dogs as it is for us. Containing a staggering number of essential nutrients, turmeric is a super-spice! Curcumin is the compound found in turmeric that is most well known due it's anti-inflammatory effects, but this bright yellow spice also contains manganese, iron, potassium, vitamin C, vitamin B6 and copper. Turmeric has a very unique flavor, but it blends well with all sorts of ingredients and can be at home in both sweet and savory dog treats.


Pink Himalayan Salt
We all know that regular table salt isn't good for us, and that too much of it can be really bad. But, did you know that Himalayan salt actually has nutritional benefits for you... and for your dog? Well, it's true. This pretty pink salt is packed full of minerals (including phosphorous, magnesium and potassium) which are essential for a variety of bodily functions, including helping to balance electrolytes and reduce water retention. Obviously you don't want to go adding a lot of salt to your dog treat recipes, too much of anything isn't good, but adding a dash of Himalayan salt now and then to savory (or even sweet) treats is another way to make sure your dog is getting all the nutrients he needs.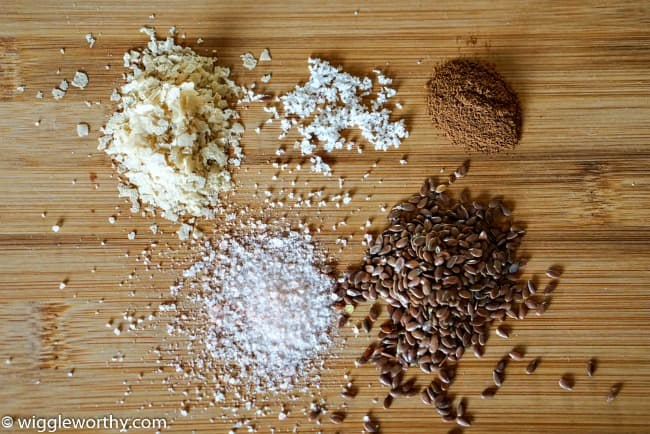 Grey Celtic Sea Salt
As with pink Himalayan sea salt, grey Celtic sea salt is mineral rich and adding a little to your dog's diet has nutritional benefits. The nutrient balance between Himalayan and Celtic sea salts is a little different but they both offer the same type of nutrients and the same health benefits. You can use either, or both varieties (obviously not at the same time).


Fats and Oils for Dog Treat Recipes
Fats and oils add an important nutritional element to our dogs' diets. Some fats are superior to others in terms of their impact on health, but it's good to know that dogs do not seem to suffer heart issues as a result of eating saturated fats in the same way humans do.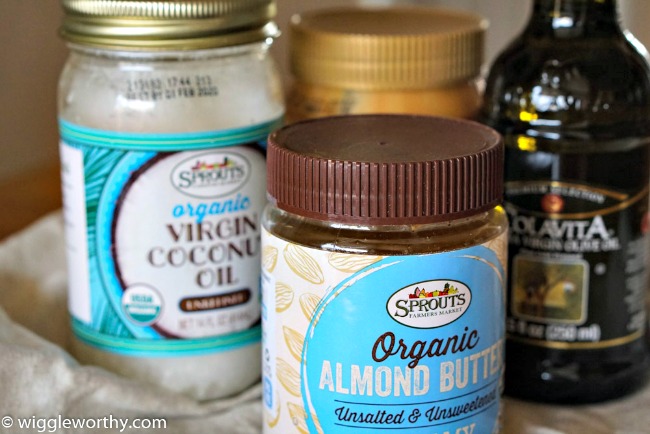 The best fats and oils you can add to your homemade dog treat recipes are found in seeds and nuts. Fish oil is also a great option, but this is added either by using fish in the treats themselves, or by adding a few drops of fish oil (from canned fish or fish oil supplements) to the recipe. 

Almond Butter
Coconut Oil
Flaxseed Oil
Olive Oil
Peanut Butter
Sunflower Oil
Meat and Fish for Dog Treat Recipes
Unless you're feeding your dog a vegetarian diet you can add a variety of different meats to your homemade treats. There are a lot of options but I'm going to focus on the healthiest and most nutritious choices. Use the best quality meat you can. Organic, free range, no antibiotics or  hormones etc. Meat or fish based protein is an important part of your dog's diet and adding some to his treats gives him a little extra nutrition and a big helping of tasty!


Chicken
Chicken is an excellent source of lean protein and such a versatile meat, it's perfect for savory dog treat recipes.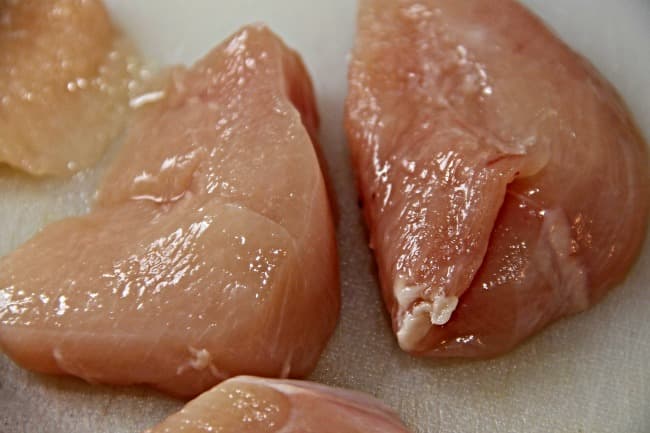 The healthiest way to cook chicken is to boil or bake it, without adding salt, pepper, spices etc. Then all you do is shred it, puree it, or whatever the recipe calls for, and add it to the other ingredients. You can combine chicken with just about any vegetable, herb, or even fruit and make some delicious goodies that your dog will really enjoy.


Liver

Liver is a great source of vitamins, minerals, essential fatty acids, and of course protein. Beef liver or chicken liver are good choices and make treats which are very appetizing to your dog! However, liver contains a lot of vitamin A, and should only be used sparingly, and occasionally. You can boil or bake liver to mince up and use in treats, or a popular slice or a popular option is to cut up the raw liver and put it in a dehydrator (or your oven on a low heat setting) to make dried liver treats.


Salmon
Salmon is full of Omega-3 fatty acids, vitamin B6, vitamin C and magnesium. It's also a lean protein source, low in fat and easy to digest. All of this makes it a healthy choice for adding a little savory goodness to your homemade dog treat recipes. You can use fresh oven-baked de-boned salmon or canned salmon for your treats (make sure you choose low-sodium, or no-sodium varieties with no added ingredients). Your dog will appreciate both equally.


The dogs and bacon debate!
Bacon may be highly delicious (when I became a vegetarian it was the last meat I gave up, and I still want it when I smell it cooking!) but it's also highly processed, high in fat and high in salt. None of those things make it a good, healthy or nutritious choice for your dog. Although I'll bet he would disagree. 
However, bacon is NOT toxic to dogs and a LITTLE bit in the occasional dog treat recipe is unlikely to cause him any problems, but you have to make that choice yourself based on the facts I've just mentioned.
If your dog gets too much rich/fatty/salty food it can cause digestive upset, even pancreatitis (which is very serious and can be deadly).
Nuts & Seeds for Dogs
In general nuts are not safe for dogs, although there are a couple of varieties which  you can offer, as well as using peanut butter and almond butter (in moderation due to high fat content). Check out this page to find out which nuts you can give to your dog, and which ones are poisonous.
There are several types of seeds that you can use in dog treat recipes. Seeds in general are a good source of fats, fatty acids, antioxidants, vitamins and minerals and can add a little extra flavor, crunch and nutrition.
The most popular seeds for dogs are:


Chia Seeds
Chia seeds are teeny, tiny but they're packed full of some important nutrients including certain omega-3 fatty acids, antioxidants, vitamins, minerals and more. They're low in calories and high in fiber. Unlike flax seeds, whole chia seeds are broken down during the digestive process so your dog will absorb all the nutrients from these little powerhouses whether you use them whole, or ground, in your recipes. Chia seeds can be mixed with water and used to make a Chia 'Egg' which can then be used in place of a regular egg in recipes. To learn more see link in flax seed information below.


Flax Seeds
Whole flax seeds will go in one end of your dog and out the other without being digested, so you need to use ground flaxseed in your recipes for your dog to get the benefit from them. Flax seeds are especially rich in omega-3 fatty acids and antioxidants. Ground flax seeds can be mixed with water and used to make a Flax 'Egg' to substitute for a regular egg in recipes. So can chia seeds. Learn more about this HERE.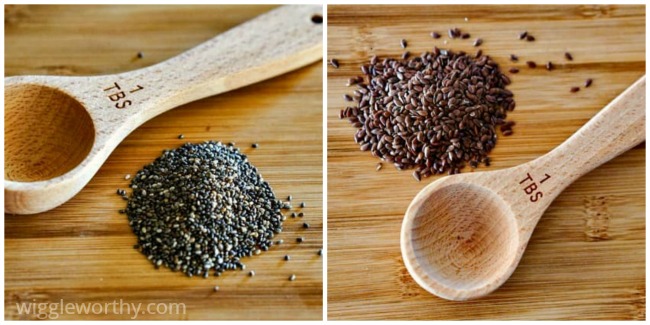 Chia seeds (left) and flax seeds (right)
Hemp Seeds
Hemp seeds are high in gluten-free, plant-based protein, omega-3 and omega-6 fatty acids, vitamins C and E and amino acids. You can add whole hemp seeds to your treats.


Pumpkin Seeds
Pumpkin seeds are protein rich and a powerhouse of other vitamins, minerals, amino acids and omega-3 fatty acids. A good way to give your dog the full benefits of pumpkin seeds nutritional value is to bake and then grind them before adding to other ingredients. 


Sunflower Seeds
Sunflower seeds contain a wide variety of vitamins and minerals, they're also high in fat. After shelling the sunflower seeds you can add them to your recipe either whole, chopped or ground. You can use them raw, or roasted.


Sesame Seeds
Sesame seeds may be tiny but they're as nutritious as the bigger seeds! A good source of a whole range of minerals, protein, antioxidants, omega-6 fatty acids plus some unique fiber. Use them raw or toasted in your dog treat recipes.


Other Popular Dog Treat Ingredients
This page contains a pretty comprehensive list of the most commonly used dog treat ingredients. But there are other popular food items that often appear in treat recipes but which didn't fit neatly into any of the categories above. So, I've corralled them here, in no particular order:


Eggs
Eggs are a fantastic source of nutrients, and really are one of the most basic superfoods we have.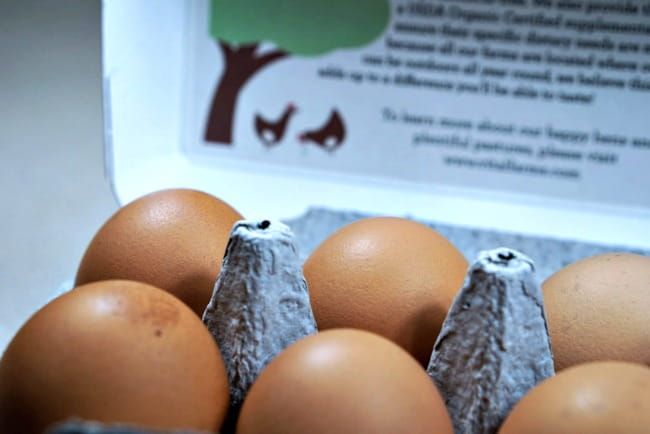 One beautiful little egg contains a big does of high-quality, easily-digested protein, plus healthy fats, amino acids and omega fatty acids. Plus they also contain a variety of other nutrients including vitamins A, B2, B5, B6, B12, D, E, K and minerals including phosphorous, selenium, calcium and zinc. Eggs are ultimately versatile and are a staple in most cake and cookie recipes, whether you're baking for humans or dogs. 
If you need to substitute one (or maximum 2) eggs in a recipe due to food allergies, sensitivities or a specific diet, you can use either flax seeds or chia seeds and water as replacements. Find out how to make flax or chia eggs here.


Nutritional Yeast & Brewer's Yeast
Both of these yeast products are forms of deactivated yeast (they won't make dough rise), both are a single-cell fungus, but produced in different ways. They are both excellent sources of certain vitamins and minerals and can be used to add flavor and a nutritional boost to many treats.
Nutritional Yeast is grown on molasses from sugar cane or sugar beet. It has a savory, nutty flavor (as a vegetarian I use it a LOT because it can add a rich, cheesy flavor to many recipes and is very versatile) and you can buy it either in the form of flakes or powdered. Nutritional yeast is a complete protein, contains all nine amino acids, is rich in B vitamins, including being an excellent source of B12 (which brewer's yeast doesn't contain), folic acid, selenium, manganese and zinc. These organic nutritional yeast flakes are the ones I use in my dog treat recipes, and also in/on my own meals.
Brewer's Yeast is the by-product of brewing beer and is traditionally grown on malted barley or other grains. There are also primary-grown or supplemental brewer's yeast which is grown specifically as a food supplement and this can be grown on corn or in a similar way to nutritional yeast. Brewer's yeast is high in important B vitamins and a range of minerals including chromium (which nutritional yeast doesn't contain). It has a bitter flavor, although some varieties are less bitter than others. Some dogs can suffer from extra gas, bloating or a tummy ache from brewers yeast, so keep an eye out for these symptoms when using it in recipes. Recommended daily dosage of brewer's yeast for dogs is 1/2 tsp per 10 lbs of body-weight. It is not recommended for dogs with diabetes, yeast infections or problems. It is also fairly high calories (this varies considerably from brand to brand, so always check the label) which is worth remembering if your dog is overweight.


Wheat Germ
Wheat germ is one component of the whole wheat kernel, and because it's the part of the grain which is designed to nourish the new plant it is very nutrient dense. It is a source of vegetable-based protein, rich in fiber, healthy fats and vitamins and minerals. Wheat germ is an especially good source of folate. Nutritionally it is fairly similar to flax seed, but without the omega-3 fatty acids.  Wheat germs has deliciously nutty flavor and a coarse texture.


Oats 
Oats are quiet super heroes, a cereal grain which comes in a variety of forms... whole, rolled, steel-cut or 'quick'. They're  low in sugar and a rich source of nutrients, fiber and antioxidants. Oats can help food move through the digestive system in an optimal way as well as improving the way the body regulates sugar. An excellent source of fiber and a range of vitamins and minerals especially iron, magnesium, manganese, phosphorous, zinc and B1. You can use all varieties of oats (even oat flour) in your dog treat recipes to add fiber, flavor and a delicious chewy texture. 


Powdered Milk
You can use powdered milk to add calcium and protein to your dog treats. Making your own take on popular 'milk bone' treats is easy to do, and healthier than store bought. Some dogs can have difficulty digesting milk and dairy products and I prefer to use powdered coconut milk as a substitute for powdered cows milk in my recipes but of course it has a different nutritional profile, containing heart-healthy fats but not the calcium of cow's milk. 


Yogurt & Cheese
As you would expect, dairy yogurt is high in calcium and protein, it also contains healthy probiotics which are good for digestive health. You can add yogurt to dog treat recipes but always choose the low-fat plain yogurts (no fruit, added sugars, sweeteners etc.) Xylitol is a sweetener which is toxic to dogs so check the label carefully to make sure the yogurt you choose is safe for Fido.
Cheese is high in animal fats and as with all dairy products, many dogs don't tolerate it well. But dogs love a cheesy flavor, and adding a little cheese to a dog treat recipe isn't likely to cause problems. If you'd like to add the cheese flavor, without the dairy, you can try adding nutritional yeast instead. It's the vegetarian/vegan option and is pretty tasty.
If you do decide to add dairy to your treats, keep an eye on your dog for signs of digestive upset, loose stools and so on. If you do notice these, stop dairy products, there are plenty of dairy-free options to choose from. Your dog will never know the difference.
Bouillon, Broth or Bone Broth
All of these will add a much-appreciated flavor to savory dog treats. Chicken, Beef or Vegetable broth or bouillon are all good choices. Just be sure to choose low-sodium (or even better, no sodium) options and avoid those which have onions, garlic or spices added.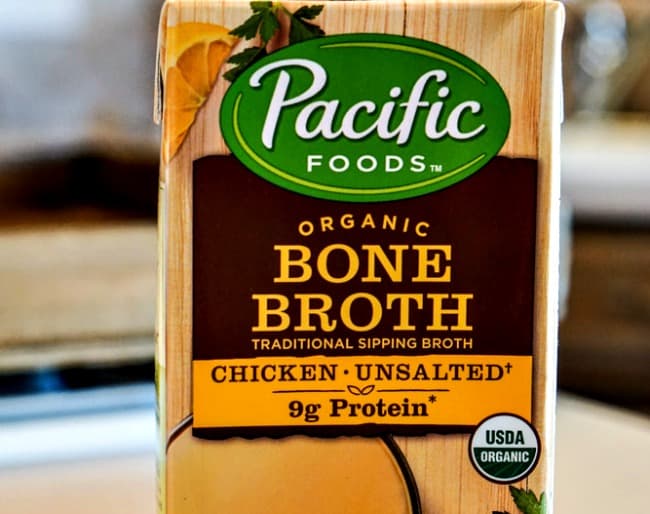 I prefer to use Bone Broth over bouillon or regular broth because it is much richer in nutrients and has a ton of benefits for your dog. This makes it a quality addition to any recipe. You can either make your own bone broth, or buy it at the grocery store. Look for low-sodium and minimal added ingredients here as well.
Carob
Carob powder is made from the roasted and ground beans of the Carob tree which is found in certain Mediterranean countries.
It's a totally dog-safe alternative to chocolate (chocolate is highly poisonous to dogs, even in tiny amounts!) and has a sweet, earthy, chocolate-y taste while also adding that chocolate color to your dog treats... without the dangers of caffeine or theorbromine.
Carob is also nutritious, being a great source of vitamins, minerals, antioxidants and fiber, so it adds nutritional value as well as taste and color. 
Powdered carob can be used in place of sugar, or as an ingredient in it's own right, and carob chips are the perfect, dog-safe alternative to chocolate chips. Find out more about carob and how to use it HERE.
What ingredients should NOT be in dog treats?
As you can see there's a huge variety of ingredients you can use to make tasty, healthy treats for your best friend. 
But there are also some ingredients that we often use when baking/cooking for human family members, which are unsafe for our dogs.
The most common ones include:
Chocolate
Raisins
Macadamia nuts
Excessive salt
Sugar
Xylitol
Garlic
Citrus fruit
Dogs don't need salt or sugar, and while in small amounts neither is likely to be harmful, they're definitely not healthy and not ingredients I'd suggest using.
Chocolate and Xylitol are deadly to dogs, so NEVER use either of those. Xylitol can be found in some brands of peanut butter and other nut butters as well as yogurts and other products.... so always check the label carefully before using something in a dog treat recipe.
Dogs can eat some types of nuts such as peanuts or cashews, but absolutely not macadamia nuts, which are toxic to them. Other nuts to be avoided include walnuts, pecans, hickory nuts and chestnuts. 
Nut butters such as peanut butter or almond butter are versatile and healthy ingredients in many dog treat recipes, but just remember to check that the one you plan to use doesn't contain xylitol.
Check out this page to find more people-foods which are unsuitable or even poisonous to our dogs, 
CREATE YOUR OWN UNIQUE DOG TREAT RECIPES...
If you're feeling creative you can conjure up an endless variety of treats that use your dogs favorite flavors and take into account any health conditions or allergies as well as the ingredients you have to hand.
Check out this page for my versatile, customizable DIY dog treat recipe. It gives you the opportunity to mix-and-match ingredients and make easy substitutions.
Give it a try and whip up some custom-made treats for your good boy!
You Might Also Like These pages...