Wiggleworthy Dog Treat Recipes
Yes, you read that right. My dog treat recipes are totally wiggle-worthy. All the best ones are!
Dog owners know the wiggle, right? If your pup is anything like mine, it's not just his tail that wags when he's happy. His whole rear end probably wiggles like crazy.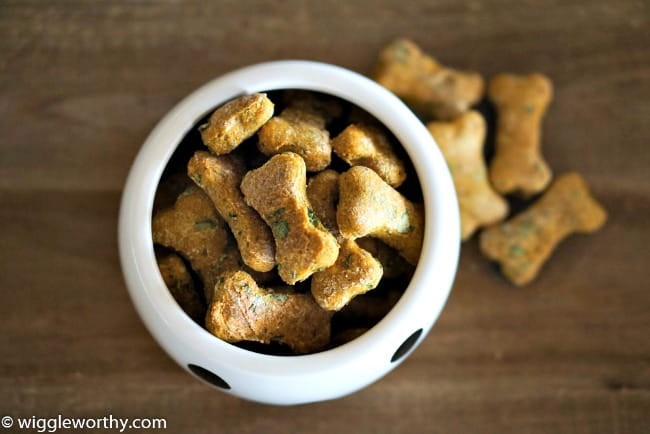 Well, that's what's going to happen when your pooch tastes the delicious homemade dog treats you lovingly create for him.
And that will make you (almost) as happy as he is. It's a win-win situation.
Dog Treat Recipes Galore!
This site features dog treat recipes for dogs of all sizes, ages and tastes.
Although every single recipe is safe for human-consumption (yes, really) I'm 100% focused on what your dog is going to enjoy. Making dog treats isn't an 'add-on' activity here, it's THE activity!
Whether you're an accomplished baker, or a beginner, whether you have oodles of time to spend creating goodies or are time-crunched and want to make something quick and tasty, you'll find the recipes you're looking for right here.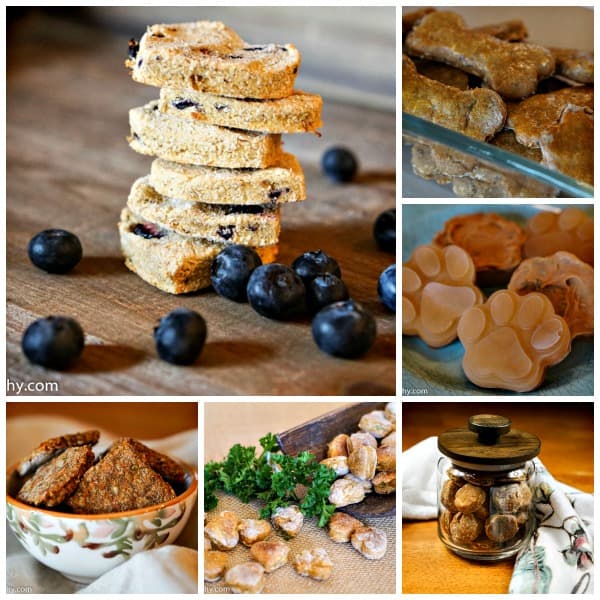 Dog treats shown above, clockwise from top left: Banana, Pumpkin & Blueberry Hearts; Peanut Butter & Banana Bones; Peanut Butter & Bone Broth Pawprints; Apple & Carrot Treats; Apple, Pumpkin, Parsley & Mint Hearts; Banana & Carrot Squares.


Healthy Dog Treats Are A Priority
My number one goal when creating dog treat recipes is that they're healthy.
So, every recipe I make uses only human-grade, superior quality, and almost exclusively organic, ingredients. This means you can even eat the delicious results of your hard work, if you want to. I often try the treats, especially if it's a new recipe!
But that's not all. Some of the foods we eat are simply not safe for dogs, and can toxic or dangerous for them. You can rest assured that no ingredient used in any recipe on this site is harmful for your precious pooch.
Of course, just like humans, some dogs have health issues which means they have dietary restrictions. Luckily there are recipes that accommodate these too... including gluten free, vegetarian, and low calorie options.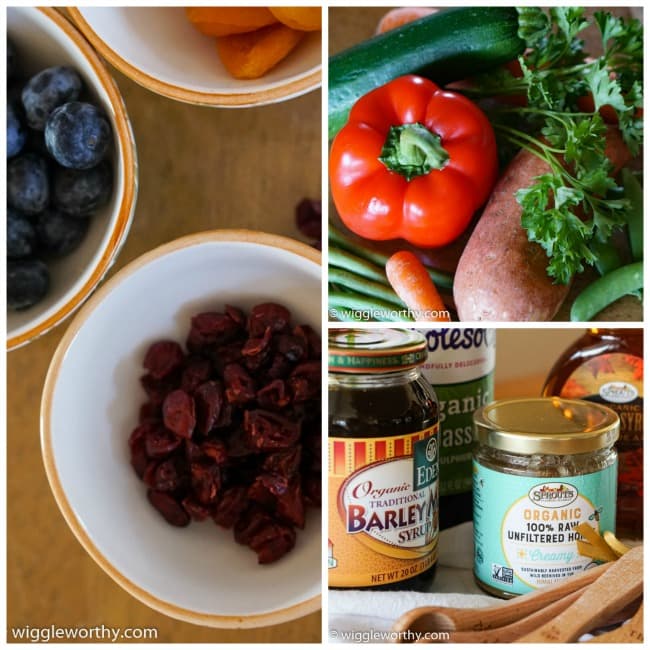 Check out my dog treat ingredients page to take a closer look at the wide variety of options we can use to create tasty, healthy, all natural dog treats right in our own kitchens.

Once you've got those goodies all baked and smelling delicious in your kitchen, it's important to know how to store them so that they stay fresh for as long as possible. Check out this page to learn more about storing homemade dog treats properly.
Dog Taste-Tested and Approved!
Every recipe on my site is taste-tested by my two dogs and also by a number of 'freelance taste-testers'.
The freelancers are the dogs who are owned, and much loved, by my grown children. Between us we have everything from Dachshunds, to German Shepherds plus quite a few mixed-breed rescues. I cater to all sizes, ages and tastes here!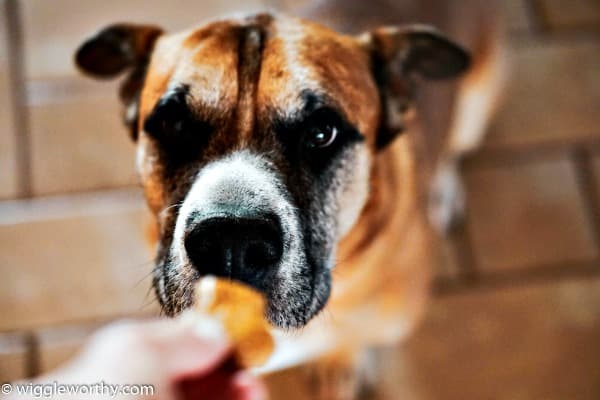 Ivan taking his homemade dog treat nicely!
If they could debate the point I think the dogs would argue that their role as taste-testers is the most important one. They might even ask for a raise, in the form of more treats of course.

Check out my About Us page to meet my dogs, Ivan and Dax, and learn more about the human, and dogs, behind wiggleworthy.com
I'm so glad you're here and i hope you you enjoy browsing the recipes, ingredient information, and everything else right here on my website.
Have a wonderful day!