Easy Carob Chip Dog Treat Recipe
This easy carob chip dog treat recipe let's your dog enjoy his very own, dog-safe, version of chocolate chip cookies!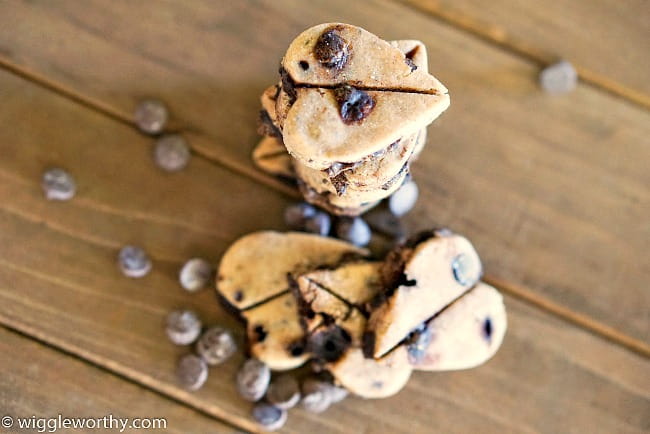 They're soft, sweet, yummy and melty... but that's not all. These gluten-free carob chip dog treats are totally safe for your dog (chocolate is not!) and each ingredient is nutritious and good for him. Pretty amazing right?
I use a blend of two gluten-free flours, creamy almond butter (which is rich in healthy fats), nutrient dense chia seeds and, of course, those all-important carob chips which are themselves a great source of several vitamins and minerals as well as fiber. 
If you're having a dog party, or just want to give your best friend a special treat, this recipe is the perfect choice.
Substitution Ideas...
I chose white rice flour rather than brown for this dog treat recipe because it's texture is finer, it produces lighter baked goods and it's flavor is milder. However it is less nutritious, so feel free to use brown rice flour if you'd rather, it will work just as well and can be substituted 1:1
Almond butter seemed like the perfect compliment to the carob chips in these treats but peanut butter would also be a great choice. 
You only need 1/4 cup liquid in this recipe and water works just fine but you can also use almond milk or oat milk to add a little extra richness.
Ingredients List
1 cup white rice flour
1 cup oat flour
1/2 cup carob chips
2 tbsp almond butter
2 tsp chia seeds
1 egg
1/4 cup water
Yield:
This recipe makes approximately forty, medium sized (1 1/2") heart-shaped dog treats.
Instructions
Preheat oven to 325F
Line baking  tray with silicone baking mat
Put flours, carob chips and chia seeds into large bowl and stir to mix
Use whisk to combine egg and almond butter in small bowl
Make well in center of dry ingredients and pour in egg/almond butter 
Stir to mix thoroughly with wooden spoon
Add water as needed until all ingredients combine
Use your hands to form a firm dough 
Turn dough out onto lightly floured wax paper
Press flat using your hands
Use lightly floured rolling pin to roll dough out to 1/2" thickness
Cut into desired shapes using cookie cutter or sharp knife
Bake treats at 325F for 20 - 25 minutes
Remove from oven and allow to cool completely
Store treats in airtight container in the refrigerator for up to seven days.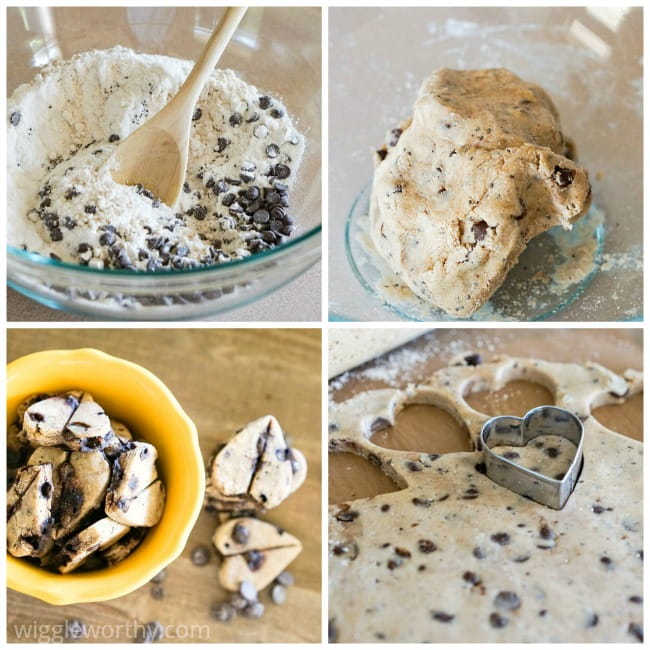 Nutrition Facts Per Treat:
Servings: 40 (one treat per serving)
Serving size: 12 g
Calories per serving: 40
Total Fat: 1.5 g
    Saturated Fat 0.6 g
Total Carbohydrates: 6.6 g
    Dietary Fiber 1.0 g
    Total Sugars 1.5 g
Protein: 1.3 g

Vitamin A: 12 IU
Vitamin B3: 1.7 mg
Vitamin D: 1 IU 
Vitamin E: 0.25 mg
Calcium: 11 mg
Folate: 3 ug
Magnesium: 9 mg
Manganese: 0.2 mg
Phosphorous: 59 mg 
Potassium: 19 mg
Zinc: 0.2 mg


You Might Also Like These Recipes...
Easy Carob Chip Dog Treat Recipe
Easy Carob Chip Dog Treat Recipe