Banana Almond Dog Treat Recipe
The soft, naturally sweet, banana almond dog treats this recipe creates are delicious... and gluten free too.
Loved by dogs of all sizes and ages, they're especially good for tiny dogs, puppies and senior who like (or need) their treats to be on the softer side. Obviously they're also perfect for dogs with gluten intolerance or sensitivities!
I use silicone molds for these treats as the dough is soft and a little sticky. There are loads of different designs, and sizes, to choose from. I just love these little pawprints!
Ingredients List
1 1/2 cup coconut flour
1/4 cup almond flour
1/3 cup almond butter
1/2 cup mashed banana
2 large eggs
1 tbsp maple syrup
1 tbsp coconut oil (melted)
1/4 cup almond milk
Yield:
This recipe produces approximately fifty, 1" pawprint dog treats. 
Instructions
Preheat oven to 300F
Place silicone molds on baking tray for stability
Melt coconut oil
Mash banana
Put coconut and almond flours in medium sized bowl, stir to mix
Put almond butter, eggs, banana, coconut oil and maple syrup into large bowl 
Mix wet ingredients together well using a wooden spoon or whisk
Add flour mixture to wet ingredients a bit at a time and mix in
Add almond milk and use your hands to form dough (will be soft & crumbly)
Use fingers or spoon to fill each silicone mold with dough
Bake at 300F for 20 minutes
Remove from oven 
Cool treats in molds on cooling rack for approx. 10 mins
Pop treats out of molds and leave on rack until completely cool
Store in airtight container in refrigerator for 10 - 14 days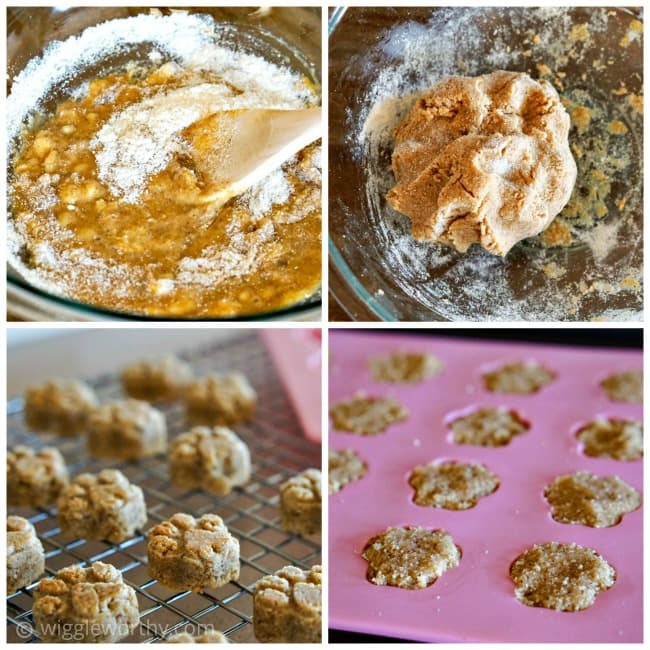 Tips for working with this dough...
This dough can be sticky which makes it a little messy to work with. If you want to chill the dough for 10 minutes first that helps. Also working quickly while filling molds leads to less-sticky fingers. 
Payback is that these banana almond dog treats smell absolutely delicious while they're baking! And they taste pretty good too. Go ahead and try one for yourself. All human-safe, premium ingredients means that Fido isn't the only one who can enjoy these goodies.
Nutrition Facts Per Treat:
Servings: 50 (one treat per serving)
Serving size: 8 g
Calories per serving: 15
Total Fat: 1.0 g
    Saturated Fat 0.7 g
Total Carbohydrates: 1.2 g
    Dietary Fiber 0.3 g
    Total Sugars 0.5 g
Protein: 0.9 g

Vitamin A: 11 IU
Vitamin C: 0.2 mg
Vitamin D: 1 IU
Vitamin E: 0.7 mg
Calcium: 3 mg 
Magnesium: 6 mg
Manganese: 0.3 mg
Phosphorous: 10 mg 
Potassium: 13 mg



You Might Also Like These Recipes...
Banana Almond Dog Treat Recipe
Banana Almond Dog Treat Recipe