Blueberry Banana Dog Treats
Blueberry banana dog treats sound delicious don't they?
In this recipe variation I've included rolled oats and creamy, all natural almond butter and if Ivan and Dax could talk they'd tell you that the results are as yummy as expected.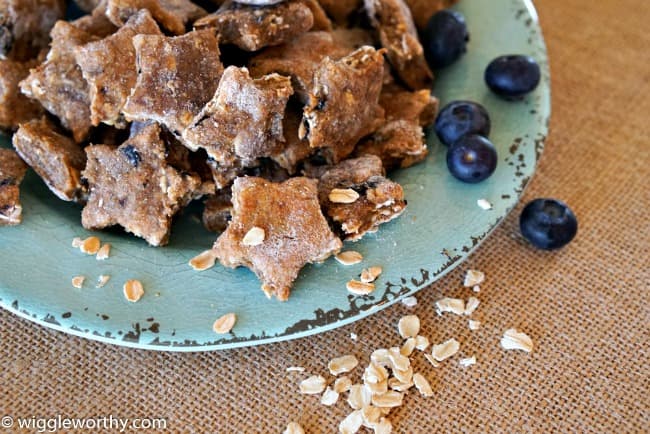 Of course, these treats aren't just tasty, they're also nutritious. Healthy fats, antioxidants and a whole range of essential vitamins and minerals in every bite.
No questionable ingredients, no chemicals, additives or preservatives. You know exactly how good the ingredients in these treats are and that means you can feed them to your dog/s without worry. That is priceless peace of mind.
Ingredients List
1 1/3 cups whole-wheat flour
1/2 cup rolled oats
1 banana, mashed (= 1 cup)
1/2 cup fresh blueberries, chopped
1 egg
1/3 cup natural almond butter (unsweetened/unsalted preferred)
Almond Butter Tip:
Almond butter separates and needs some pretty vigorous stirring in order to blend the oil back into the solid butter, especially if it's a new jar or you haven't used it for a while. Using a fork helps make the process a little easier.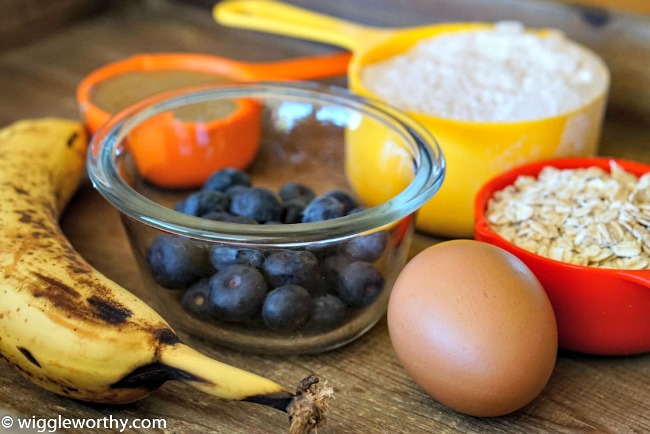 Yield:
This recipe makes approx. fifty, 1 1/2" star shaped treats
Instructions
Preheat oven to 325F
Line baking sheet with parchment or silicone baking mat
Chop blueberries
Mash banana
Put 1 cup of wholewheat flour and all other ingredients in large bowl
Mix together well
Use additional 1/3 cup flour as needed to form a workable dough
Turn dough out onto floured wax paper
Use your hands to press to 1/2" thickness
Use cookie cutter to make desired treat shapes
Bake at 325F for 15 minutes
Remove from oven and allow to cool completely
Store treats in airtight container in the pantry for a week, or in the refrigerator for up to two weeks
This dough can also be rolled out using a well floured rolling pin, if you're careful. I just find it easier to use my hands.
This dough is a little sticky and so larger cookie cutters are easier to use for cutouts.
But because Dax was a star at his obedience training this week and I was determined to make star-shaped dog treats as his reward. The only star cookie cutter I have is pretty tiny so, combine that fact with the extra-stirring needed when using almond butter and prep took me a little longer than normal, but the results were worth it!
Dax gobbled his treats up so fast that all the photos I took of him were blurry (I guess my reflexes need work). Ivan was just a tad slower, so here's a shot of him enjoying his blueberry banana treat....
Insert treat here!
Nutrition Facts Per Treat:
Servings: 50 (one treat per serving)
Serving size: 12g
Calories per serving: 30
Total Fat: 1.2g
    Saturated Fat 0.1g
Total Carbohydrates: 4.3g
    Dietary Fiber 0.8g
    Total Sugars 0.9g
Protein: 1.1 g
Vitamin A: 12 IU
Vitamin C: 0.2mg
Vitamin D: 1 IU
Calcium: 8mg
Iron: 0.3mg
Phosphorous: 31mg
Potassium: 42mg
Zinc: 0.2mg
You Might Also Like These Recipes...
Blueberry Banana Dog Treats
Blueberry Banana Dog Treats