Pumpkin Banana Dog Treat Recipe
This pumpkin banana dog treat recipe uses coconut flour and a handful of juicy blueberries to produce relatively soft, gluten free treats that are as healthy as they are delicious.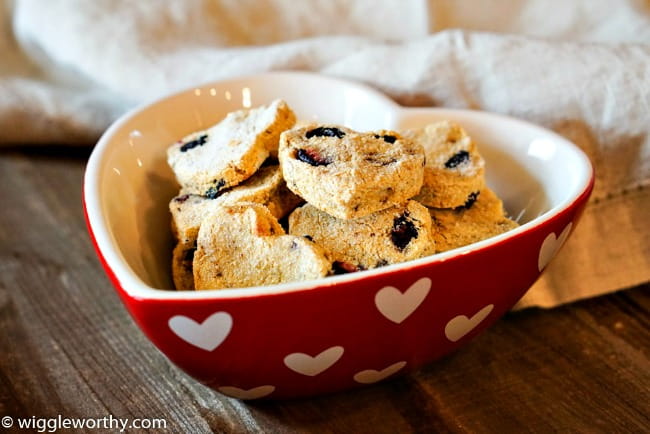 A triple dose of antioxidants from the pumpkin, banana and blueberries combines with healthy fiber and a good helping of vitamin C and other essential nutrients.
The coconut flour adds more fiber, plus healthy fats and protein.
Of course, all your dog wants to know is how they taste! The answer to that is... pretty darned good.
I tried one straight from the oven (because they smell sweet and amazing while cooking), and although my human taste buds might appreciate a touch more sweetness, they're just right for our dogs.
As an added bonus, there are only four ingredients and it's a super quick and easy recipe to make.
Ingredients List:
1/2 cup coconut flour
1 banana
1/4 cup pumpkin puree (not pie filling)

1/4 cup fresh blueberries, chopped
Yield:
This recipe makes approx. 18, 2" heart-shaped dog treats.
Instructions:
Preheat oven to 350F
Line baking sheet with parchment or silicone baking mat
Mash banana
Chop blueberries
Put flour in mid-sized bowl
Add banana and pumpkin puree to flour. Mix well using wooden spoon
Add chopped blueberries and stir into to mixture
Form dough and knead a little until it's not too crumbly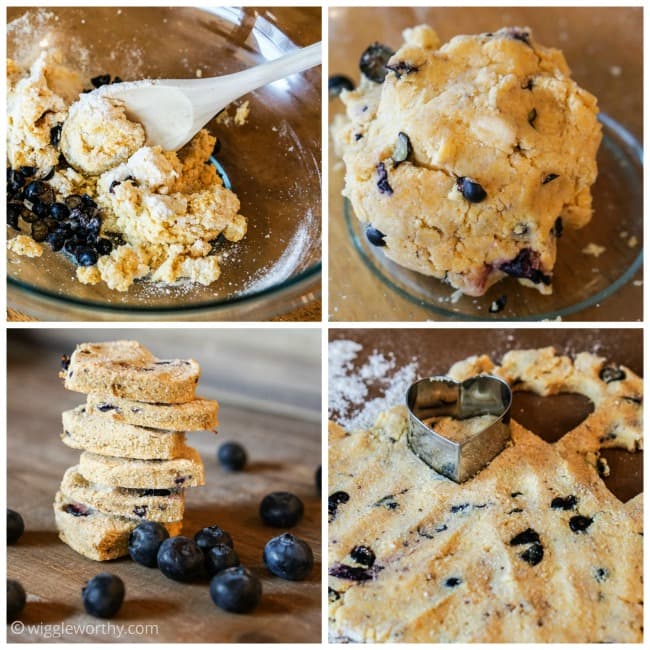 Turn dough out onto floured surface (I like to use floured wax paper)
Use your hands/fingers to flatten dough to about 1/4" thickness
Cut dough into desired shapes with cookie cutter (in my opinion this dough just begs for hearts shapes!)
Bake treats on lined baking tray for 20 minutes
Remove from oven and allow to cool completely
Store treats in an airtight container in refrigerator for 5 to 7 days


These treats are a little fragile due to the coconut flour. They don't store as well as many other types and go mushy soft pretty quickly. My dogs have no complaints if they're a little soft after a few days, but a week is maximum. After that if there are any left (and I doubt there will be) throw them out.
Nutrition Facts Per Treat:
Servings: 18 (one treat per serving)
Serving size: 18g
Calories per serving: 10
Total Fat: 0.1g
    Saturated Fat 0.1g
Total Carbohydrates: 2.3g
    Dietary Fiber 0.5g
    Total Sugars 1.1g


Protein: 0.2 g
Vitamin A: 5IU
Vitamin C: 0.8mg
Calcium: 3mg
Iron: 0.1mg
Magnesium: 13mg
Phosphorous: 22mg
Potassium: 53mg
You Might Also Like These Recipes...
Pumpkin Banana Dog Treat Recipe
Pumpkin Banana Dog Treat Recipe
Pumpkin Banana Dog Treat Recipe