Peanut Butter, Blueberry & Banana Dog Treats
These delicious peanut butter, blueberry and banana dog treats are super simple to make, your dog is going to love them... and they're packed full of nutritious ingredients. That's a win-win in my book!
This recipe contains protein-packed peanut butter combines with heart-healthy oats, anti-oxidant rich blueberries and vitamin-and-mineral rich bananas. It also gets an omega-3 boost from the addition of ground flaxseed. 
Warning:
Remember to double check that your peanut butter does NOT contain Xylitol. This sweetener is toxic to dogs. Peanut butter doesn't need to contain anything other than peanuts!
The type of tasty nutrition in this recipe is why I love creating homemade dog treats for my 'boys'. I never have to wonder if the ingredients in their treats are safe, because I know every single thing that goes into them is human-grade and nutritious. No empty calories here.
Ingredients List
1 1/4 cup whole-wheat flour
1/2 cup rolled oats
1/3 cup creamy peanut butter
1 banana (mashed, this is about 1 cup)
1/4 cup fresh blueberries, finely chopped
1 egg
1 tsp ground flaxseed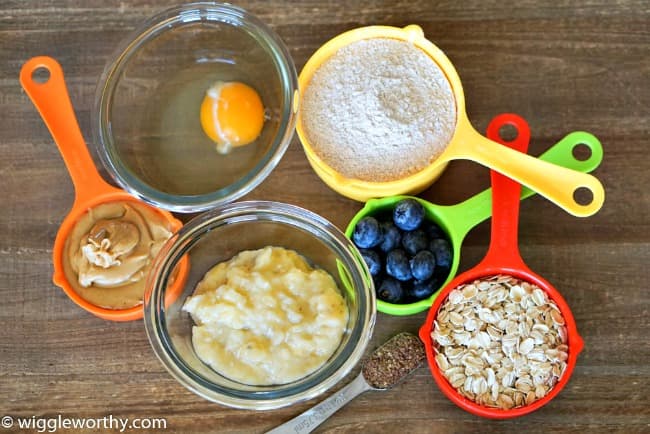 Yield:
This recipe makes approximately sixty-five, 1 3/4" bone-shaped dog treats.
Instructions
Preheat oven to 350F
Line baking tray with parchment or silicone baking mat
Mash banana
Finely chop blueberries
Put all ingredients into large bowl
Use wooden spoon to mix together well
Form dough into ball using your hands, adding more flour if needed
Turn dough out onto lightly floured wax paper
Cover dough with second sheet of wax paper
Use rolling pin to roll dough out to approx. 1/4" thickness
Remove top sheet of paper and cut dough into desired shapes
Bake at 350F for 20 minutes
Remove from oven and allow to cool completely
Store treats in airtight container for up to five days in the larder, or up to seven days in the refrigerator
Nutrition Facts Per Treat:
Servings: 65 (one treat per serving)
Serving size: 7 g
Calories per serving: 23
Total Fat: 0.8 g
    Saturated Fat 0.1 g
Total Carbohydrates: 3.2 g
    Dietary Fiber 0.5 g
    Total Sugars 0.4 g
Protein: 0.8 g

Vitamin A: 2 IU
Vitamin B3: 0.3 mg
Vitamin C: 0.2 mg
Calcium: 2 mg
Iron: 0.25 mg
Magnesium: 8 mg
Manganese: 0.3 mg
Phosphorous: 20 mg 
Potassium: 28 mg
Zinc: 0.4 mg


You Might Also Like These Recipes...
Peanut Blueberry Banana Dog Treats
Peanut Blueberry Banana Dog Treats
Peanut Blueberry Banana Dog Treats