Peanut Butter and Banana Dog Treat Recipe
Try these delicious peanut butter and banana dog treats the next time you want to give your pup something you know he'll love.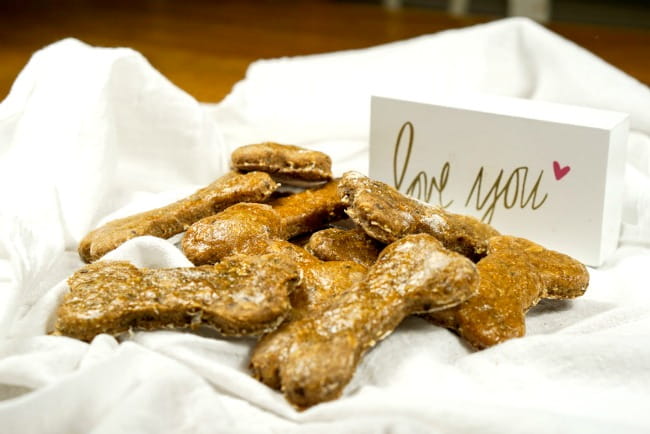 Packed full of healthy, wholesome ingredients like peanut butter, bananas, flax seed and raw honey, there's absolutely nothing in this recipe that you couldn't eat yourself!
I know that I am so much happier giving my dogs treats that I've made myself because I don't have to worry about nasty ingredients or contamination. Plus, I KNOW they taste better than the store-bought treats.... my dog-taste-testers make that abundantly clear.

Warning:
Remember to double check that your peanut butter does NOT contain Xylitol. This sweetener is toxic to dogs. Peanut butter doesn't need to contain anything other than peanuts!
Ingredients List
1 3/4 cups wholewheat flour
1/2 cup oatmeal
1/4 cup ground flaxseed
1/2 cup creamy peanut butter
1 tbsp honey
1 cup mashed bananas (approx. 2 small bananas)
1 large egg
Beaten egg for glaze (optional)


Yield:
This recipe makes approx. 20 large (3" long) dog-bone-shaped treats. Obviously the smaller the cookie cutter the more treats you'll get. 
Instructions
Preheat oven to 300F
Line cookie sheet with parchment or silicone baking mat
Put egg, peanut butter, honey and mashed banana into mid-sized bowl, mix well
In second bowl mix together flour, oatmeal and ground flaxseed 
Add liquid ingredients to bowl containing dry ingredients. Mix well
Use your hands to form dough into a ball. 
If the dough is too sticky to work with, add a little more flour
Turnout dough onto floured work surface
Use floured rolling pin to roll dough out to 1/2" thickness
Use a cookie cutter or cut into rectangular/square shapes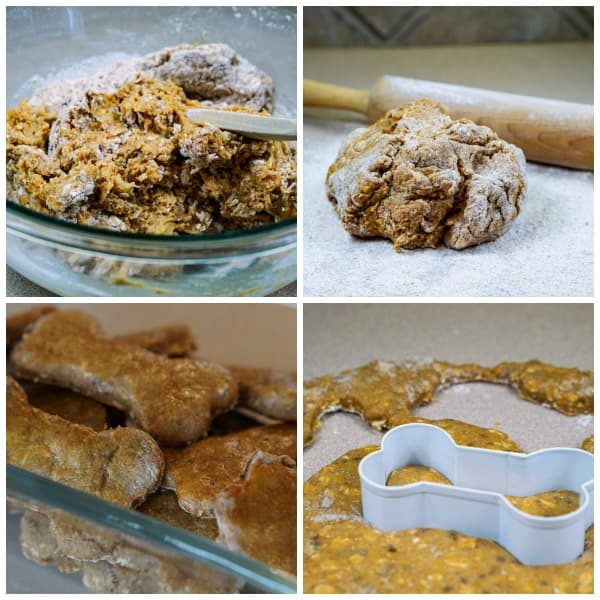 I like to use a 3" dog bone cookie cutter for this recipe as the dough is good to work with, rolls out easily, and is perfect for larger treats. 
In small bowl beat one egg and brush over treats to glaze (optional)
Bake treats at 350F for approx. 30 minutes... a little longer if your pup likes his treats a tad crunchier
Remove from oven and allow to cool completely on baking rack
Store in the refrigerator in an airtight container, jar, or ziploc bag
Treats keep for 10 to 14 days.... but I doubt they'll last that long!
Nutrition Facts Per Treat:
Servings: 20 (one treat per serving)
Serving size: 40 g
Calories per serving: 102
Total Fat: 4.6 g
    Saturated Fat 0.8 g
Total Carbohydrates: 14.8 g
    Dietary Fiber 1.6 g
    Total Sugars 3.2 g
Protein: 3.5 g

Vitamin A: 47 IU
Vitamin B3: 1.7 mg
Vitamin C: 1.0 mg
Vitamin D: 2 IU
Vitamin E: 0.6 mg
Calcium: 16 mg
Iron: 1.0 mg
Magnesium: 26 mg
Manganese: 0.3 mg
Phosphorous: 59 mg 
Potassium: 113 mg
Zinc: 0.4 mg


You Might Also Like These Recipes...
Peanut Butter & Banana Dog Treat Recipe