Pumpkin Cranberry Dog Treats
These gluten free pumpkin cranberry dog treats are soft and naturally sweet with a little zing of tartness from fresh cranberries. Delicious.
If these treats look good enough for YOU to eat, that's because they are!
Made with wholesome, all natural ingredients these goodies are totally safe for human consumption... I often taste-test my recipes when they come out of the oven and Ivan and Dax usually look less than impressed that I'm eating their treats!
If you're using fresh cranberries in this recipe, be prepared for cranberry juice to spill out and stick to your baking sheet. 
This is just one of the reasons I always use my silicone baking mats. Even sticky cranberry juice can be cleaned off them so easily! If you haven't tried them I'd recommend giving them a whirl. They're not just easy to clean, but also prevent your dog treats (or cookies or whatever else) from sticking and/or burning on the bottom. One of my favorite pieces of kitchen equipment for sure.
Ingredients List
1 3/4 cup garbanzo bean flour
1/3 cup canned pumpkin (NOT the pie-filling variety)
1/2 cup mashed banana
1/2 cup *fresh cranberries
1/8 cup ground flax seeds
2 tsp chia seeds
1 tbsp coconut oil (melted)
* You can replace the 1/2 cup of fresh cranberries with 1/3 cup of dried cranberries if you need/want to. If you do this, add 2 tbsp of milk (dairy or non-dairy) or water to the recipe to replace lost moisture.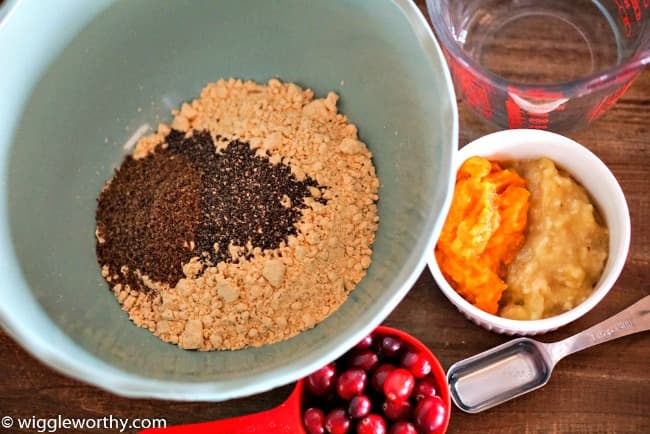 Yield:
This recipe makes approximately twenty-six, 1 3/4" diameter dog treats.
Instructions
Heat oven to 350F
Line baking tray with silicone baking mat
Mash banana
Melt coconut oil
Put flour, flax seeds and chia seeds into large bowl and stir to mix
Put mashed banana, pumpkin and coconut oil into separate bowl, use whisk to blend together
Add cranberries and stir in
Slowly add wet ingredients to dry ones and mix well
Use your hands to form dough
Turn dough out onto a sheet of well floured wax paper
Use floured hands to press dough to approx. 1/2 " thickness
Cut out desired shapes using cookie cutter or sharp knife
Bake at 350F for approximately 20 minutes
Remove from oven and allow to cool thoroughly 
Store in airtight container in refrigerator for up to one week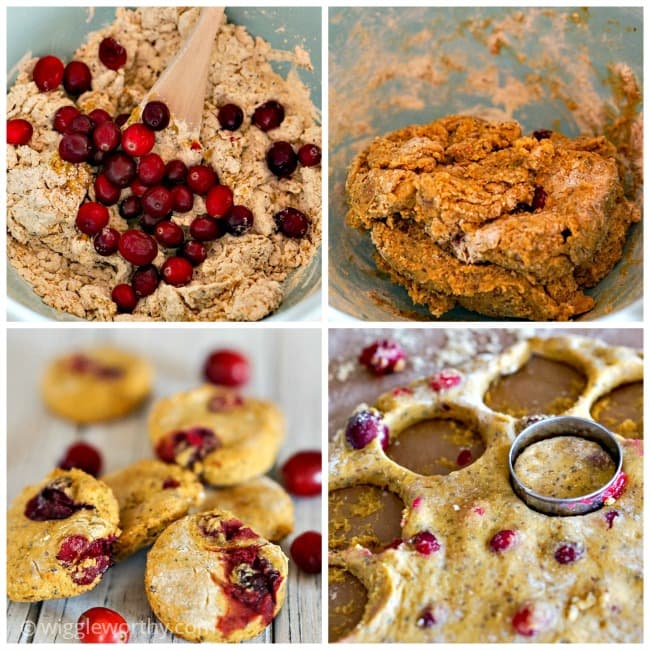 Working with this dough...
This pumpkin cranberry dog treat dough tends to be sticky, and it can be a little difficult to work with.
I always turn it out onto floured wax paper. If you want to use a rolling pin you can, but I'd recommend flattening the dough first with your hands then topping it with a second sheet of wax paper first.
Alternatively you can pinch of teaspoon-sized pieces of dough and form them into balls, flatten slightly with your fingers and place those on your baking sheet rather than using cookie cutters.
When you use cookie cutters, choose simple shapes as the cranberries and the sticky dough makes it tricky to cut out intricate shapes cleanly.
Nutrition Facts Per Treat:
Servings: 26 (one treat per serving)
Serving size: 14 g
Calories per serving: 29
Total Fat: 1.0 g
    Saturated Fat 0.5 g
Total Carbohydrates: 4.0 g
    Dietary Fiber 0.8 g
    Total Sugars 1.1 g
Protein: 1.0 g

Vitamin A: 490 IU
Vitamin B3: 0.1 mg
Vitamin C: 0.8 mg
Vitamin D: 2 IU
Vitamin E: 0.3 mg
Calcium: 5 mg
Magnesium: 11 mg
Phosphorous: 20 mg 
Potassium: 58 mg
Zinc: 0.1 mg


You Might Also Like These Recipes...
Pumpkin Cranberry Dog Treats
Pumpkin Cranberry Dog Treats
Pumpkin Cranberry Dog Treats