Almond Cranberry Dog Treats
This recipe for almond cranberry dog treats is a delicious, healthy choice for any dog... whether he is grain-sensitive or not.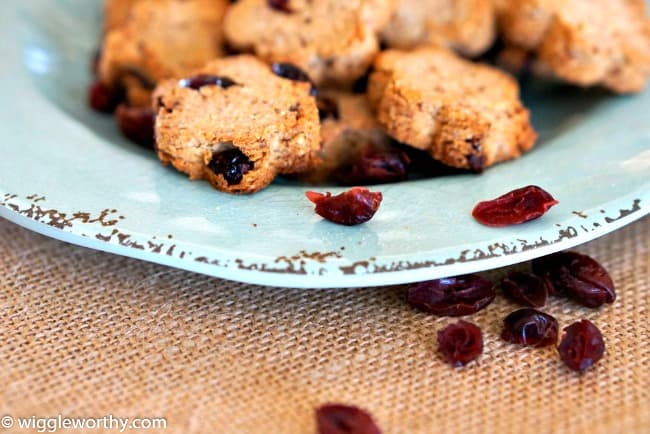 These crunchy treats are packed full of healthy, all natural ingredients like creamy almond butter, almond meal, coconut flour, cranberries and coconut oil. 
The ingredients make MY mouth water, what dog wouldn't love them?
An added bonus is that these treats keep really well if you use dried cranberries, retaining their crispness for a week or more when stored in an airtight container.
Ingredients List
1 cup natural almond meal (not blanched almond flour)
1 cup coconut flour
1/4 cup creamy almond butter (unsweetened)
1/4 cup almond milk
1 egg
1/4 cup coconut oil, melted
1/2 cup fresh cranberries (or 1/3 cup dried cranberries*)
*If you use dried cranberries increase the almond milk by about 2 tbsp
Some brands of almond butter contain the artificial sweetener xylitol. Xylitol is deadly for dogs.
Please always double check that your almond butter (and peanut butter) does NOT contain xylitol. Unsweetened is always best for dogs anyway.
Yield:
This recipe makes approx twenty-six, 1 1/2" flower-shaped treats
Instructions
Preheat oven to 350F
Line baking tray with parchment or silicone baking mat
Mix almond meal and coconut flour in large bowl
Put egg, almond butter, almond milk and melted coconut oil into small bowl. Mix together well
Add wet ingredients to dry ingredients
Add cranberries to mixture
Combine well and mix until dough forms
Coconut oil solidifies at temperatures under 74 or 75F. If your coconut oil needs to be melted for a recipe, then you want to work quickly when mixing ingredients so that it doesn't solidify before you're done. If you look closely above you'll see I didn't work fast enough (grand-baby distraction!). Those little white pieces in the dough are solid coconut oil. It's not a huge deal because the oil obviously melts as soon as the oven warms it, but I prefer to have it more evenly distributed.
Dough tends to be crumbly, so knead it until workable
Turn dough out onto wax paper. Use your hands to flatten to 1/2" thickness
Cut out desired shapes using cookie cutter
Bake at 350F for 20 minutes
Remove from oven and allow to cool completely


Nutrition Facts Per Treat:
Servings: 26 (one treat per serving)
Serving size: 23g
Calories per serving: 45
Total Fat: 4.3g
    Saturated Fat 3.0g
Total Carbohydrates: 1.1g
    Dietary Fiber 0.1g
    Total Sugars 0.9g
Protein: 0.5 g

Vitamin A: 77 IU
Vitamin C: 2.3mg
Vitamin D: 3 IU
Calcium: 7mg
Phosphorous: 11mg
Potassium: 34mg
You Might Also Like These Recipes...
Almond Cranberry Dog Treats