Peanut Butter, Applesauce & Oats Dog Treat Recipe
For softer dog treats that are gluten-free and have a touch of sweetness you can't go wrong with this peanut butter, applesauce and oats dog treat recipe.
Oats are a great grain for dogs who have gluten issues, or just sensitive tummies in general. Hearty and filling, oats are packed full of soluble fiber, vitamins, minerals and antioxidants and high in protein compared to many other grains. Veterinarians also often recommend adding oats in one form or another to a dog's diet as one way of protecting against heart disease.
Oat bran is a popular remedy for constipation and promotes healthy digestive function, but too much can cause flatulence (which we don't want our dogs to suffer from more than they have to!) and potentially diarrhea. That means oat bran is a good choice to be used as an additional source of nutrition and fiber alongside another flour, but it's important not to overdo it, moderation is key.
Both oat flour and oat bran feature in the dog treat recipe on this page and when you combine them with the nutritional benefits of applesauce (unsweetened of course), raw honey, protein-packed peanut butter and organic eggs, the results can't help but be delicious!
Oat Flour/Bran Combo Alternative:
If you want to you can use oatmeal instead of the oat flour and oat bran combination. You can buy oatmeal or make your own by pulsing rolled oats in a food processor until they're coarse-ground (ie not as fine as flour). Either works just fine.
Ingredients List
3 cups oat flour
1 cup oat bran
1 cup applesauce (unsweetened)
1/2 cup creamy peanut butter
2 eggs
1 tsp raw honey
1 tsp baking powder (gluten free)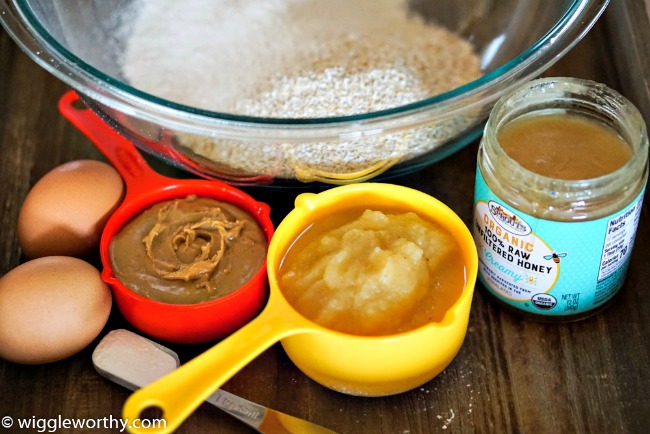 Yield:
This recipe makes approximately eighty, 1 3/4" dog house shaped treats
Instructions
Preheat oven to 375F
Line baking tray with parchment or a silicone baking mat
Put oat flour, oat bran and baking powder into large bowl
Use wooden spoon to stir together well
Add applesauce, eggs and peanut butter to dry ingredients
Use wooden spoon to stir well until ingredients are combined
Use your hands to form and knead dough
Add extra flour if needed, dough should be firm and not too sticky
Turn dough out onto wax paper
Top with a second sheet of wax paper and roll dough out to 1/4" thickness
Use cookie cutter of your choice or sharp knife to cut out treats
Bake at 375F for 15 minutes
Remove from oven and allow to cool completely 
Store treats in airtight container in refrigerator for 7 - 10 days, or in the freezer for longer term storage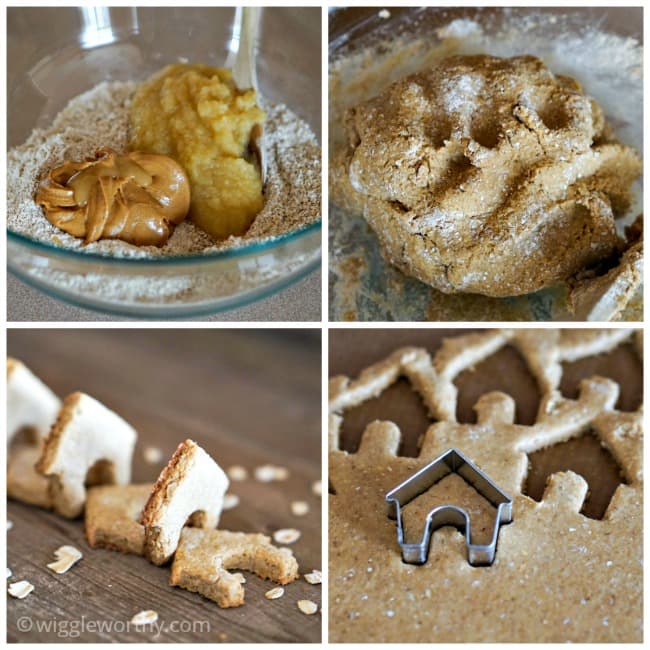 This recipe makes a LOT of dog treats and if you don't own a pack of dogs who are happy to eat 80 treats in less than two weeks I'd suggest doing as I do and freezing half the dough to use at a later date. It's as easy as double-wrapping it and popping it in the freezer! 
Of course, you can also just half the measurements and make half the amount of dough, which equals approx. 40 dog treats instead.

Nutrition Facts Per Treat:
Servings: 80 (one treat per serving)
Serving size: 12 g
Calories per serving: 28
Total Fat: 1.0 g
    Saturated Fat 0.2 g
Total Carbohydrates: 4.2 g
    Dietary Fiber 0.5 g
    Total Sugars 0.7 g
Protein: 1.1 g

Vitamin A: 12 IU
Vitamin C: 0.1 mg
Vitamin D: 1 IU
Vitamin E: 0.1 mg
Calcium: 7 mg
Folate: 7 micrograms
Iron: 0.3 mg 
Magnesium: 9 mg 
Manganese: 0.2 mg
Phosphorous: 36 mg 
Potassium: 38 mg 
Zinc: 0.2 mg
You Might Also Like These Recipes...
Peanut Butter Applesauce & Oats Dog Treat Recipe
Peanut Butter Applesauce & Oats Dog Treat Recipe