Carrot Parsley and Cheese Dog Treats
Wholesome, nutritious carrot parsley and cheese dog treats are a great way to spoil your dog, without spoiling his healthy diet.
My dogs love these crunchy, tasty treats and I love that they're a guilt-free way to spoil them! Of course, they only get one at a time, and I cut this dough into tiny treats so no-one's going overboard in that department.
If your dog has a sensitivity to dairy you can get a cheesy-nutty flavor from using Nutritional Yeast instead of grated cheese (if you've not heard of this check out my page on the best ingredients to use in dog treat recipes). And use coconut milk or almond milk instead of cows milk. If you do this increase the fluid (either the milk or the bone broth) by 1/4 cup.
Ingredients List
1 3/4 cups wholewheat flour
1 tsp wheat germ
1/4 cup grated cheese (I used cheddar)
1/4 cup grated carrot
1/4 cup finely chopped parsley
1/2 cup chicken bone broth
2 tbsp milk
2 tsp virgin olive oil
1/8 tsp pink Himalayan salt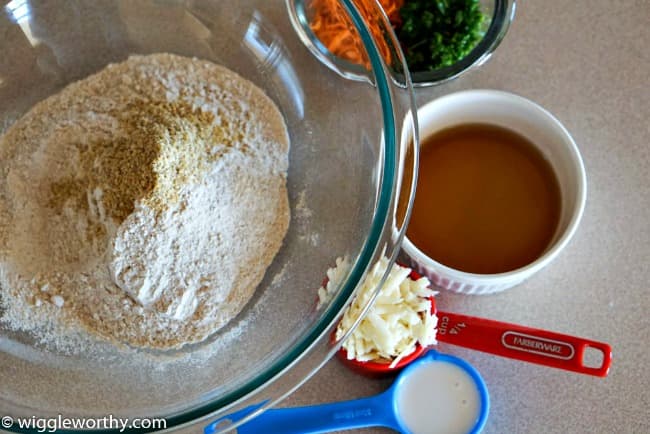 Yield:
This recipe makes approximately sixty, 1 1/2" dog treats.
Instructions
Preheat oven to 350F
Line baking tray with silicone baking mat
Grate cheese and carrot
Chop parsley (I chop this really fine because I make the treats small)
Put flour, wheat germ and salt into large bowl and stir well
Add grated cheese and stir to mix
Put bone broth, milk and olive oil into small bowl and whisk together
Slowly add wet ingredients to dry, mixing well after each addition
Use your hands to form dough
Turn dough out onto floured wax paper
Dust rolling pin with flour and roll dough out to 1/4" thickness
Cut dough into desired shapes with cookie cutters
Bake at 350F for 25 minutes
Remove from oven and allow to cool completely
Store treats in an airtight container for 7 days in the pantry, or 2 weeks in the refrigerator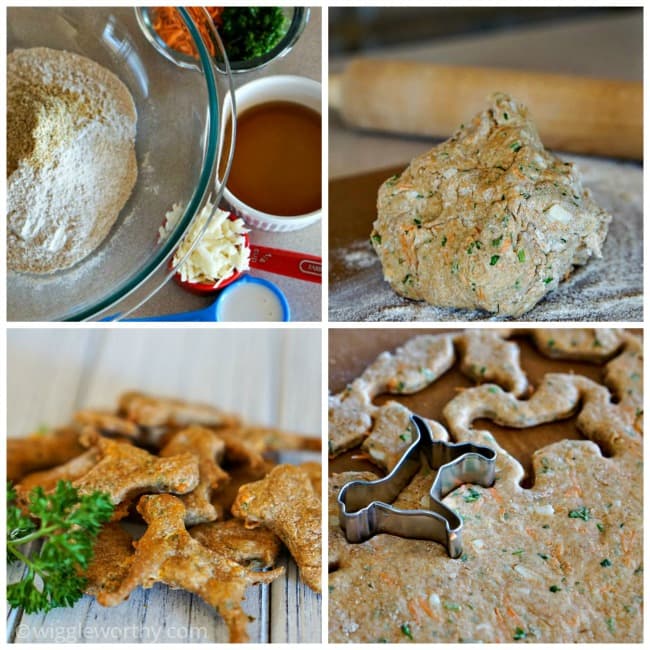 This dough is pretty easy to work with, it's not too sticky and although I often use wax paper underneath when rolling it out, a floured work surface is fine too. If the parsley and carrots are finely chopped/grated then you can use small cookie cutters or more intricate shapes, like the dog in my photos. If you rough grate/chop the veggies then I'd suggest using larger, simpler cutters.
Nutrition Facts Per Treat:
Servings: 60 (one treat per serving)
Serving size: 8 g
Calories per serving: 19
Total Fat: 0.5 g
    Saturated Fat 0.1 g
Total Carbohydrates: 3.0 g
    Dietary Fiber 0.1 g
    Total Sugars 0.01 g
Protein: 0.5 g

Vitamin A: 110 IU
Vitamin B3: 0.2 mg
Vitamin C: 0.5 mg
Vitamin K: 4.5 ug
Calcium: 6 mg
Iron: 0.2 mg
Magnesium: 1 mg
Phosphorous: 8 mg 
Potassium: 10 mg

You Might Also Like These Recipes...
Carrot Parsley & Cheese Dog Treats
Carrot Parsley & Cheese Dog Treats