Apple Carrot Dog Treat Recipe
These apple carrot dog treats aren't just tasty, they're packed full of nutrients too.
Carrots and apples are fat-free, low calorie ingredients and are a good source of fiber which helps your dog's digestive system work properly.
When you add nutrient dense blackstrap molasses and the healthy fats in coconut oil it all adds up to dog treats that you can feel good about.
These treats don't crumble easily, so they're great to take out and about in your treat pouch. They're not tiny (so I wouldn't use them as training treats unless you only offer one or two) but not too big either.
But they are the perfect size for those daily 'good boy' (or girl) moments.
Ingredients List
2 1/2 cups wholewheat flour
1/2 cup oats
1/3 cup coconut oil
1/2 cup apple, peeled and grated (approx. 1 apple)
1/2 cup carrots, peeled and grated (approx. one med-sized carrot)
1 egg
1 tsp unsulphured blackstrap molasses 
1/4 to 1/2 cup water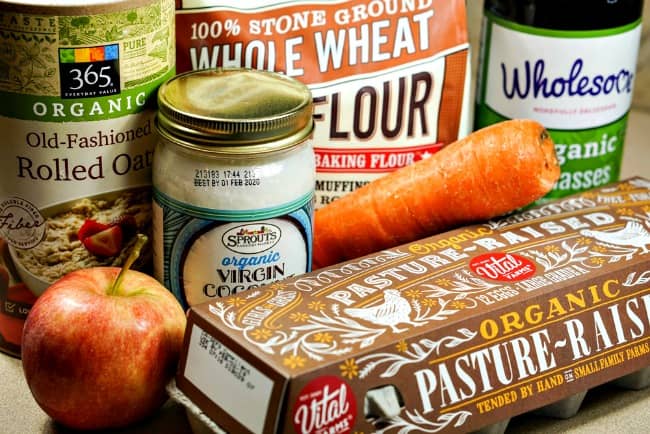 Yield:
This recipe makes approx. 75 small (1") treats or 25 larger ones.
Instructions
Preheat oven to 350F
Line cookie sheet with parchment or silicone baking mat
Peel and grate apples (I coarse grate these)
Peel and grate carrots (I fine grate these)
Melt coconut oil
Put flour and oats into large bowl
Put melted coconut oil, water and molasses into mid-sized bowl
Beat egg and add to oil and water, mix well
Add carrots and apples to egg/oil/water/molasses mixture. Stir well
Slowly add wet ingredients to dry and stir well until dough forms
If the dough is too crumbly/dry gradually add extra water until it becomes workable
Flour work surface and rolling pin to roll dough out to 1/2" thickness
Use cookie cutter to create desired shape. This dough is great for making small dog treats. I used a tiny, 1" diameter round cookie cutter here
For small treats bake for 30 minutes. For larger treats bake 40 - 45 mins
Remove from oven and allow to cool completely on baking rack
Store in refrigerator for about 2 weeks in an airtight container, jar or ziploc bag. 
Nutrition Facts Per Treat:
Servings : 75 (one treat per serving)
Serving size: 1g
Calories per serving: 28
Total Fat: 1.18g
    Saturated Fat 0.87g
Total Carbohydrates: 3.85g
    Dietary Fiber 0.2g
    Total Sugars 0.21g
Protein: 0.67 g
Vitamin A: 129IU
Vitamin D: 1IU
Calcium: 2mg
Iron: 0.27mg
Magnesium: 3mg
Phosphorous: 12mg
Potassium: 15mg
You Might Also Like These Recipes...
Home

›

Dog Treat Recipe Index
› Apple, Carrot Dog Treats