Gluten Free Peanut Butter Dog Treats
These delicious gluten free peanut butter dog treats make the perfect snack!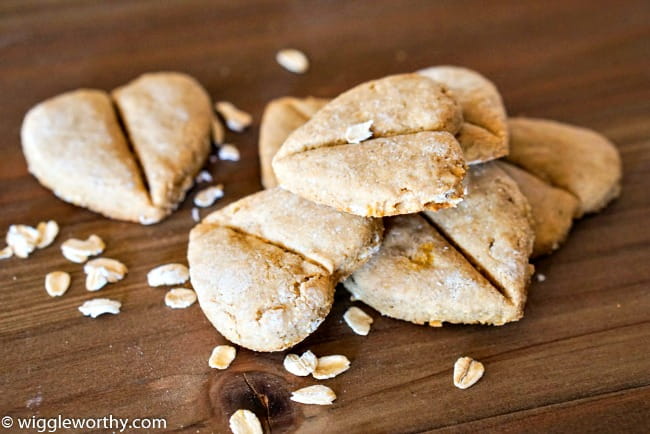 Each soft, delicious bite is packed full of nutritious ingredients including creamy, protein-rich peanut butter, sweet mashed banana, heart-healthy oats and just a taste of natural honey. Mm, mm, mm!
Warning:
Remember to double check that your peanut butter does NOT contain Xylitol. This sweetener is toxic to dogs. Peanut butter doesn't need to contain anything other than peanuts!
Ingredients List
2 1/2 cups oat flour
1/2 cup rolled oats
1/4 cup dried milk powder (I use coconut milk powder)
3 tbsp creamy peanut butter
1 egg
1 tbsp honey
1 tsp baking powder
1/2 tsp Ceylon cinnamon
Yield:
This recipe makes approximately thirty-four, 2" heart-shaped treats.
Instructions
Preheat oven to 325F
Line baking tray with silicone baking mat
Put flour, oats and milk powder into large bowl and stir to mix
Stir cinnamon and baking powder into flour mixture
Mix together peanut butter and honey in medium bowl
Mash the banana and add to peanut butter and honey, stirring well
Use whisk or fork to lightly beat egg in small bowl 
Stir beaten egg into banana, peanut butter and honey mixture
Add wet ingredients to dry, slowly, mixing well each time
Form dough with your hands
Turn dough out onto floured wax paper
Top with a second sheet of wax paper
Use rolling pin to roll out dough to approx. 1/4" thickness
Cut treats into desired shapes using cookie cutter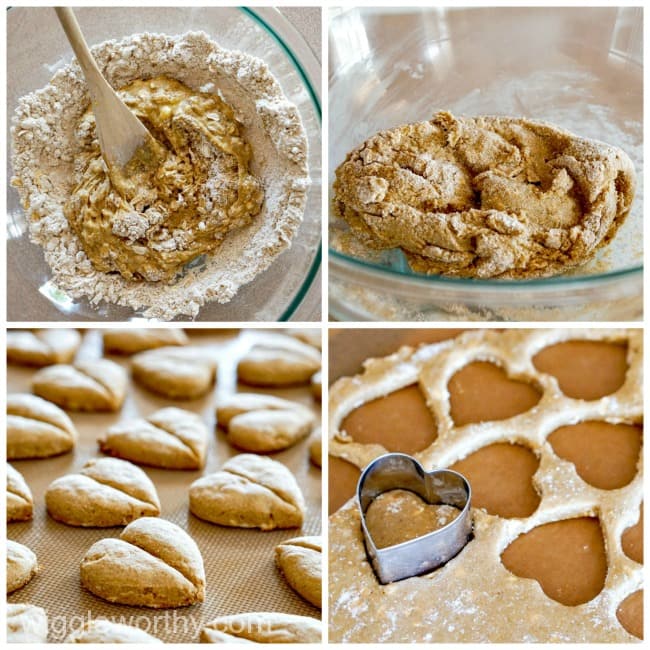 Bake at 325F for 20 minutes
Remove from oven and allow to cool completely
Store in airtight container in  pantry for approx. 5 days, in refrigerator for 7 days


Make treats easy to divide into smaller portions...
You can see from the photos on this page that these treats are marked with a line at the midway point. I do this quite often when I'm making medium to large-sized treats because it makes them easy to break in half neatly once baked.
Smaller treats are easier for small or senior dogs and for puppies. These particular gluten free peanut butter treats are soft-baked style so you could break them up even if they weren't marked in this way. With many crunchier treats it's difficult, and messy, to break them if you don't plan for it before baking.

Simply use a sharp knife and press down firmly but gently (don't cut all the way through the dough) to score at the halfway mark before putting them in the oven to bake.
If you're using a square, round or oblong cookie cutter you can even divide your treat into thirds, or quarters, or as many pieces as is practical. Big, round treats can be marked like pizza slices.
I'm not a fan of peanut butter myself but these gluten free dog treats smell amazing while baking. Every human who has snuck one off the cooling rack swears they taste pretty darned good too.
My rescue dog, Ivan, absolutely LOVES peanut butter and he's always excited when I'm making PB treats! This recipe is one of his favorites. Dax, my GSD, is one of the only dogs I've ever met who doesn't enjoy good old peanut butter so Ivan has sole responsibility for taste testing these. Needless to say he gives them a 5-Star rating. 
Nutrition Facts Per Treat:
Servings: 34 (one treat per serving)
Serving size: 13 g
Calories per serving: 48
Total Fat: 1.6 g
    Saturated Fat 0.3 g
Total Carbohydrates: 7.1 g
    Dietary Fiber 0.8 g
    Total Sugars 1.0 g
Protein: 2.0 g

Vitamin A: 19 IU
Vitamin B3: 0.3 mg 
Vitamin D: 3 IU
Vitamin E: 0.2 mg
Calcium: 19 mg
Folate: 5 Ug
Iron: 0.4 mg
Magnesium: 17 mg
Manganese: 0.4 mg
Phosphorous: 67 mg 
Potassium: 70 mg
Zinc: 0.3 mg


You Might Also Like These Recipes...
Gluten Free Peanut Butter Dog Treats
Gluten Free Peanut Butter Dog Treats