Vegetable Turmeric Dog Treats
We all know that eating our veggies is good for us. It's also good for our dogs!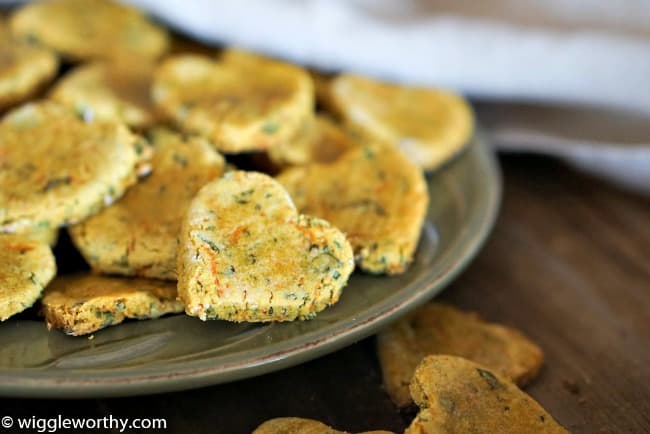 These vegetable turmeric dog treats harness the goodness of nutrition-dense greens like spinach and parsley, add crunchy carrots, a helping of yummy applesauce and the powerful anti-inflammatory benefits of the super-spice turmeric.

Wow, that's a LOT of super-healthy ingredients all wrapped up in one tasty (easy to make) recipe.
They also use gluten-free flours and are low in fat which makes them nutritiously delicious dog treats which are a great choice for dogs of all ages and sizes.
Ingredients List
1 1/2 cups brown rice flour
3/4 cup oat flour
1 cup fresh, baby spinach (finely chopped)
1 cup raw carrot (unpeeled and coarse grated)
1/4 cup fresh parsley (chopped)
1/2 cup applesauce (unsweetened)
1/4 cup plain yogurt (low fat or fat-free)
1 tsp baking powder (gluten free variety)
1/4 tsp turmeric powder


Optional Yogurt Glaze:
1/2 tsp plain yogurt

2 tsp water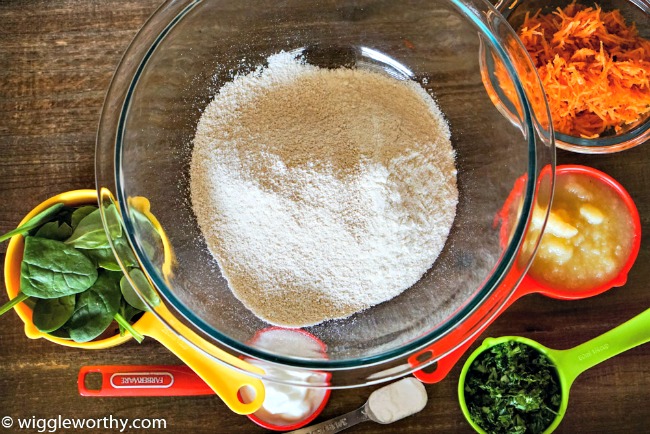 Yield:
This recipe makes approximately thirty-five, 2" heart shaped treats
Instructions
Preheat oven to 325F
Line baking tray with parchment or silicone baking mat
Put brown rice flour and oat flour (sieved) into medium sized bowl
Add baking powder to flours and stir to combine
Finely chop spinach and parsley
Coarsely grate carrots (washed but unpeeled)
Put spinach, parsley, carrots and applesauce into a large bowl
Stir with wooden spoon to mix well
Add yogurt and stir into fruit/vegetable mixture
Sprinkle turmeric over mixture and stir in 
Add flour mix to vegetable mixture one cup at a time
Stir well between each addition
Once all flour is mixed in, use your hands to form dough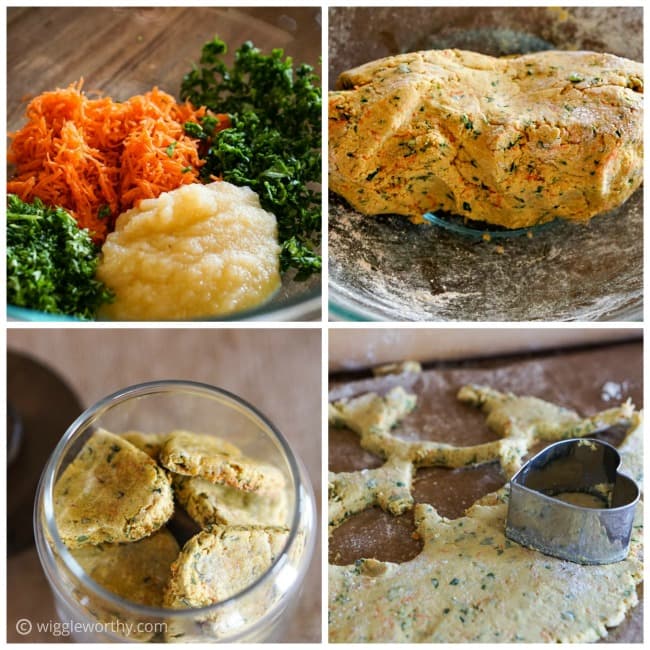 Knead well, adding more flour if dough is too sticky
Turn dough out onto floured wax paper, top with second sheet
Roll dough out to 1/4" thickness
Use cookie cutters to cut treats into desired shape
Mix yogurt and water to form glaze, brush over treats before baking (optional*)
Bake at 325F for 35 minutes
Remove treats from oven and allow to cool completely
Store treats in refrigerator for 7 - 10 days


Recipe Tips
Because this dough uses gluten free flour it is a little more fragile than regular dough. Don't be afraid to use extra flour dusted on paper (and hands) to reduce stickiness while rolling, cutting etc. 
Also, don't forget that turmeric can stain, especially when it's wet. The wax paper does double-duty to keep dough from sticking as well as preventing it from staining the work surface.
Nutrition Facts Per Treat:
Servings: 34 (one treat per serving)
Serving size: 19 g
Calories per serving: 39
Total Fat: 0.4 g
    Saturated Fat 0.1 g
Total Carbohydrates: 7.7 g
    Dietary Fiber 0.6 g
    Total Sugars 0.6 g
Protein: 0.9 g

Vitamin A: 663 IU
Vitamin B3: 0.5 mg
Vitamin C: 1.1 mg
Vitamin E: 0.15 mg
Calcium: 13 mg
Iron: 0.3 mg
Magnesium: 13 mg
Manganese: 0.3 mg
Phosphorous: 48 mg 
Potassium: 67 mg
Zinc: 0.3 mg


You Might Also Like These Recipes...
Vegetable & Turmeric Dog Treats
Vegetable & Turmeric Dog Treats
Vegetable & Turmeric Dog Treats