Peanut Butter Carob Frozen Dog Treats
These peanut butter and carob frozen dog treats are the perfect taste of sweetness for hot summer days... but don't let that stop you from spoiling your dog with them at any time of year. He's not fussy!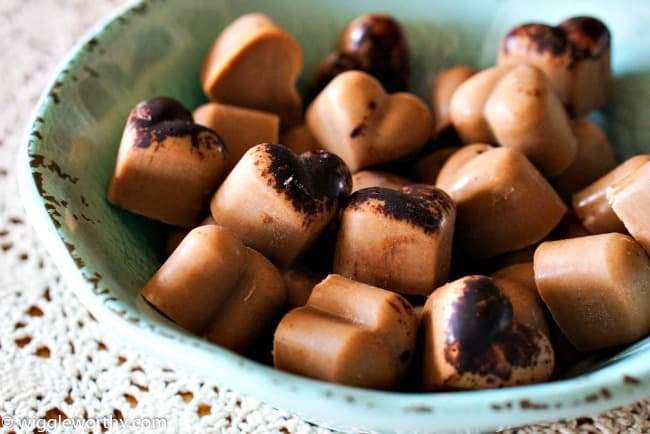 Using just three nutrition-packed ingredients, this recipe is super simple to follow and the results are healthy and nutritious, and they look cute too. What more could you ask?

I used adorable heart-shaped silicone molds to create my treats (which makes them perfect for Valentine's Day right?) but if you don't have silicone molds you can use regular ice cube trays.

I like to make this recipe into tiny treats which can be eaten quickly. That's because they soften quickly once at room temperature meaning things can get a little messy if your dog doesn't eat them up right away (like that's a thing!).
This isn't a problem if you offer them on easy-clean flooring like tile, or outdoors (or if, like my two, your dogs pretty much inhale them). 
Ingredients List
1 cup creamy peanut butter
1/2 cup Virgin coconut oil
1 tsp carob powder
Sometimes I make these treats using almond butter or mashed banana instead of peanut butter. The carob is delicious and makes them look pretty, but you could use cinnamon instead (make sure it's Ceylon cinnamon).

Incredible Coconut Oil
The core ingredient in this recipe is virgin coconut oil (which solidifies in temperatures below 75F). This type of coconut oil is unrefined/raw, is abundant in healthy fats and offers a whole host of health benefits including improving the condition of your dog's skin and coat, reducing inflammation, increasing energy and it's antibacterial and antiviral too.

Yield:
This recipe makes approx. twenty four 1" heart shaped treats
Instructions
Place silicone molds on baking tray for stability
Melt coconut oil in large bowl
Add peanut butter to coconut oil and stir to combine
Sift carob powder into mixture and mix well
Use spoon, piping bag or squeeze bottle to fill molds
Put molds into freezer (keep them on the tray so they don't bend)
Freeze for at least one hour
Pop treats out of molds
Store treats in freezer in ziploc bags or airtight container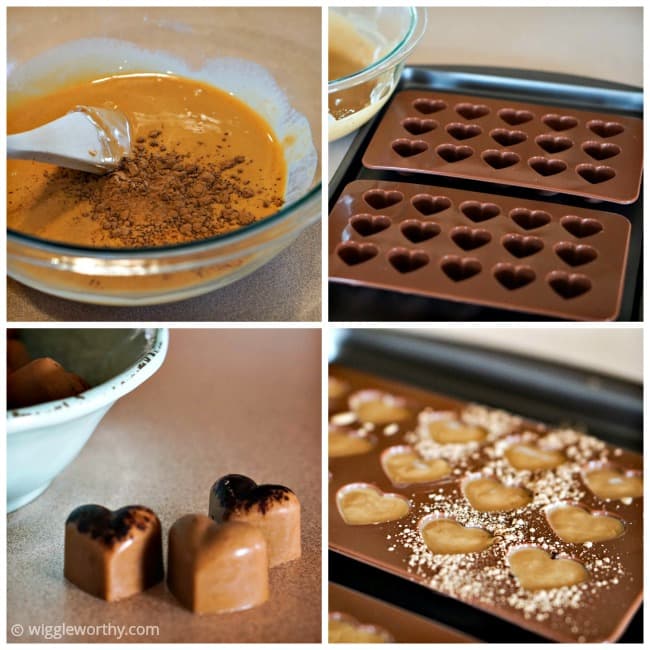 You can see in the photos that some of these peanut butter and carob dog treats are darker on top. Sometimes I do them all that way, sometimes not. The effect is achieved by sifting some carob powder into the molds before filling. When the frozen treats pop out they have this pretty, chocolate-topped appearance. I know my dogs don't care, but my creative side appreciates it.
Nutrition Facts Per Treat:
Servings: 24 (one treat per serving)
Serving size: 15g
Calories per serving: 104
Total Fat: 2.0g
    Saturated Fat 0.8g
Total Carbohydrates: 2.5g
    Dietary Fiber 0.6g
    Total Sugars 1.1g
Protein: 2.3 g

Vitamin A: 33 IU
Vitamin C: 1.3mg
Vitamin E: 1.0mg
Calcium: 5mg
Iron: 0.2mg
Magnesium: 18mg
Phosphorous: 36mg 
Potassium: 60mg
Zinc: 0.2mg


You Might Also Like These Recipes...
Peanut Butter Carob Frozen Dog Treats
Peanut Butter Carob Frozen Dog Treats
Peanut Butter Carob Frozen Dog Treats