Sunflower Seed Power Bar Dog Treats
These super healthy sunflower seed power bar dog treats are gluten free goodies, packed full of essential vitamins and nutrients including B vitamins, vitamin E, magnesium, manganese and calcium. They're also a great source of fiber and protein.
Heart healthy oats, crunchy sunflower seeds, high-fiber chia seeds, sweet/tart dried cranberries and pure maple syrup make these doggie power bars guilt-free treats that your dog will love.
Sunflower Seeds for Dogs
Sunflower seeds are a fantastic source of vitamin E and beneficial fatty acids which help keep cholesterol and blood pressure at healthy levels and improve skin and coat condition. They're also high in B vitamins, magnesium and a whole range of trace minerals and antioxidants. They're crunchy super seeds!
However, there are a couple of things to remember when adding sunflower seeds to your homemade dog treat recipes:
Always use seeds that have been removed from their shells
Never use salted sunflower seeds
This is because the shells are very difficult to digest and can cause intestinal blockage, and dogs don't need any added salt in their diet as it can lead to heart and/or kidney disease as well other acute or chronic health conditions.
Ingredients List
1 1/4 cup wholegrain oat flour
1 cup brown rice flour
1/2 cup rolled oats (I like to use 'Extra Thick' oats for this recipe)
1/4 cup ground flax seed
3/4 cup unsalted sunflower seeds (without shells)
3/4 cup dried cranberries
1 egg
1/4 cup pure maple syrup
5 tbsp applesauce (equal to one, 4 oz tub)
Approx 2 - 3 tbsp cold water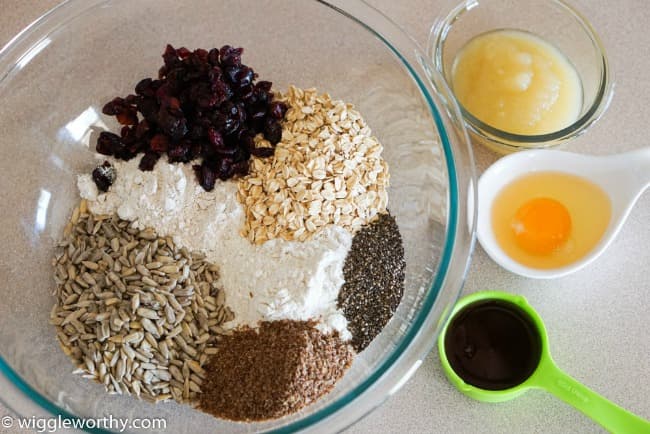 Yield:
This recipe makes approximately fifty-six, 2" long rectangular treats
Instructions
Preheat oven to 350F
Line baking tray with parchment or silicone baking mat
Put all dry ingredients into large bowl 
Mix together using wooden spoon
Add applesauce, egg and maple syrup to dry ingredients
Mix thoroughly using wooden spoon
Use hands to form dough
Add water, 1 tbsp at a time, if needed to get ingredients to stick together
Divide dough into two pieces
Turn out each piece of dough onto floured surface
Use hands to press dough into disc shape
Use floured rolling pin to roll disc out to approx. 1/4" thickness
Cut treats into desired shapes using cookie cutters or sharp knife
Repeat turnout, rolling and cutting out steps for second piece of dough
Bake sunflower power bar dog treats at 350F for approx. 25 mins
Remove from oven and allow to cool completely
Keep in sealed container in refrigerator for 5 - 7 days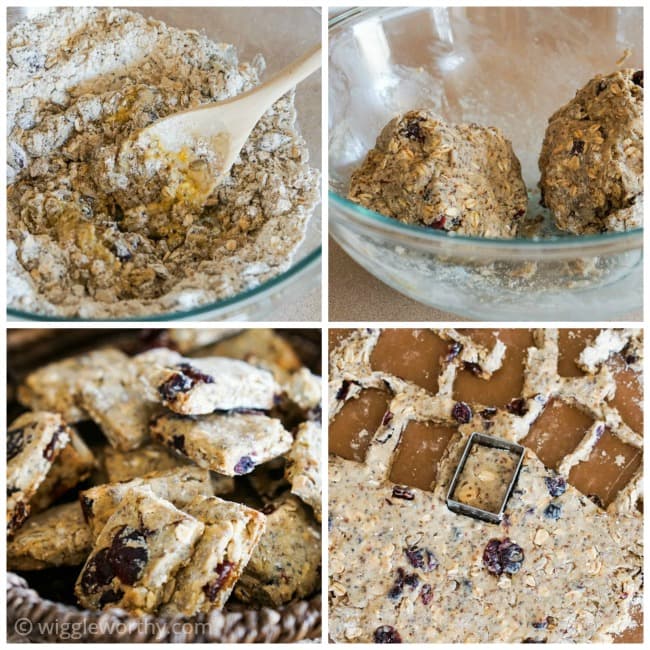 Nutrition Facts Per Treat:
Servings: 56 (one treat per serving)
Serving size: 14 g
Calories per serving: 48
Total Fat: 1.6 g
    Saturated Fat 0.2 g
Total Carbohydrates: 7.3 g
    Dietary Fiber 0.8 g
    Total Sugars 2.0 g
Protein: 1.3 g

Vitamin A: 5 IU
Vitamin B3: 0.4 mg
Vitamin B5: 0.2
Folate: 7 IU
Vitamin D: 1 IU
Vitamin E: 0.6 mg
Calcium: 7 mg
Iron: 0.3 mg
Magnesium: 14 mg
Manganese: 0.34 mg
Phosphorous: 51 mg 
Potassium: 47 mg
Selenium: 2.9 ug
Zinc: 0.3 mg


You Might Also Like These Recipes...
Sunflower Seed Power Bar Dog Treats