Multi-Grain Dog Treats
These multi-grain dog treats are superstars in every way!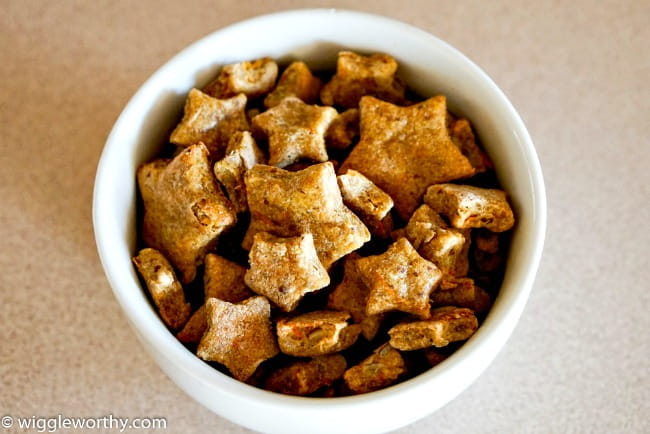 In addition to being made with a whole host of seeds and grains they contain chicken, carrots and cheese which make them super-tasty and pretty much irresistible for any dog.
When I want to add chicken to a dog treat recipe it's always cooked and shredded chicken breast because this is an excellent source of lean protein which contains a range of vitamins, minerals and amino acids. 
I cook and shred a couple of chicken breasts at a time and divide the results up into 1/2 cup portions. I freeze individual portions in freezer bags so it's easy to add the meat to a recipe whenever I need to. Defrost the meat first of course, it takes very little time to defrost 1/2 cup of finely shredded chicken!
Carrots are high in fiber and low in calories and fat, plus they're a fantastic source of beta-carotene which the body converts into vitamin A.

Cheese isn't something I use in a lot of recipes because some dogs are lactose intolerant (although mine are not). I often use dairy alternatives such as almond or coconut milk, non-dairy butters and nutritional yeast instead of cheese. However, in this recipe I do add a little grated cheddar cheese because it's so tasty. Parmesan is even stronger flavored and can be used instead of cheddar if you want. In it's defense, cheese does contains protein, calcium, essential fatty acids and other important nutrients, so as long as your dog has no difficulty digesting dairy products a little cheese every now and then is not a big deal.
These healthy little treats also contain applesauce, bone broth (a super food in it's own right), anti-inflammatory turmeric and more. They're miniature nutritional powerhouses. If I wasn't a vegetarian I'd definitely try these myself :)
Ingredients List
2 cups whole wheat flour
1 cup oat flour
3/4 cup wheatgerm
1/2 cup dried milk powder 
1/2 cup shredded carrots
1/2 cup unsweetened applesauce
1/2 cup cooked, shredded chicken breast
1/4 cup grated cheddar cheese (or you can use Parmesan if you prefer)
1/2 cup chicken bone broth
2 tbsp sunflower seeds (unsalted)
2 tbsp ground flax seed
1/8 tsp turmeric
1/8 tsp pink Himalayan salt
Dash of freshly ground black pepper 
* Optional glazes calls for one egg white and 1 tsp milk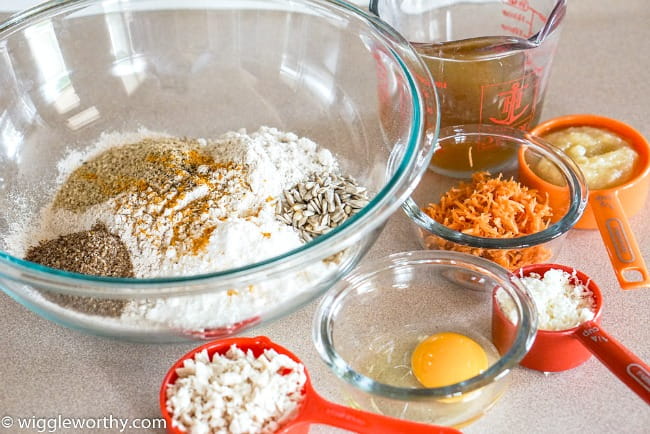 Yield:
This recipe makes approximately one hundred and fifty, 1" star-shaped dog treats.
When making these multi-grain dog treats I often divide the dough into two and make approx. one hundred  small 1" treats plus approx. forty slightly larger 1 1/2" treats. The tiny ones are great 'Good Boy!' treats, while the larger ones are a tasty goodnight snack.
Instructions
Preheat oven to 350F
Line baking tray with silicone baking mat
Grate carrots and cheese
Put flours, powdered milk, wheat germ, flax seed, sunflower seeds, turmeric and salt and pepper into large bowl and stir to mix thoroughly
Stir cheese into flour and mix
Stir carrots into flour/cheese and mix
In small bowl combine egg, applesauce and bone broth
Add liquid ingredients to dry ingredient mixture and stir until blended
Use hands to form dough
Turn dough out onto lightly floured surface
Use floured rolling pin to roll dough out to approx. 1/4" thickness
Cut treats into desired shapes using cookie cutters or sharp knife
Optional* to glaze, mix one egg white with 1 tsp milk and brush onto treats before baking 
Bake at 350F for 15 mins for small treats or 30 mins for larger ones
Remove from oven and allow to cool completely
Store treats in airtight container in refrigerator for 5 - 7 days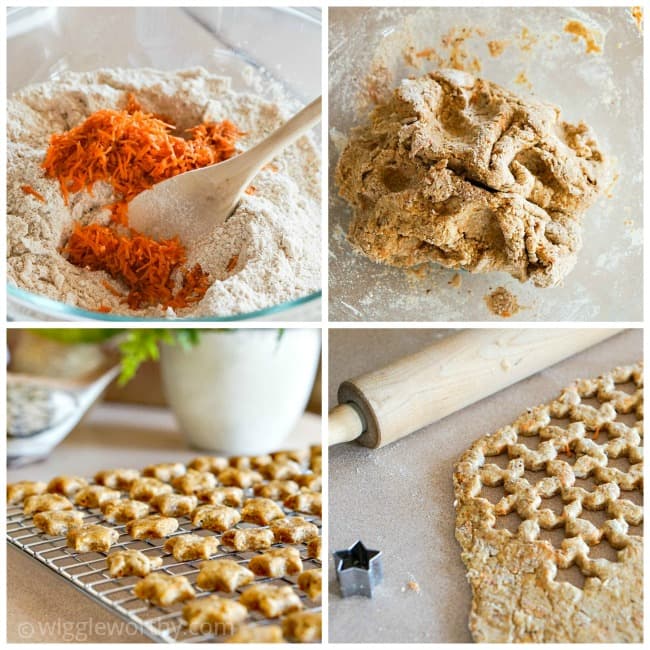 NOTE: Prep time for this recipe is about 30 minutes when I'm making the tiny treats because they take a long time to cut out and are fiddly to glaze. If you're making larger treats it's much less. 
Nutrition Facts Per Treat:
Servings: 150 (one treat per serving)
Serving size: 6 g
Calories per serving: 15
Total Fat: 0.4 g
    Saturated Fat 0.1 g
Total Carbohydrates: 2 g
    Dietary Fiber 0.3 g
    Total Sugars 0.1 g
Protein: 0.8 g

Vitamin A: 67 IU
Vitamin B3: 0.3 mg
Vitamin K: 0.1 
Calcium: 4 mg
Folate: 3 ug
Iron: 0.15 mg
Magnesium: 6 mg
Manganese: 0.2 mg
Phosphorous: 19 mg 
Potassium: 21 mg
Selenium: 2.3
Zinc: 0.2 mg


You Might Also Like These Recipes...