Pumpkin Cranberry Turkey Dog Treats
This recipe for pumpkin cranberry and turkey dog treats makes delicious, healthy and nutritious Fall goodies and is especially perfect for Halloween and Thanksgiving. It's a favorite in our house!
Packed with nutrients from only human-grade ingredients!
Fight back against winter dry skin and coat with the healthy oils from coconuts, pumpkin seeds and almond flour.
Keep your dog's digestive system working well with high-fiber pumpkin and unblanched almond flour, and his urinary tract will benefit from organic cranberries.
Harness the super-food power of turkey bone broth.
These gluten free treats have it all, all in one tasty, easy-to-make, recipe.
Ingredients List
2 1/2 cups oat flour
2 cups unblanched almond flour
1/4 cup dried organic cranberries
1/4 cup turkey baby food (equivalent to one small 2.5 oz jar)
1/4 cup roasted pumpkin seeds
1/3 cup pumpkin puree
1/4 cup turkey bone broth
1 tbsp coconut oil (melted)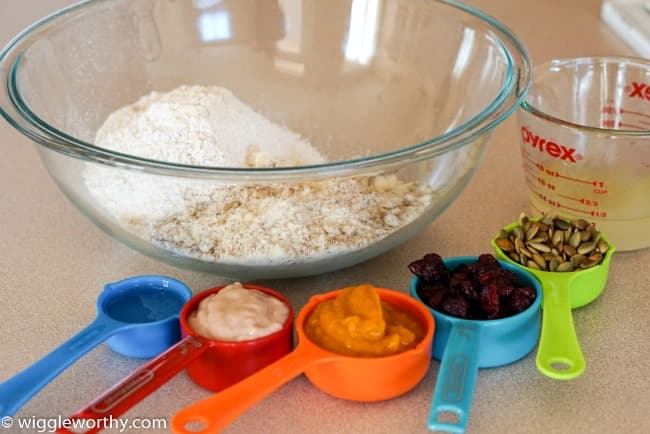 Yield:
This recipe makes approximately fifty-two, 1 1/2" flower shaped dog treats
Instructions
Preheat oven to 350F
Line baking tray with silicone baking mat
Sieve flours into large bowl and mix well using wooden spoon
Roughly chop pumpkin seeds
Roughly chop dried cranberries
Stir pumpkin seeds and cranberries into flour mixture
Mix pumpkin puree, baby food, coconut oil and bone broth in small bowl
Stir wet ingredients into dry mixing well with wooden spoon
Use your hands to form dough 
Knead well for one or two minutes
Turn dough out onto lightly floured wax paper 
Flatten with your hands
Roll dough out to 1/4" thickness using lightly floured rolling pin
Cut dough into treat shapes using cookie cutter
Bake at 350F for 25 minutes
Remove from oven and allow to cool completely
Store in airtight container in refrigerator for up to one week
Substitutions
This recipe can be altered in a couple of ways to accommodate taste and ingredients on hand.
If you'd rather use fresh cranberries instead of dried you can substitute them easily. One cup of fresh cranberries is roughly equal to 3/4 cup of dried for the purpose of recipes. So just add a little over 1/4 cup of fresh in this recipe.
Don't have turkey baby food on hand? No worries. You can replace it with an equal amount of pumpkin puree and get the turkey flavor exclusively from the bone broth or use 1/4 cup of shredded cooked turkey meat and increase the bone broth to 2/3 cup.


Almond Flour - Blanched or Unblanched?
There are two types of almond flour: blanched, and unblanched.
They're both made from finely ground almonds, but the difference between them is that blanched almond flour is made from almonds which have had their skin removed, while almond unblanched flour is made from whole almonds, with the skin still on.
Neither is 'better' than the other and can generally be used interchangeably. The unblanched variety is a little less smooth and adds a touch more texture to baked goods, it's also darker in color, but when you're making dog treats that is rarely an issue.
I prefer to use unblanched almond flour as there are nutrients in the almond skin which are lost in the blanched option. But, if I was baking a cake which had to be light (in texture and color) I'd choose blanched.
This recipe works equally well with either, so choose according to your taste, or whichever variety you have on hand!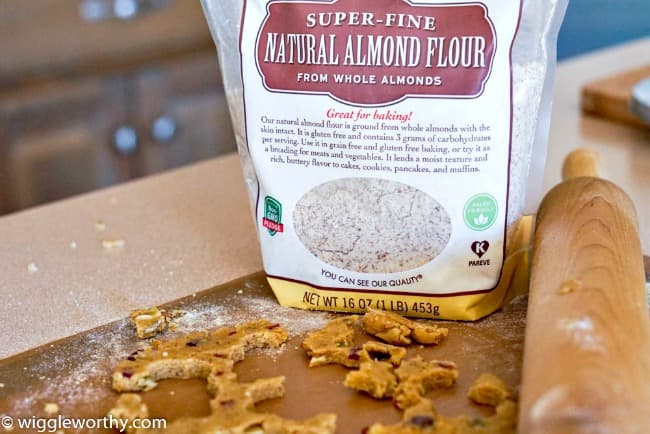 Nutrition Facts Per Treat:
Servings: 52 (one treat per serving)
Serving size: 15 g
Calories per serving: 57
Total Fat: 2.9 g
    Saturated Fat 0.5 g
Total Carbohydrates: 5.6 g
    Dietary Fiber 1.1 g
    Total Sugars 0.8 g
Protein: 3.5 g 
Vitamin B3: 0.3 mg
Vitamin C: 0.3 mg
Vitamin D: 1 IU
Calcium: 4 mg
Iron: 1.0 mg
Magnesium: 26 mg
Manganese: 0.3 mg
Phosphorous: 52 mg 
Zinc: 0.3 mg


You Might Also Like These Recipes...
Pumpkin Cranberry & Turkey Dog Treats
Pumpkin Cranberry & Turkey Dog Treats