These low calorie pumpkin spinach dog treats skimp on calories and fat, but not on taste!

I created this dog treat recipe especially for my daughter's dachshund, Knox, who is having a hard time keeping his weight down. 
With surgery for a spinal problem in his past, and a human toddler who is like a food vending machine for pint-sized dogs, he can't afford to gain anymore weight and has been put on a diet. Poor guy.
But, that doesn't mean he shouldn't be able to have the occasional 'cheat treat', so I whipped up a batch of these low calorie goodies just for him!
Whole-wheat flour gives these dog treats crunch, pumpkin puree, spinach and parsley bring the flavor, and  wheat germ plus pink Himalayan sea salt add a little zing.

When did a low-calorie dog treat recipe last taste (or look) so good?
This dog treat recipe must smell especially yummy because Ivan literally sat at my feet the whole time I was preparing it, he was VERY interested in what I was doing. These treats were for Knox, but of course both Ivan and Dax got to taste-test them, as per usual!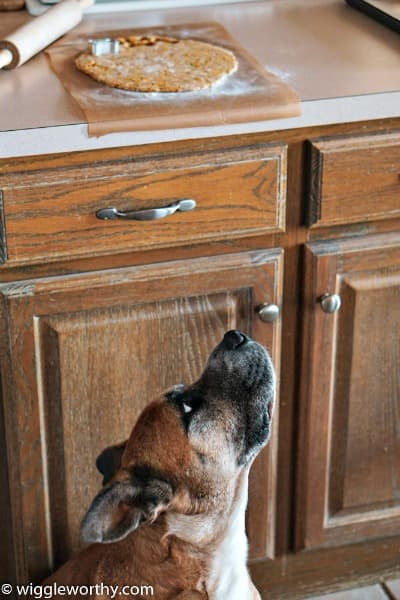 Nutrition Facts Per Treat:
Servings: 60 (one treat per serving)
Serving size: 6 g
Calories per serving: 9
Total Fat: 0.2 g
    Saturated Fat 0.05 g
Total Carbohydrates: 1.6 g
    Dietary Fiber 0.3 g
    Total Sugars 0.08 g
Protein: 0.5 g

Vitamin A: 355 IU
Vitamin B3: 0.1 mg
Vitamin C: 0.2 mg
Vitamin D: 1 IU
Vitamin E: 0.06 mg
Calcium: 2 mg
Iron: 0.1 mg
Magnesium: 4 mg
Phosphorous: 11 mg 
Potassium: 16 mg