Pumpkin, Apple, Parsley, Mint Dog Dog Treat Recipe
With ingredients that pack a powerful nutritional punch, this pumpkin, apple, parsley and mint dog treat recipe may bring a hint of freshness to your dog's breath... but all he'll know is that they taste amazing!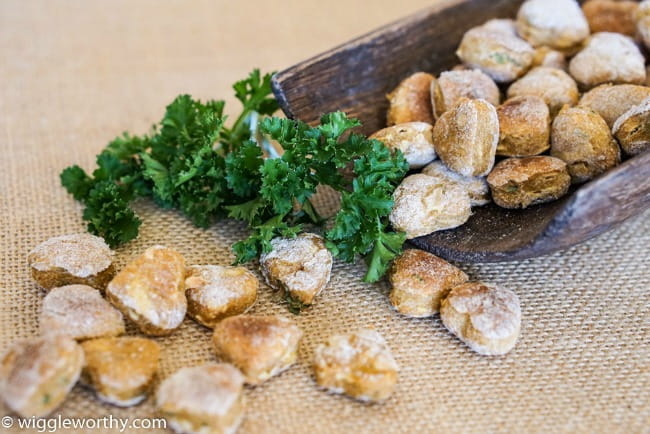 I call these dog treats 'kisses' because I make the treats in the shapes of tiny little hearts. Seems appropriate, especially given the breath freshening properties of both parsley and mint. What's not to love about that?

All the fiber-rich ingredients in this homemade dog treat recipe are nutrient dense, especially when it comes to vitamins, minerals and anti-oxidants. 
These delicious, crunchy little morsels pack a healthy punch, and are especially good for your dog's digestive system.
They also taste great, with a mild minty flavor... you can test this for yourself by trying one, I did!
Ingredients List
3 cups wholewheat flour
1 cup pumpkin puree
1 apple, peeled and coarsely grated
2 large eggs
1/2 cup parsley leaves, finely chopped
1/2 cup mint leaves, finely chopped
If you don't have fresh mint on hand, you can use alcohol free peppermint extract. It doesn't have the nutritional value of fresh but does still contain peppermint oil which is good for digestive tract health.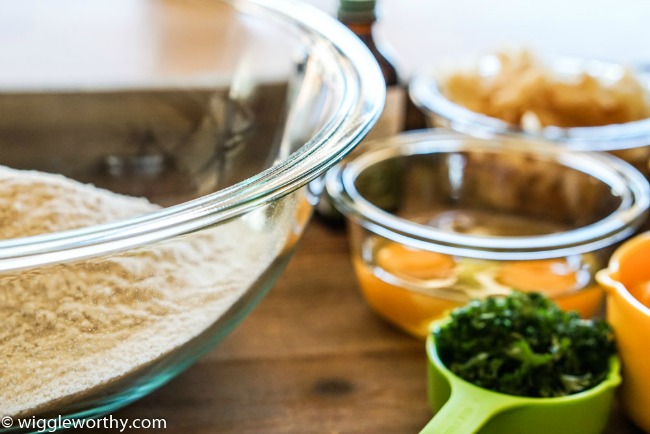 Yield:
This recipe makes approximately 200 small (1") dog treats. They're a perfect size for small dogs, and even my big boys eat them very delicately. 
Instructions
Preheat oven to 350F
Line baking sheet with parchment or silicone baking mat
Put pumpkin puree and eggs into large bowl and mix well
Slowly add 2 1/2 cups of flour a little at at time
Mix well each time with a wooden spoon 
Add apple, parsley and mint and stir into mixture
Add remaining flour slowly, mixing into dough each time
Add extra flour if needed until your dough is workable
Liberally dust rolling pin and work surface with flour
Roll out dough to 1/4" thickness 
Use sharp cookie cutter to cut dough into desired shapes
Put treats on lined baking sheet
Bake at 350F for around 25 minutes (longer for larger treats)
Remove from oven and allow to cool completely on baking rack
Store in airtight container in pantry for two weeks, in the refrigerator for up to four weeks
This dough does tend to be sticky. Don't be afraid to add extra flour until you feel comfortable with it.
Use plenty of flour on your work surface and rolling pin, and turn dough as you roll to prevent it from sticking.
If you're not in a hurry you can also chill the dough in the fridge for 30 minutest to make it easier to handle.
Because of the dough's consistency I find small cookie cutters work particularly well (I used a miniature 1" heart cutter) 
Nutrition Facts Per Treat:
Servings: 200 (one treat per serving)
Serving size: 4g
Calories per serving: 11
Total Fat: 0.36g
    Saturated Fat 0.07g
Total Carbohydrates: 1.66g
    Dietary Fiber 0.1g
    Total Sugars 0.11g
Protein: 0.41 g

Vitamin A: 20IU
Vitamin B1: 0.01mg
Vitamin B2: 0.01mg
Vitamin B3: 0.14mg
Vitamin C: 0.3mg
Calcium:  1mg
Iron:  2mg
Magnesium: 4mg
Phosphorous: 10mg
Potassium: 9mg


You Might Also Like These Recipes...
Pumpkin Apple Parsley & Mint Dog Treat Recipe
Pumpkin Apple Parsley & Mint Dog Treat Recipe
Pumpkin Apple Parsley & Mint Dog Treat Recipe