Easy Gluten Free Carob Dog Birthday Cake
Try this easy, gluten free carob dog birthday cake to create a yummy, chocolate-y treat your birthday boy, or girl, will love! It's a one-bowl recipe too. What could be better?
Dogs can't eat chocolate cake (or chocolate AT ALL) because it's highly poisonous to them. But with carob you can get the look of a rich chocolate cake totally safely.
An added bonus is that carob is actually nutritious too. Packed full of important nutrients, as well as being rich in fiber, it's nutritious as well as delicious.
Check out this page to learn more about carob in it's different forms and why it's a great addition to your staple dog treat ingredients. 

This gluten free dog birthday cake recipe doesn't just contain carob of course.
The added sweetness of applesauce and maple syrup combine with carob powder and whole wheat flour to make a delicious, moist cake that I chose to top with a banana, carob and vanilla frosting. Yum.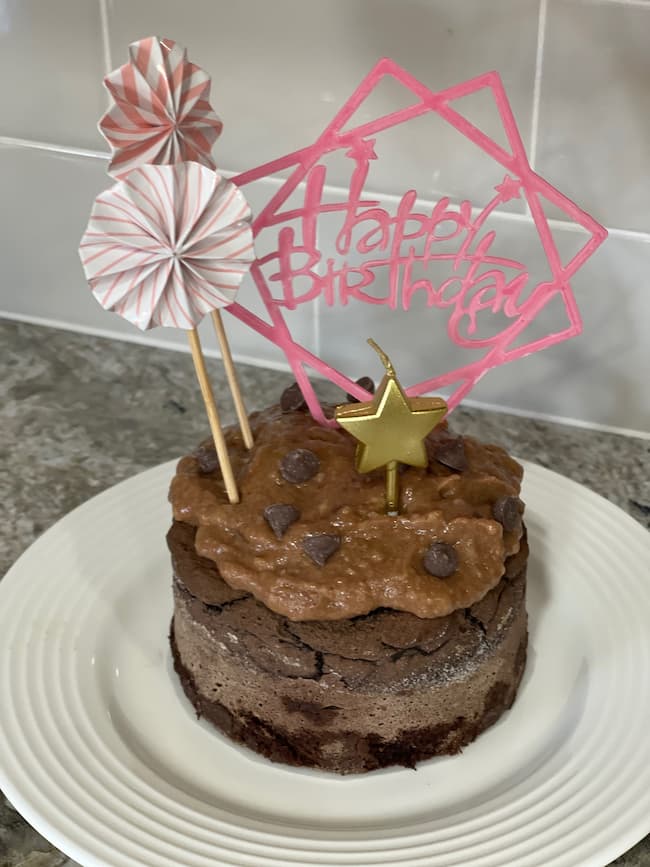 Yield:
This recipe makes one 4" cake. I chose to divide it into six portions.
Ingredients List:
3/4 cup Gluten Free flour
3  tbsp carob powder
2 tbsp unsweetened apple sauce
1/2 tsp baking soda
1 tbsp pure maple syrup
1/2 cup water
TOPPING:
1 ripe banana (mashed)
1 1/2 tbsp GF flour
1/2 tbsp coconut oil
1 tsp pure vanilla extract
1/2 tsp carob powder
1/4 tsp carob chips
Instructions
Preheat oven to 350F
Grease and flour 4" cake pan
Combine all dry ingredients in large bowl and stir to mix
Add water and stir with a wooden spoon until batter is smooth
Fill cake pan approx. 2/3 way full
Bake for 25 minutes, then cover top loosely with foil and bake for a further 15-20 minutes or until toothpick comes out clean
Place cake pan on cooling rack and allow to cool to room temperature
Run knife between cake and pan all the way around to loosen, and turn cake out onto baking rack
Allow to cool completely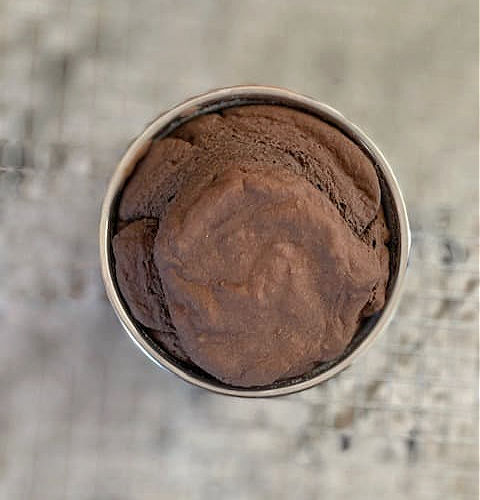 Topping & Decorating Instructions
Making the carob and banana 'frosting' I used in this recipe is also super easy.
Mash banana in small bowl
Stir in flour, coconut oil, vanilla and carob powder
Mix well with fork (frosting will be somewhat lumpy)
Chill frosting in bowl in refrigerator for 30 - 60 minutes (or until needed)
Remove and frost cake immediately
Decorate with carob chips (optional)
This cake (unfrosted) keeps well in the refrigerator for up to one week. The frosting itself does not keep that well, and can make the cake top soggy. 

Frosting tip.....
The coconut oil in this frosting is what makes it stiff enough to stay firmly on this  cake.
Coconut oil softens at room temperature, and melts completely when warm. 
Because of this I'd suggest NOT frosting your GF carob dog birthday cake until you're ready for the candle/celebrations/cake cutting/obligatory photo!
Of course you can do it earlier, just expect the frosting to become thinner and potentially drip down over the sides of the cake. Not that that is a bad thing necessarily, just a little messier!
And remember, you can use any pupcake recipe on my site to make a birthday cake for your pooch. Just use a cake pan instead of cupcake containers, and adjust the cooking time. Have fun!


Nutrition Facts Per Treat:
Servings: 6 (one treat per serving)
Serving size: 74 g
Calories per serving: 151
Total Fat: 5.7 g
    Saturated Fat 04.7 g
Total Carbohydrates: 25 g
    Dietary Fiber 1.6 g
    Total Sugars 9 g
Protein: 1 g

Vitamin A: 170 IU
Vitamin B3: 1 mg
Vitamin C: 3.6 mg
Vitamin D: 8 IU
Vitamin E: 0.5 mg
Calcium: 11 mg
Folate: 47 micrograms
Iron: 1.7 mg
Magnesium: 20 mg
Phosphorous: 28 mg 
Potassium: 140 mg
Sodium: 136 mg
Zinc: 0.3 mg

You Might Also Like These pages...
Easy Gluten Free Carob Dog Birthday Cake