Pumpkin Parsley Dog Treats
These healthy, gluten-free pumpkin parsley dog treats are perfect for all dogs, especially those with sensitive tummies.
Pumpkin is such a versatile ingredient and is great for your dog's digestive system. It's low in fat, high in fiber and a great source of vitamins, minerals and anti-oxidant.
This recipe also includes nutrient-dense parsley which has both digestion-soothing and breath freshening properties, as well as garbanzo bean flour which is high in plant-base protein and fiber, but low in carbs.
So much goodness in these little mouthfuls!
Lower your oven temperature for gluten-free flours
Gluten free flours are a little more sensitive than wheat-based flours and burn faster. To make sure these pumpkin parsley dog treats bake evenly without burning I set the oven to 325F rather than 350F as I would have done for whole-wheat treats.
It's a good idea to remember this if you're substituting a GF flour for a wheat-based flour in a recipe. In that situation my rule of thumb is to reduce the oven temperatur by 25 degrees.
Ingredients List
2 cups garbanzo bean flour
1 cup coconut flour
1/2 cup pumpkin puree
1/2 cup chopped parsley
3 tbsp coconut milk
1 tbsp chia seeds
Yield:
This recipe makes approximately forty-six, 1 1/4" dog treats.
Instructions
Preheat oven to 325F
Line baking tray with silicone baking mat
Put flours and chia seeds into large bowl and stir to blend
In smaller bowl mix together pumpkin puree, coconut oil and coconut milk
Make well in center of flour mixture and add wet ingredients
Mix together with a wooden spoon
Use your hands to form dough
Knead well for several minutes until dough is workable
Turn dough out onto floured wax paper
Use lightly floured rolling pin to roll dough out to approx. 1/4" thickness
Cut treats to desired shape using cookie cutters or sharp knife
Bake at 325F for 25 minutes
Remove from oven and allow to cool completely 
Store treats in airtight container in the refrigerator for up to one week
The dough for these pumpkin parsley dog treats is fairly dry and crumbly when it first forms. To make it workable, knead and fold it for several minutes until it becomes soft and pliable.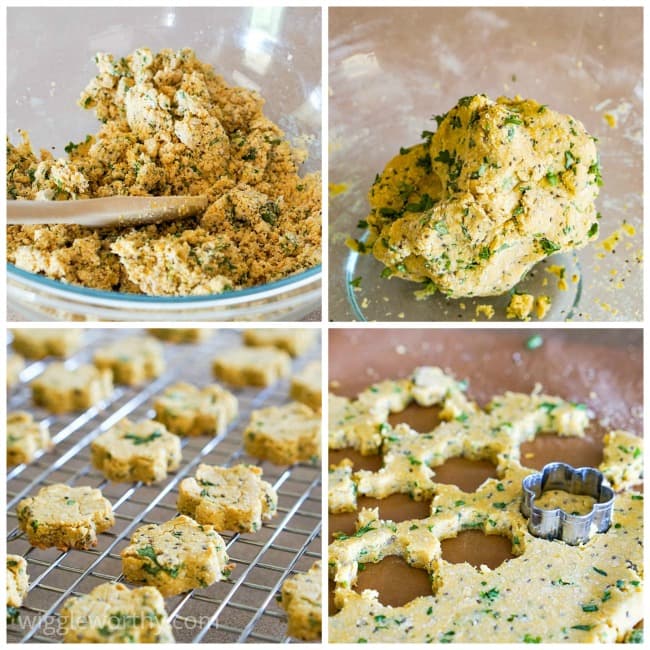 Nutrition Facts Per Treat:
Servings: 46 (one treat per serving)
Serving size: 14 g
Calories per serving: 23
Total Fat: 0.7 g
    Saturated Fat 0.3 g
Total Carbohydrates: 3.7 g
    Dietary Fiber 1.2 g
    Total Sugars 0.7 g
Protein: 1.2 g

Vitamin A: 471 IU
Vitamin B3: 0.2 mg
Vitamin C: 1.1 mg
Vitamin K: 11.5 ug 
Calcium:  mg
Folate: 19 ug
Iron: 0.5 mg
Magnesium: 10 mg
Phosphorous: 19 mg 
Potassium: 15 mg
Zinc: 0.2 mg


Pumpkin Parsley Dog Treats
Pumpkin Parsley Dog Treats
Pumpkin Parsley Dog Treats