Peanut Butter, Banana and Coconut Dog Treats
These peanut butter, banana and coconut dog treats are nutrient dense, naturally sweet and as healthy as they sound!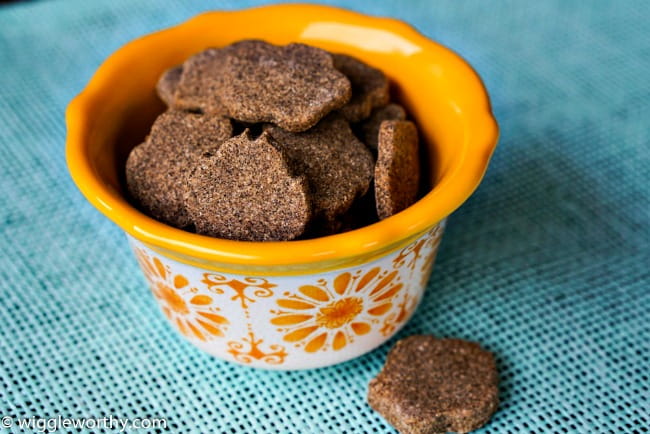 They're also gluten free and are made using coconut and buckwheat flours (which in spite of it's name is NOT a type of wheat at all).
Buckwheat flour is rich in fiber, antioxidants and plant based protein and has a fairly distinctive, toasted-nut flavor. The coconut flour in this recipe complements that perfectly.
Add protein-rich peanut butter, sweet mashed banana, nutritious chia seeds and creamy coconut milk and you can see why these treats are a hit in our house.
Warning:
Remember to double check that your peanut butter does NOT contain Xylitol. This sweetener is toxic to dogs. Peanut butter doesn't need to contain anything other than peanuts!
Ingredients List
1 1/4 cups buckwheat flour
1/4 cup coconut flour
2 tbsp creamy peanut butter
1 banana (mashed)
1 tsp chia seeds
3 tbsp coconut milk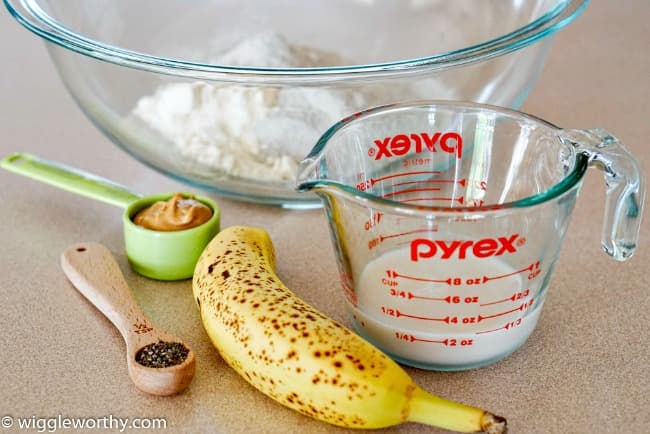 Yield:
This recipe makes approximately fifty five, small paw-print shaped dog treats.
Instructions
Preheat oven to 325F
Line baking tray with parchment or silicone baking mat
Mash banana
Mix peanut butter and mashed banana in small bowl
Put buckwheat flour and coconut flour into a large bowl and stir together
Add chia seeds and stir into flour mixture
Make well in center of flour and add banana/peanut butter mixture
Stir for a few seconds to begin blending
Add coconut milk and beat all ingredients together until dough starts to form
Use your hands to form dough
Knead well until dough is no longer dry and is soft and pliable
Turn dough out onto lightly floured wax paper
Use lightly floured rolling pin to roll dough out to 1/4" thickness
Cut out treat shapes using cookie cutters
Bake at 325F for approx. 20 mins or until treats are slightly risen and darker in color
Remove from oven and allow to cool completely
Store treats in airtight container in the refrigerator for five to seven days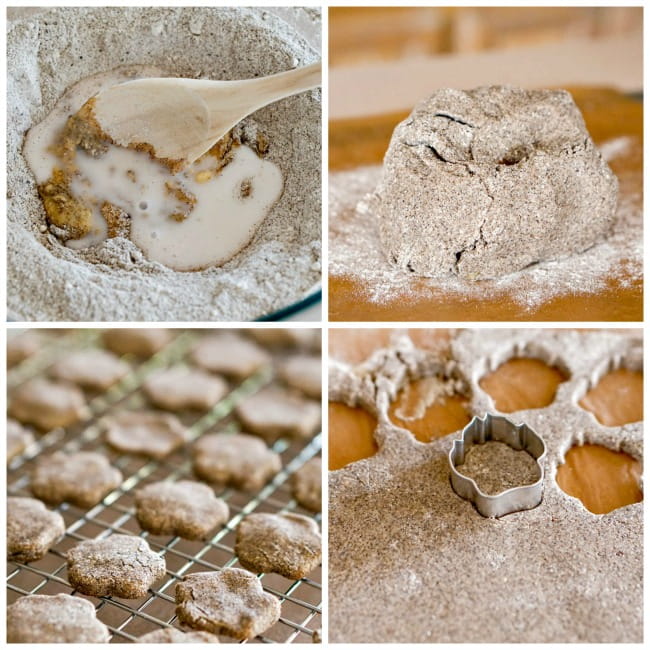 Gluten free doughs can be more difficult to work with than doughs made with wheat flours but this particular dough is actually pretty easy, although it can look a little strange.
When you first form the dough it will probably look a bit dry, even flaky or powdery, but once you've kneaded it some it will become soft and pliable without being too sticky.
The color and consistency of the buckwheat flour and chia seeds combine to make this dough look a lot like a ball of damp sand but it turns into tasty treats, so it's all good!
Nutrition Facts Per Treat:
Servings: 55 (one treat per serving)
Serving size: 7 g
Calories per serving: 15
Total Fat: 0.4 g
    Saturated Fat 0.2 g
Total Carbohydrates: 2.7 g
    Dietary Fiber 0.4 g
    Total Sugars 0.5 g
Protein: 0.4 g

Vitamin A: 1 IU
Vitamin B3: 0.2 mg
Vitamin C: 0.2 mg
Vitamin K: 0.2 mg
Calcium: 2 mg
Iron: 0.14 mg
Magnesium: 8 mg
Phosphorous: 12 mg 
Potassium: 30 mg
Selenium: 0.3 ug
Zinc: 0.1 mg


You Might Also Like These Recipes...
Peanut Butter, Banana & Coconut Dog Treats
Peanut Butter, Banana & Coconut Dog Treats