Easy Peanut Butter Dog Treat Recipes
Any one of these easy peanut butter dog treat recipes make the perfect homemade goodies your dog will love! 
And you'll love them too because you know that they contain nothing but healthy, nutritious ingredients.
Warning:
Remember to double check that your peanut butter does NOT contain Xylitol. This sweetener is toxic to dogs. Peanut butter doesn't need to contain anything other than peanuts!
Why Choose Peanut Butter for Dog Treats?
Peanut butter is a great source of nutrients including protein, healthy fats, B vitamins, vitamin E, zinc, magnesium and more. It's a super-food in it's own right.
Then there's the fact that ninety-nine percent of dogs LOVE peanut butter, which makes it the perfect ingredient to add taste your dog will love.
Peanut butter is also hugely versatile and can be combined with just about any other ingredients. Chunky or smooth peanut butter, or peanut butter powder, can be used in a wide range of recipes including frozen dog treats, pupcakes, crunchy treats and more. 
Best Quick & Easy Peanut Butter Dog Treats
Here are some of my favorite easy peanut butter dog treat recipes, I'm sure your dog will enjoy them as much as my boys do!


Peanut Butter & Carrot Treats
In addition to delicious and nutritious peanut butter, these peanut butter and carrot dog treats contain whole-wheat flour, hearty rolled oats, fresh carrots, super-food bone broth and nutrient-rich wheatgerm. Yum... they sound delicious already right?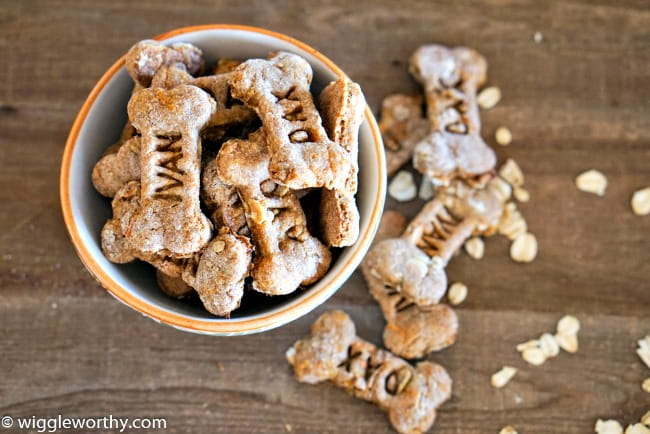 This recipe makes 56, two-inch bone shaped treats. Each treat contains 29 calories, 1.2 grams of protein and only 0.1 g of saturated fat.
Bone Broth & Peanut Butter Frozen Treats
If you're looking for super-quick frozen dog treats that go a step beyond the basics, check out these delicious bone broth and peanut butter frozen treats.
Combining the power house nutrients of bone broth and peanut butter, and the added nutrients and breath-freshening properties of parsley, they're healthy as well as fun, and are a great summertime treat too. 
I love to use silicone molds for my frozen treats, but ice cube trays or even Popsicle molds also work great.
This recipe makes approx. one dozen large (2" diameter) frozen treats. Each treat contains 94 calories, 6 g of protein and 1 g of saturated fat. 
As these treats thaw they can get a little messy I make sure my dogs are either on an easy-clean floor (such as kitchen tile) or outdoors when they're eating, and playing with, these yummy treats!
Peanut Butter & Carob Crispy Treats
When it comes to easy peanut butter dog treat recipes, these simple treats are a perfect fit.
My peanut butter and carob crispy treats are similar to the popular rice-krispie ones we all know and love but made with healthy, dog-safe ingredients which are nutritious as well as delicious.
Wholewheat flour, wholegrain cheerios and free-range eggs are combined with creamy peanut butter, heart healthy coconut oil and dog-safe carob powder, to make approx. forty-five light and crunchy treat balls that no dog can resist.
Each treat contains 46 calories, 2.5 g of protein and 2.3 g saturated fat.
Peanut Butter & Banana Treats
This recipe for homemade peanut butter and banana dog treats is packed full of naturally healthy ingredients including oatmeal, flaxseed, honey, eggs.... and of course that nutritional powerhouse, peanut butter plus delicious mashed banana.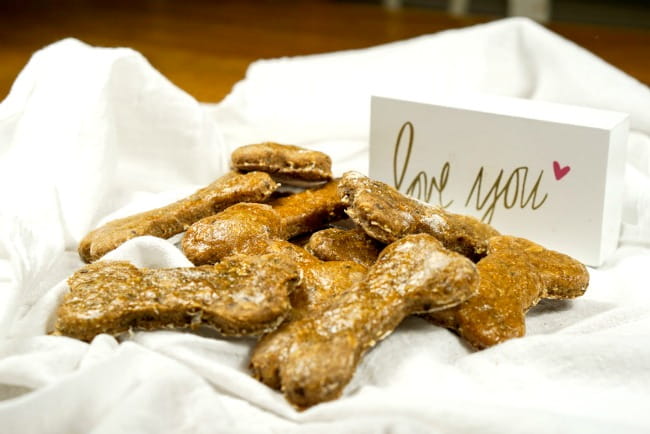 They're super easy to make and this recipe will give you approx. 20 large (3" long!) bone-shaped treats. If you prefer smaller treats simply use a smaller cookie-cutter and you'll get a lot more bite-sized goodies.
Each large treat has 102 calories, 0.8 g of saturated fat and 3.5 g of protein.
Peanut Butter & Carob Frozen Treats
These peanut butter and carob frozen dog treats aren't just delicious and pretty to look at! With only three nutrient dense ingredients they're a breeze to whip up and make the perfect treat for the dog, or dogs, who own your heart.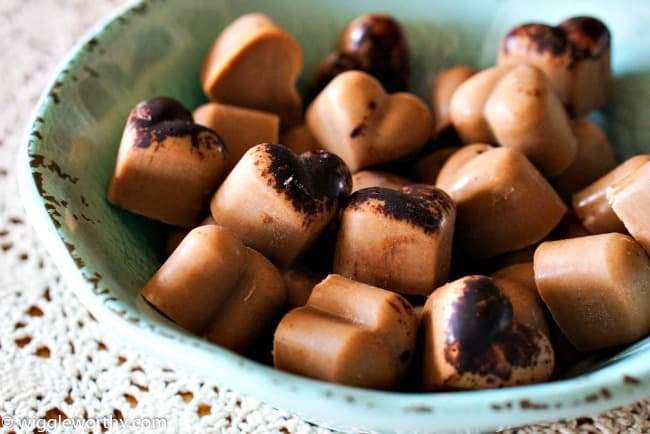 The core ingredient is virgin coconut oil, which has a ton of health benefits and solidifies easily, making these professional looking little hearts super easy to make. Silicone molds are easy to use and come in a variety of shapes and sizes and I'd recommend using them for frozen dog treats. If you don't have any handy or prefer to use ice-cube molds, they work too.
This recipe will give you twenty-four, 1" heart-shaped treats, each one has 104 calories, 0.8 g saturated fat and 2.3 g of protein.
Gluten-Free Peanut Butter Treats
These soft and yummy gluten free peanut butter dog treats are perfect for dogs with gluten intolerance, or for puppies or older dogs who might prefer soft to crunchy.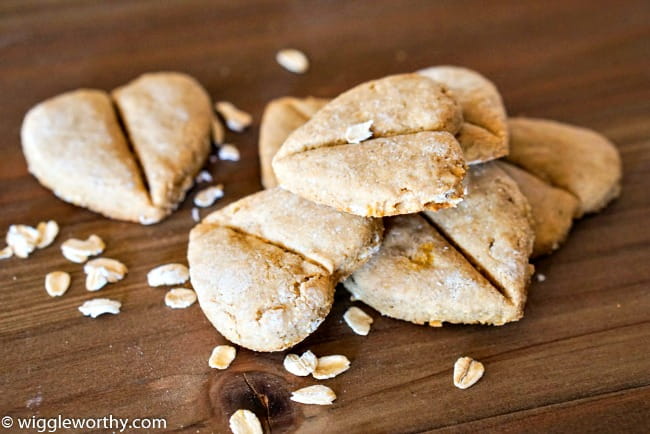 Heart healthy rolled oats and oat flour combined with dried coconut milk powder, sweet honey, creamy peanut butter and little Ceylon cinnamon make them as nutritious as they are delicious.
This generous recipe makes approx. thirty-four, 2" heart-shaped treats. I score the heart shapes down the middle before baking to make them easy to break in half if I want to give only half a treat at a time.
Each treat has 34 calories, 0.3 g of fat and 2.0 g of protein.
I hope you enjoy making some of these quick and easy peanut butter dog treats as much as your dog will enjoy eating them.
You Might Also Like These pages...
Easy Peanut Butter Dog Treat Recipes