Salmon and Parsley Dog Treats
These salmon and parsley dog treats are super tasty and packed full of wholesome, healthy ingredients rich in vitamins and minerals. 
Salmon is a great source of lean protein and contains essential Omega-3 fatty acids which supports healthy immune function as well as keeping your dog's skin in good condition and his coat healthy . 
This salmon and parsley dog treat recipe also includes brewers yeast which is rich in B vitamins (and good for skin and coat condition), organic free range egg and a breath-freshening boost of parsley (also good for kidney and urinary tract health).
These yummy treats are solid proof that healthy eating can taste amazing.
Ingredients List:
2 cups whole wheat flour
1 cup whole grain oat flour
1/4 cup brewers yeast
1/4 cup canned salmon*
1/4 cup grated cheddar cheese
1 egg
1/3 cup parsley (finely chopped)
3/4 cup water
* you can also substitute canned tuna (rich in omega-3 fatty acids and B vitamins as well as many other vitamins and minerals) for the salmon in this recipe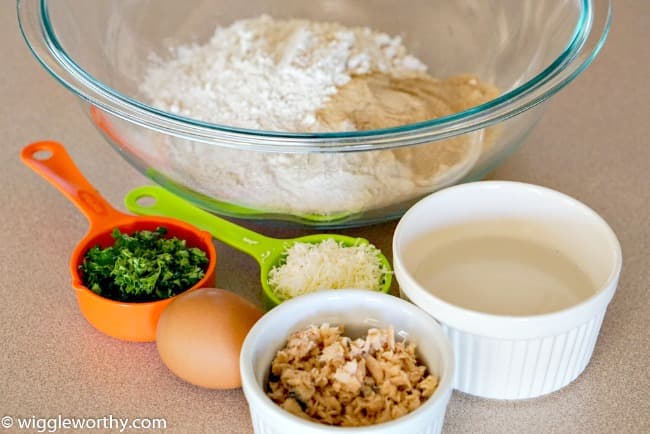 Yield:
This salmon and parsley dog treat recipe makes approximately eighty small (1 1/2 inch) bone-shaped dog treats.
Instructions
Preheat oven to 350F
Line baking tray with silicone baking mat
Finely chop parsley using sharp knife
Finely grate cheddar cheese
Mash canned salmon with fork 
Put whole wheat flour, oat flour and brewer's yeast into large bowl and stir well to mix
In smaller bowl combine egg, chopped parsley and water
Stir grated cheese and mashed salmon into flour mixture and stir to blend
Make well in center of flour and add wet ingredients. Stir mixture thoroughly with wooden spoon
Use hands to form dough and turn out onto lightly floured wax paper
Use lightly floured rolling pin to roll dough out to approx. 1/4" thickness
Cut out treats to desired shapes using cookie cutters
Bake at 350F for 20 minutes
Remove treats from oven and allow to cool completely
Store in airtight container in the refrigerator for five to seven days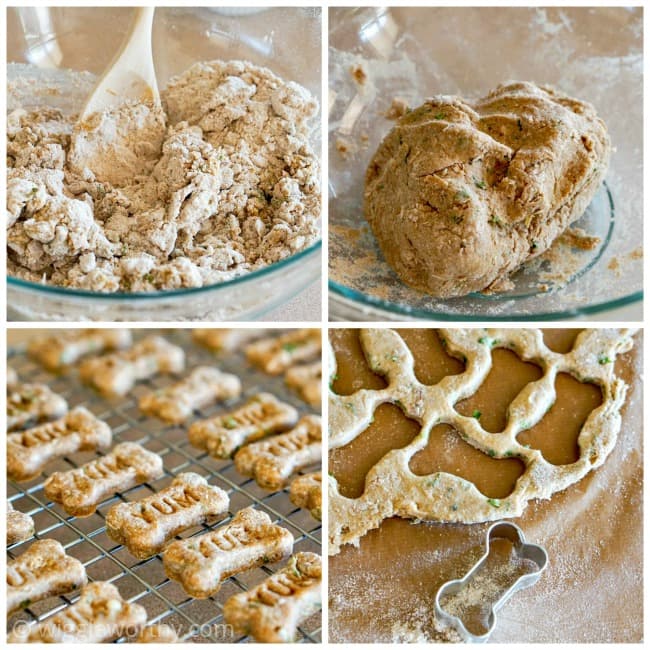 I used my handy little cookie stamps to decorate these treats. It couldn't be easier to do and adds that extra little homemade touch.
My Home-X cookie stamps only cost a few dollars from Amazon and they're the perfect size for dog treats. They simply snap together to make any combination of letters or letters/numbers I want. 
Add your dog's name, a phrase, his age or anything you want depending on the size of the treats!
Here's how easy it is:

The only thing you have to remember to do is to assemble the letters so they come out the right way up!
Nutrition Facts Per Treat:
Servings: 80 (one treat per serving)
Serving size: 10 g
Calories per serving: 22
Total Fat: 0.4 g
    Saturated Fat 0.1g
Total Carbohydrates: 3.4 g
    Dietary Fiber 0.5 g
    Total Sugars 0 g
Protein: 1.2 g

Vitamin A: 30 IU
Vitamin B3: 1.4 mg
Vitamin C: 0.3 mg
Vitamin D: 10 IU
Vitamin K: 4.2 mg
Calcium: 8 mg
Folate: 37 ug
Iron: 0.2 mg
Magnesium: 9 mg
Manganese: 0.2 mg
Phosphorous: 24 mg 
Potassium: 42 mg
Zinc: 0.2 mg


You Might Also Like These Recipes...
Salmon and Parsley Dog Treats