Easy Chicken and Parsley Dog Treats
These super easy chicken and parsley dog treats are nutrient dense and delicious.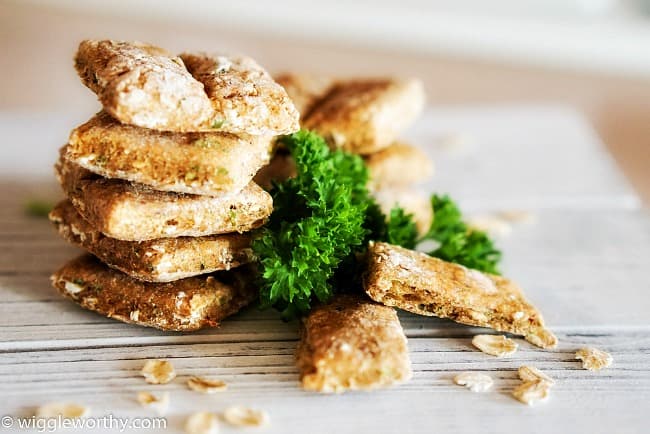 Whole wheat flour, oats, flax seed, lean chicken, and bone broth, plus breath-sweetening fresh parsley. A perfect dog treat recipe for when you don't have a lot of time but you want to make your dog something special.
Yield:
This recipe makes approximately thirty-four, 1 1/2" square treats
Ingredients List
2 1/2 cups whole wheat flour
1/2 cup rolled oats
1/4 cup wheatgerm
2 tbsp ground flax seed
1/2 cup cooked, shredded chicken
1/2 cup chicken bone broth
1/3 cup fresh parsley (chopped)
1 tbsp virgin olive oil
1 egg
1/4 tsp pink Himalayan salt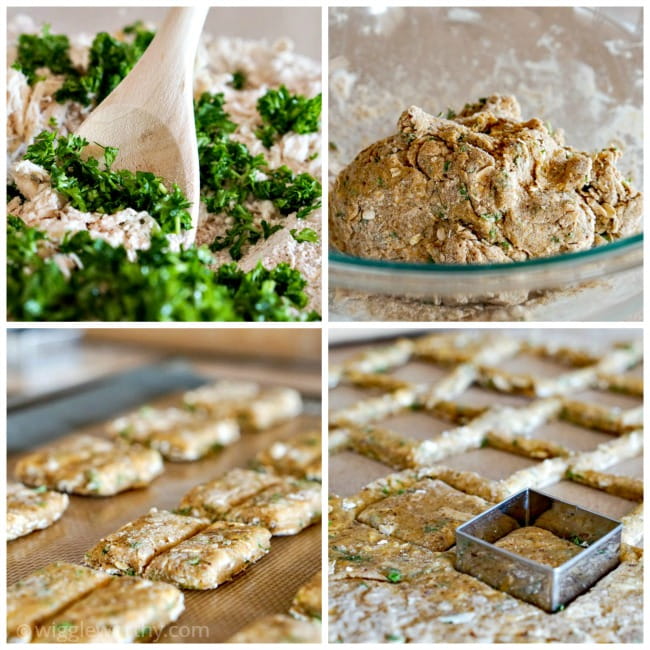 Dividing treats into smaller pieces
You can see in these photos of these chicken and parsley dog treats that I used a sharp knife to score a line down the center of each one. Doing this makes it easy to break larger treats into smaller portions. You could divide the treats into quarters if you wanted to. It's a good option for puppies, senior dogs and tiny/toy breeds who might struggle with big, crunchy treats.
Instructions
Preheat oven to 350F
Line baking tray with silicone baking mat
Chop parsley
In large bowl combine whole wheat flour, rolled oats, wheatgerm, ground flax seed and salt. Stir well to mix
Stir shredded chicken and chopped parsley into flour mixture
In small bowl mix egg, oil and chicken bone bone broth
Gradually add wet ingredients to dry, stirring well between each addition
Form dough using hands (should be robust & easy to work with)
Turn dough out onto lightly floured surface
Use floured rolling pin to roll dough out to approx. 1/4" thickness
Cut treats to desired shape using cookie cutters
Bake at 350F for 30 minutes
Remove from oven and allow to cool completely
Store in airtight container for up to 7 days in the refrigerator
Chicken for dog treat recipes...
When I make dog treats containing chicken I generally use lean chicken breast that I cooked and shredded earlier and froze in 1/2 cup portions. It saves me time on baking day, and even if I forget to take a baggie of shredded meat out of the freezer the night before, these small portions defrost very quickly.

Of course you can cook the meat on the same day, it's very simple to do. Just bake one or two unseasoned chicken breasts (I usually spritz mine with olive oil before baking) at 400F for 25 - 30 mins. Test for done-ness (no pink left in center and juices run clear) then remove from oven and allow to cool. Shred using two forks or your fingers. Divide whatever chicken you're not using on the day into 1/2 cup portions and put each portion into a freezer bag. Name and date the bags and pop them into the freezer. Voila! 
FYI: One medium sized chicken breast makes approx. 2 cups of shredded chicken.
Nutrition Facts Per Treat:
Servings: 34 (one treat per serving)
Serving size: 20 g
Calories per serving: 54
Total Fat: 1.4 g
    Saturated Fat 0.24 g
Total Carbohydrates: 8.4 g
    Dietary Fiber 1.4 g
    Total Sugars 0.08 g
Protein: 2.6 g

Vitamin A: 59 IU
Vitamin B3: 0.7 mg
Vitamin C: 0.8 mg
Vitamin D: 1 IU
Vitamin E: 0.2 mg
Calcium: 16 mg
Folate: 10 ug
Iron: 0.6 mg
Magnesium: 21 mg
Manganese: 0.6 mg
Phosphorous: 61 mg 
Potassium: 62 mg
Zinc: 0.5 mg


You Might Also Like These Recipes...
Easy Chicken & Parsley Dog Treats
Easy Chicken & Parsley Dog Treats