Pumpkin Blueberry Dog Treats
When it comes to wholesome goodness, these pumpkin blueberry dog treats are winners!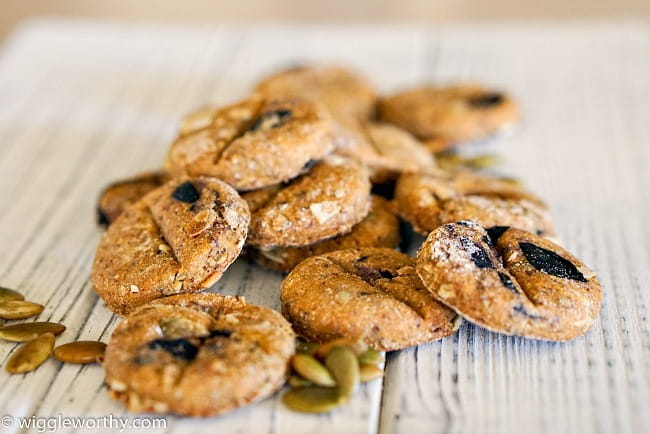 This quick and easy recipe combines nutrient dense ingredients such as low fat, high fiber pumpkin, anti-oxidant rich blueberries and super-food bone broth with ground flax seeds and nutritional yeast flakes which bring essential Omega-3 fatty acids, healthy plant-based protein and a whole range of vitamins and minerals to the table.
But it's not all about how good these treats are FOR your dog, it's also about how amazing they taste TO him.
From the rich nutty flavor of nutritional yeast, to the natural sweetness of blueberries and pumpkin, this dog treat recipe delivers the very best blend of savory and sweet flavors that will have your dog begging for more!
Ingredients List
2 cups whole wheat flour
1/2 cup pumpkin puree
1/2 cup unsalted pumpkin seeds (roughly chopped)
1/3 cup fresh blueberries (roughly chopped)
1/4 cup ground flax seeds
1/4 cup nutritional yeast flakes
1/3 cup chicken bone broth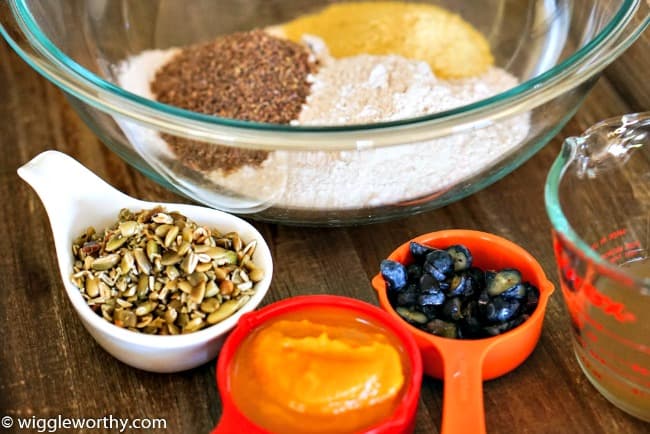 Yield:
This recipe makes approximately forty-three, 1 1/2" round dog treats
Instructions
Preheat oven to 350F
Line baking tray with silicone baking mat
Put flour, ground flax seed and nutritional yeast into large bowl and stir well to mix
Roughly chop pumpkin seeds
Roughly chop blueberries
Stir chopped pumpkin seeds into dry ingredients 
Mix pumpkin puree and chopped blueberries together in small bowl
Make well in center of dry ingredients and add pumpkin/blueberry mixture
Stir with wooden spoon until wet and dry ingredients are mixed together
Add bone broth, one tablespoon at a time, until you reach the right consistency
Use your hands to form dough and knead until workable and all ingredients are well combined
Turn dough out onto lightly floured wax paper and flatten with heel of your hand
Use lightly floured rolling pin to roll out dough to approx. 1/4" thickness
Cut dough into desired shapes using cookie cutters or sharp knife
Bake at 350F for 30 minutes (or until golden brown and firm to the touch)
Remove from oven and allow to cool completely
Store in airtight container in refrigerator for 5 - 7 days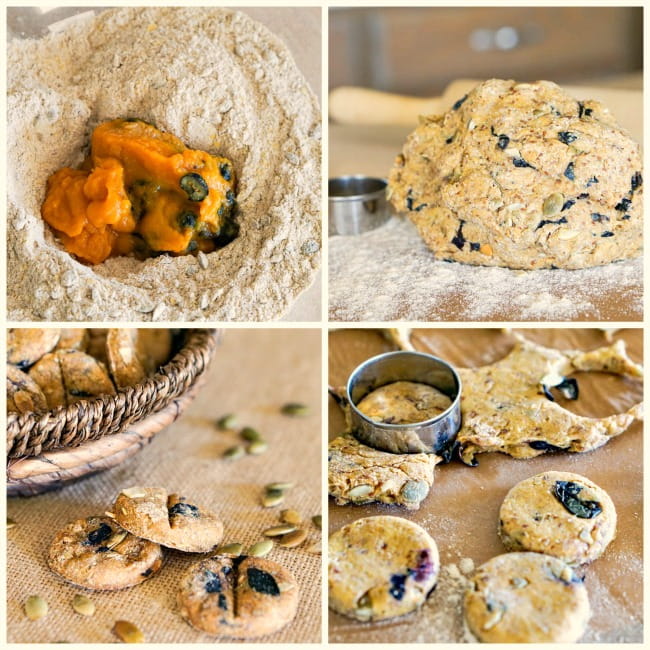 Although my dogs are big boys, I usually mark these treats down the middle using a sharp knife so that they are easy to break in half.
Treats should be a very small part of your dog's daily food intake (10% is the veterinarian-suggested limit) and so I mostly prefer to give my boys slightly smaller treats.
Except for at bedtime when they get a whole treat (or two smaller ones) to tide them over until morning.
Does your dog LOVE crunchy treats?
This recipe produces treats that are neither super-crunchy nor super-soft, they're somewhere in the middle.
My dogs love treats of every consistency, but crunchy ones are always popular so I store these treats in the refrigerator in an open container and they get crunchier every day!
They'll still stay fresh for up to a week this way, but my boys gobble them up before that.
Nutrition Facts Per Treat:
Servings: 43 (one treat per serving)
Serving size: 15 g
Calories per serving: 33
Total Fat: 0.5 g
    Saturated Fat 0.1 g
Total Carbohydrates: 5.8 g
    Dietary Fiber 0.7 g
    Total Sugars 0.2 g
Protein: 1.4 g

Vitamin A: 445 IU
Vitamin B3: 1.7 mg
Vitamin B12: 1.5 ug
Vitamin C: 0.3 mg
Vitamin E: 0.9 mg
Calcium: 3 mg
Iron: 1.0 mg
Magnesium: 23 mg
Manganese: 0.3 mg
Potassium: 47 mg



You Might Also Like These Recipes...
Pumpkin Blueberry Dog Treats
Pumpkin Blueberry Dog Treats
Pumpkin Blueberry Dog Treats