Homemade Milk Bone Dog Treats
These homemade milk bone dog treats are as tasty as they are healthy because my recipe includes nutrient-dense bone broth and nutritional yeast - the perfect combination of nutrition and flavor.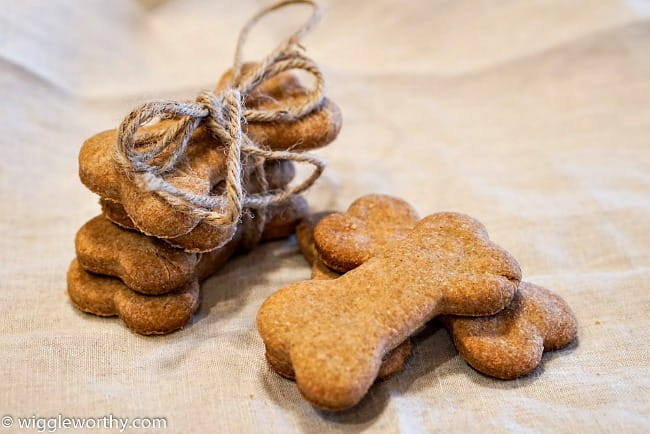 This recipe uses coconut milk and vegan buttery sticks instead of dairy products so no risk of upset tummies due to dairy intolerance.
Although this recipe uses dairy free ingredients, you can substitute regular milk powder and dairy butter or margarine if that's what you have on hand and your dog doesn't have any issues with dairy!
The result is a deliciously crunchy, dairy-free, milk bone that makes a versatile treat and is popular with just about every dog, regardless of size, age or personal taste. Large-sized treats work perfectly as a night-time snack, or make smaller ones for those daily 'good boy' moments. 

These super crunchy bones are a favorite in our house and both Ivan and Dax know when I'm baking up a batch and are  always keen to supervise the proceedings!

Ingredients List
3 cups whole-wheat flour
3/4 cup bone broth (I used chicken)
1/3 cup vegan or non-dairy spread (melted)
1/4 cup powdered coconut milk
1/4 cup nutritional yeast
1 egg (beaten)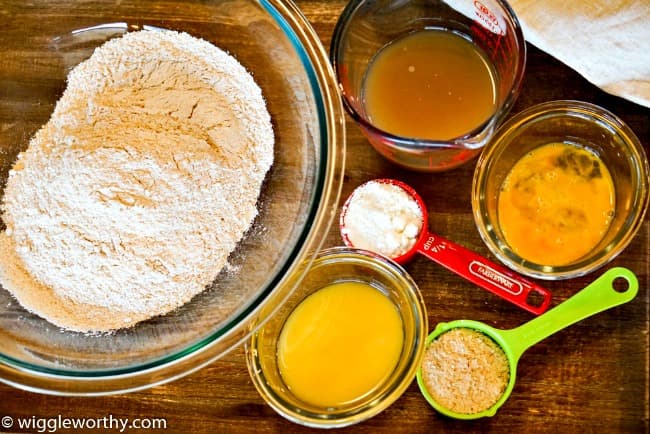 Yield:
This recipe makes approx. thirty-two 3" bone shaped dog treats
Instructions
Preheat oven to 350F
Line baking sheet with parchment or silicone baking mat
Melt vegan/non-dairy spread
Beat egg
In large bowl combine egg, melted butter substitute, milk powder, nutritional yeast and bone broth
Use whisk to mix these ingredients together
Add flour slowly, mixing in each time
Continue adding flour until dough is workable (you may not need to use it all)
Turn dough out onto floured surface
Use floured rolling pin to roll dough out to 1/4' thickness
Cut into desired shapes using cookie cutter
Bake at 350F for 40 minutes or until golden brown
Remove from oven and allow to cool completely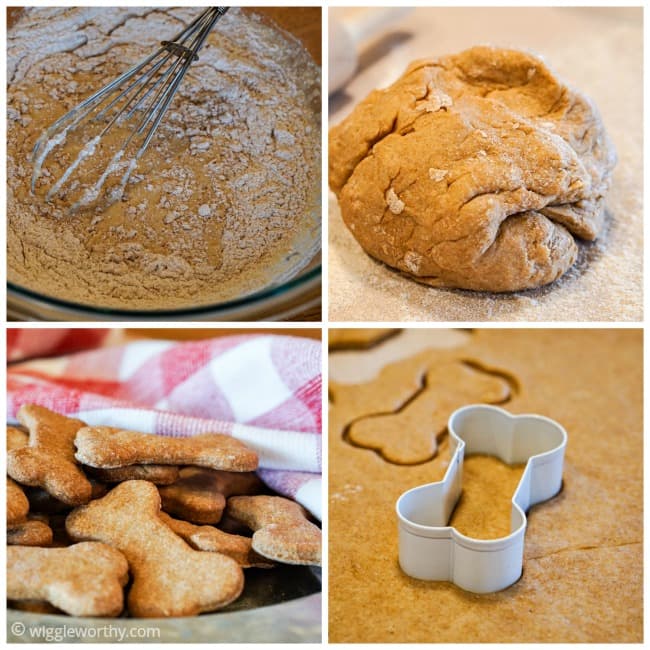 Following these baking directions makes lovely crunchy treats which store extremely well. I keep mine in an airtight tin or container in the pantry and they stay crunchy for at least ten days this way.

For super-crunchy treats, turn off oven after 40 mins (or when treats are golden brown), crack open oven door and leave treats inside for an additional 30 minutes, or until oven cools. These will be hard!


These treats smell ah-mazing while baking but Ivan's hound nose knew they'd be great as soon as I started to assemble the ingredients. He tries hard not to get underfoot but he got as close to the kitchen as he could to watch, while still being comfy on the family room carpet!

Nutrition Facts Per Treat:
Servings: 20 (one treat per serving)
Serving size: 40 g
Calories per serving: 102
Total Fat: 4.6 g
    Saturated Fat 0.8 g
Total Carbohydrates: 14.8 g
    Dietary Fiber 1.6 g
    Total Sugars 3.2 g
Protein: 3.5 g

Vitamin A: 47 IU
Vitamin B3: 1.7 mg
Vitamin C: 1.0 mg
Vitamin D: 2 IU
Vitamin E: 0.6 mg
Calcium: 16 mg
Iron: 1.0 mg
Magnesium: 26 mg
Manganese: 0.3 mg
Phosphorous: 59 mg 
Potassium: 113 mg
Zinc: 0.4 mg


You Might Also Like These Recipes...
Homemade Milk Bone Dog Treats