Easy Peanut Butter & Eggnog Dog Treats
If you love to have your dog share in all the fun of Holiday Season, these easy peanut butter and eggnog dog treats can help you out.
Eggnog is a holiday staple, but dogs can't have the same eggnog we do.
Many dogs are sensitive to dairy, dogs shouldn't have sugar and definitely can't have alcohol. Plus nutmeg is toxic for them.
But this recipe is totally dog-safe, and they'll love it!
As well as being delicious, these eggnog dog treats are also nutritious. 
The ingredients include nutrient dense peanut butter, healthy oat flour, banana and honey, plus other dog-friendly eggnog ingredients such as a probiotic enhanced goats milk powder (formulated for dogs) and a touch of cinnamon.
Ingredients
1 2/3 cups oat flour
1/3 cup natural peanut butter
1 egg
1 ripe banana
1 tbsp honey
1/2 tsp cinnamon
* I love this particular powdered milk because it has the added benefit of probiotics, but you can use any powdered goats milk (there are several options that are specifically designed for dogs), powdered coconut milk, or whichever you prefer.
The Honest Kitchen also makes a dog-friendly eggnog powder which I've used before, but due to supply chain issues it isn't available right now.
Nutmeg is toxic to dogs!
Eggnog traditionally contains cinnamon and nutmeg, but when you're making an eggnog flavored treat for your dog do not use nutmeg.
Nutmeg contains a narcotic compound called Myristicin which is highly toxic to dogs. 
Nutmeg can cause a dangerously elevated heart rate, disorientation, seizures and hallucinations in dogs.
While the tiny amount of nutmeg generally used in baked goods or other treats is unlikely to cause serious side effects for your dog, it wouldn't take much to cause problems, especially for a small dog. So best to avoid this spice altogether.
Interestingly, eating too much nutmeg can cause similar problems for humans, but we would need to ingest MUCH more to reach that point than dogs would!
Instructions
This recipe is super easy to make. The dough tends to be soft and sometimes a little sticky, so add extra flour as needed.
You can chill dough in the refrigerator for 10 minutes before rolling out to make it a little easier to handle, but it's not essential. I usually just take it from bowl to rolling pin!
Preheat oven to 350F
Line baking tray with parchment or silicone baking mat
Combine all dry ingredients in large bowl
Stir well to mix
Mash banana in separate, smaller, bowl
Add egg, honey and peanut butter to mashed banana
Stir well to mix
Pour wet mixture into dry ingredients
Use wooden spoon to blend all ingredients
Form mixture into dough, adding extra flour as needed
Once dough is manageable turn out onto floured parchment or silicone mat
Roll out to approx. 1/4" thickness using floured rolling pin
Cut out treats into desired shapes
Place treats onto lined baking tray 
Bake for between 10 and 15 mins, depending on size of treats*
Remove from oven and put on cooling rack
Cool completely
Decorate if desired (I use Magifrost Dog Treat Icing which isn't sugar based)
* Treats that are approx. 2" in size take about 10 minutes to bake, 3" and larger will take between 12 and 15 minutes.
When I made these treats to feature on the site I realized too late that I had run out of piping bags for the icing, hence the very sketchy looking icing job. Apologies!
Store these treats in an airtight container once fully cooled. They'll be good for approx. 3-5 days at room temperature, and a little longer in the refrigerator.
CLICK HERE to find out the best ways to store all types of homemade dog treats.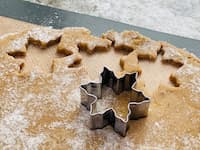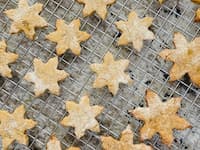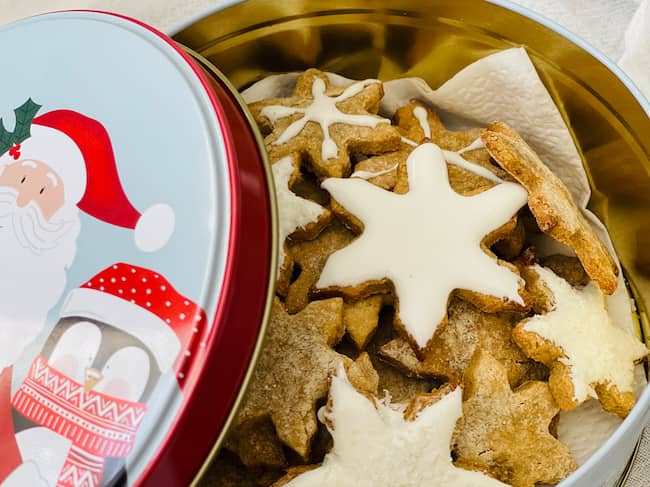 Yield:
This recipe makes approximately thirty-eight, 2" treats.
I often make two different sized treats, this recipe is enough to make approx. twenty-four 2" treats AND twelve 3" treats.
Nutrition Facts Per Treat:
Servings: 38 (one treat per serving)
Serving size: 13 g
Calories per serving: 39
Total Fat: 1.7 g
    Saturated Fat 0.24 g
Total Carbohydrates: 4.7 g
    Dietary Fiber 0.5 g
    Total Sugars 1.1 g
Protein: 1.4 g

Vitamin A: 10 IU
Vitamin B3: 0.4 mg
Vitamin C: 0.3 mg
Vitamin D: 1 IU
Vitamin E: 0.2 mg
Calcium: 6 mg
Iron: 0.3 mg
Magnesium: 11 mg
Manganese: 0.23 mg
Phosphorous: 32 mg 
Potassium: 44 mg
Sodium: 3 mg
Zinc: 0.2 mg
You Might Also Like These pages...
Easy Peanut Butter and Eggnog Dog Treats