Delicious Dog Safe Hot Chocolate
Hot chocolate is one of winter's treats, but chocolate is extremely toxic to dogs so I decided to to make a dog safe hot chocolate drink just for them! 
This recipe is as super simple as it gets, with just two ingredients (three if you want to add a topping), and if you want to switch things up a bit you can even try it instead of your regular chocolate if you want to!
NEVER give your dog chocolate, in any form (including cocoa powder).
It contains theobromine and caffeine, both of which are extremely toxic to dogs, and even a small amount can could be fatal!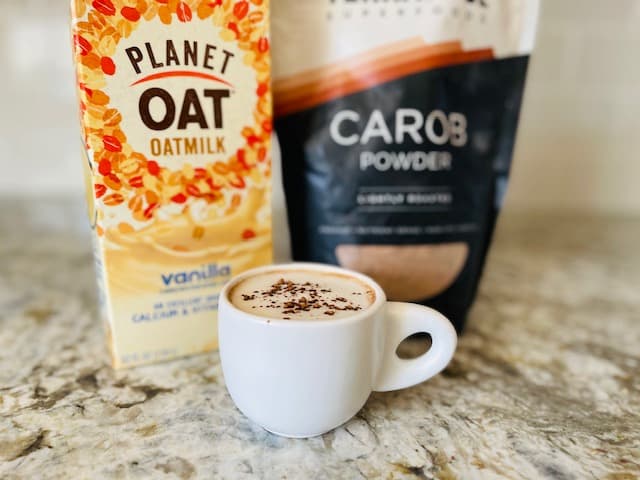 Why use Carob in your dog safe hot chocolate?
Carob powder is produced when the seeds (beans) of the Carob tree are roasted, and then ground into a fine powder.
It looks, and even smells a lot like powdered chocolate, but the taste is a little different; it's rich but less sweet, a little nutty/toasted nuts perhaps. It tastes like carob... and the only way to find out exactly what that's like, is to try it!
Apart from the very important aspect of carob being safe for dogs, it also has some big advantages over chocolate in other ways:
Good source of vitamins including A, B & D
Rich in antioxidants
Contains nutrients such as calcium, iron and potassium
Low in fat
High in fiber
It's also gluten free and has a low glycemic index (around 40).
So, all in all, carob isn't just a dog-safe alternative to chocolate , from a nutritional standpoint it's a huge upgrade.
Ingredients List
1/2 cup oat* milk
1 tsp carob powder
* You can use any milk that froths reasonably well, but as a dog's digestive system often doesn't do well with dairy, I prefer to use non-dairy milks.
Oat milk is a supreme 'frother' and my dogs really enjoyed licking up the frothy hot chocolate. If you'd rather make it less frothy try soy or almond milk instead.
TOPPINGS (optional)

Obviously marshmallows aren't a good choice for dogs, but if you'd like to add a topping to your dogs chocolate-y drink, here are a few suggestions. Feel free to use any of them, or be creative and add your own spin!
1/4 tsp carob powder
1/8 tsp cinnamon
Drizzle of honey
Sprinkle of unsweetened, shredded coconut
Instructions
In small jug, mix carob powder with 1/4 cup oat milk
Heat/froth* remaining 1/4 cup of oat milk
Reserve 2tbsp of foam and mix remaining heated milk/foam with carob/oat milk mixture
Serve in appropriately sized bowl
Top with reserved foam
Add topping if desired
Always remember to check and make sure your dog safe hot chocolate is at a safe temperature for your dog before serving!
I used my Nespresso milk frother for this (I LOVE some froth on my coffee so I already had it in the kitchen), but there are other options including hand-held battery powered frothers like this one or this one. For under $10 this one has great reviews on Amazon.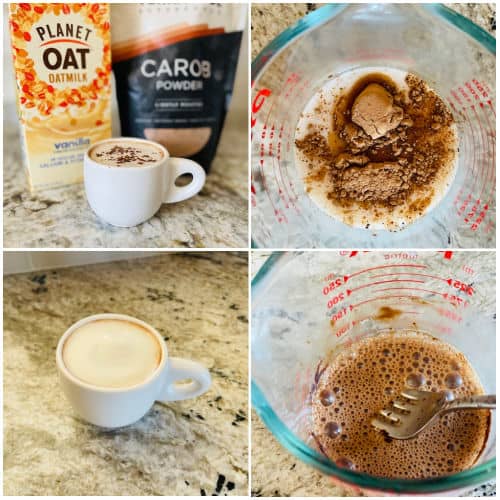 Half a cup of milk makes a nice little treat for a medium sized dog, or enough for two tiny ones. Bigger dogs will need more, so adjust to suit.
Nutrition Facts Per Treat:
Servings: 1 
Serving size: 1/2 cup
Calories per serving: 81
Total Fat: 1.3 g
    Saturated Fat 0.8 g
Total Carbohydrates: 15.7 g
    Dietary Fiber 1.7 g
    Total Sugars 11.8 g
Protein: 2.3 g
Vitamin D: 1 mcg
Calcium: 195 mg
Iron: 1.0 mg
Potassium: 60 mg


You Might Also Like These pages...