No Bake Peanut Butter & Carob Dog Treats
This super simple, no bake, peanut butter and carob dog treats are nutritious and delicious.
They combines the nuttiness of peanut butter, with the the goodness of rolled oats and coconut oil, rounded off with just a hint of sweetness from the carob chips. Yum!
This yummy no bake dog treat recipe uses only four ingredients, and because there's no baking involved it takes literally minutes to make a batch of these tasty treats for your dog to enjoy.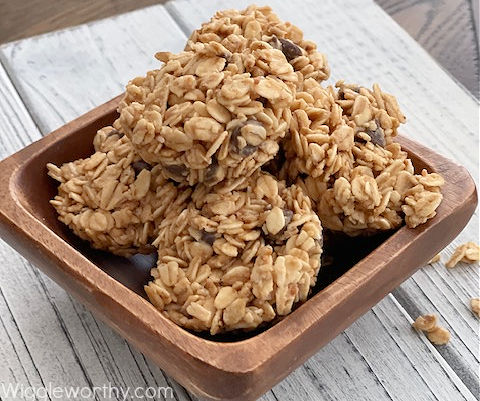 Although carob isn't as sweet as chocolate (which we all know is deadly poisonous to dogs, right?) these mini treats taste so good I usually help myself to a couple before my  'taste-testers' get their teeth into them!

Ingredients List
2 cups rolled oats (I like to use extra-thick oats but any rolled oats will work)
4 - 5 tbsp peanut butter
1/2 cup virgin coconut oil
1/3 cup carob chips
Yield:
This recipe makes approximately 18-20, 1 1/2" treats
Instructions
Put coconut oil, peanut butter, rolled oats and carob chips into a large mixing bowl
Combine ingredients well using a fork
Using your hands press mixture into silicone mini cup cake or mini muffin pan**
Refrigerate for forty-five minutes
Remove from silicon pan and store in airtight container in the refrigerator for up to 10 days
And that's it! This is one of the quickest and easiest dog treat recipes on my site.
** I use a silicone mini cupcake/muffin pan for these treats, but this bite sized silicone brownie mold would also work well.
These are fairly substantially sized treats, big enough to need chewing!  My 120lb German Shepherd enjoys them, and doesn't just try to swallow them whole the way he does with some smaller treats.
I figure that one at a time is probably enough, even for a fella as big as he is! Got to watch that waistline right?

You can mix it up a bit with the ingredients...
You can use other nut butters such as almond butter or cashew butter in this recipe. It's just a straight swap!
If you don't have carob chips, shredded coconut makes a good substitution. Sometimes I use sunflower seeds (without the shells obviously!). Either way it's also a straight swap in terms of the amount used.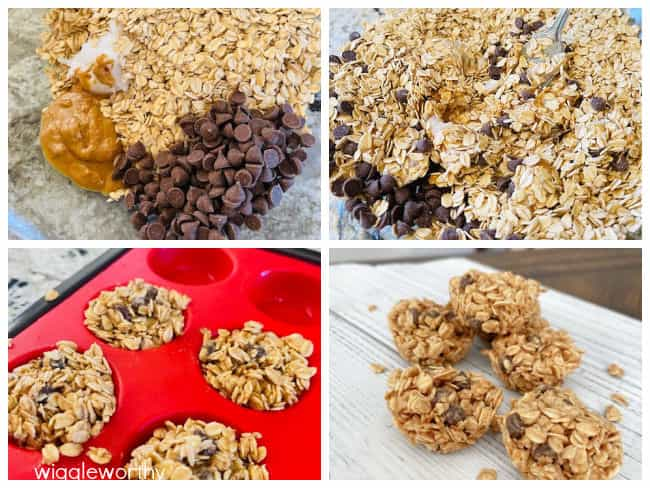 Because coconut oil becomes more liquid at room temperature, don't expect the oat mixture to stick together to any great degree, or to form a dough.
I use extra thick rolled oats, regular old fashioned or rolled oats will make a mix that holds together a little better.
Whichever you use, just press the mixture into the mini muffin cups and the cold of the refrigerator will work it's magic on the coconut oil and your treats will pop right out after being refrigerated!
Nutrition Facts Per Treat:
Servings: 20 (one treat per serving)
Serving size: 27 g
Calories per serving: 120
Total Fat: 7.7 g
    Saturated Fat 5.2 g
Total Carbohydrates: 8.0 g
    Dietary Fiber 2.5 g
    Total Sugars 1.3 g
Protein: 2.6 g

Vitamin A:  0.25 IU
Vitamin B3:  0.7 mg
Vitamin E: 0.25 mg
Calcium: 6 mg
Iron: 1.2 mg
Potassium: 40 mg

You Might Also Like These pages...
No Bake Peanut Butter Carob Dog Treats