Easy Dog Treat Recipe with Salmon
My dogs love salmon, and tuna, so an easy dog treat recipe with salmon is a no-brainer for a win in my house!
Salmon is a healthy source of protein, plus it's packed full of Omega-3's, essential vitamins and minerals, plus amino acids.
This means it can support a healthy immune system, help decrease inflammation, improve joint health and brain function.... as well as improving the condition of your dog's skin and coat. It's a powerhouse.
When combined with the other healthy and wholesome ingredients in this recipe, these salmon dog treats are a guilt-free way to reward Fido for being a good boy, or just for existing!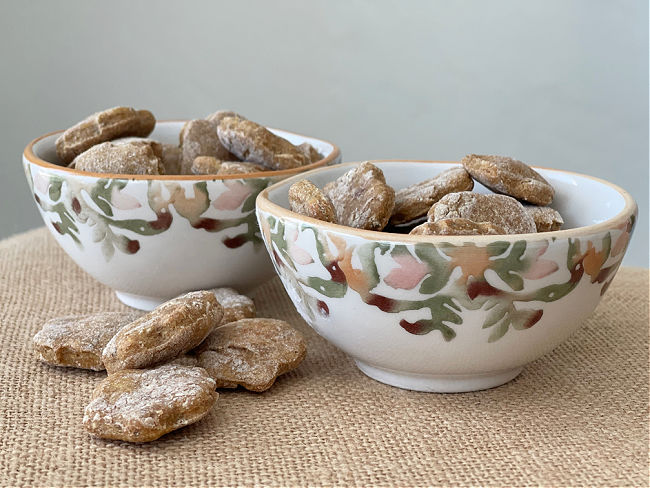 Yield:
This recipe makes approximately fifty 1.5" treats
Ingredients
1 1/2 cups whole wheat flour
One 6oz can of salmon
2 eggs
2  tbsp nutritional yeast (about this HERE)
1 tsp chia seeds
1 tbsp oat milk
Although I used salmon for these treats, you can easily substitute tuna instead. Choose fish that is canned in water and contains no added sodium.
You could also use fresh salmon as long as it's fully cooked (ie well done) to make sure any parasites or bacteria are killed before eating.
Mercury in Salmon & Tuna
Salmon and tuna are two types of fish which are known to potentially contain mercury and other contaminants, but of the two, salmon contains significantly lower levels of these and would be my first choice. 
Experts and nutritionists believe both salmon and tuna are safe for dogs to eat when given in moderation. You can feed canned or fully cooked salmon to your dog in small amounts (or in treats like these ones), but only use CANNED tuna, not raw or cooked.
Mercury isn't the only issue with giving your dog fresh fish because they sometimes contain parasites and bacteria that can cause sickness. These nasties are eliminated when the fish is cooked thoroughly all the way through. 
Because there is only 6oz of salmon or tuna in this dog treat recipe, and it yields approx. 50 treats, there's a very small amount of fish in each treat (or even in a day's allowance of treats!).
Instructions
Preheat oven to 350F
Line baking tray with parchment or silicone baking mat
Mix together dry ingredients in large bowl
Mash salmon in separate, smaller bowl
Add mashed salmon to dry ingredients 
Add egg and oat milk/water to dry ingredients and salmon
Stir thoroughly using wooden spoon until ingredients are blended
Form into dough adding extra flour if needed*
Turn dough out onto well floured surface (I use a silicone baking mat)
Press flat using hands and then roll out to approx 1/4" thickness
Cut treats into desired shape and place on baking tray
Bake at 350F for approx 15 minutes** (

they will 'puff up' slightly as they bake)

Remove treats from oven and place on cooling rack

Allow to cool completely

Store in airtight container in the refrigerator for up to one week
* This recipe produces a robust, slightly sticky dough. Use enough flour to prevent it from sticking to the surface or rolling pin and flip it over a couple of times as you roll it out.
** This baking time is for treats sized approx. 1 1/2" - 2". For larger treats you'll need to increase that baking time appropriately
CLICK HERE to learn more about the best ways to store all kinds of homemade dog treats.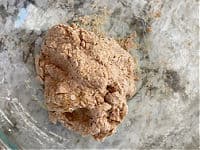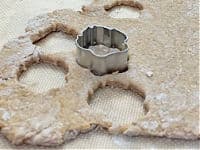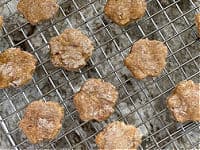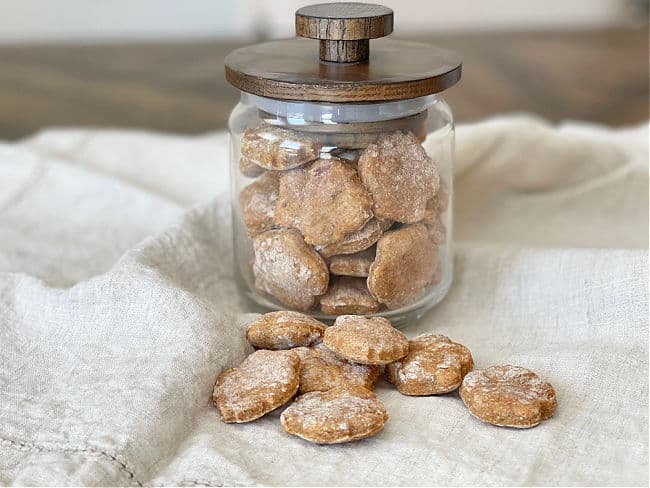 Nutrition Facts Per Treat:
Servings: 50 (one treat per serving)
Serving size: 23 g
Calories per serving: 41
Total Fat: 1.7 g
    Saturated Fat 0.4 g
Total Carbohydrates: 2.9 g
    Dietary Fiber 0.5 g
    Total Sugars 0.07 g
Protein: 3.6 g

Vitamin A: 64 IU
Vitamin B3: 0.8 mg
Vitamin D: 72 IU
Vitamin E: 0.3 mg
Calcium: 24 mg
Iron: 0.4 mg
Magnesium: 9 mg
Manganese: 0.2 mg
Phosphorous: 63 mg 
Potassium: 59 mg
Sodium: 50mg
Zinc: 0.3 mg
You Might Also Like These pages...
Easy Dog Treat Recipe With Salmon