Cottage Cheese and Chicken Broth Dog Treats
These easy to make cottage cheese and chicken broth dog treats pack a healthy nutritional punch, but all your dog cares about is that they smell and taste delicious.... which they do!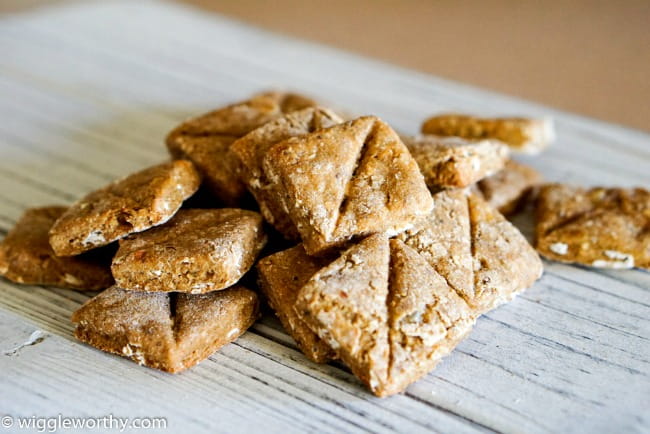 Brewer's Yeast
Brewer's Yeast is rich in a whole range of B vitamins plus essential antioxidants and minerals, the combination promotes healthy organ function, is beneficial for skin and coat, and may help reduce anxiety in dogs as well as repelling both fleas and ticks. 
A fairly strong smell and an equally strong, slightly bitter, taste is appealing to dogs who seem to love that combination!
Brewer's yeast is not recommended for dog with diabetes, dogs with yeast problems and is also fairly high in calories, so if your dog suffers from diabetes, chronic yeast or is overweight I would suggest replacing the brewers yeast by either doubling the amount of nutritional yeast, or replacing it with wheatgerm, peanut butter powder or some other similar ingredient.
Sometimes brewer's yeast can cause a dog to be extra-gassy or have a slight tummy upset, so keep an eye open for this side effect. Recommended dosage of brewer's yeast for dogs is 1/2 tsp per 10 lbs of body-weight per day. 
In this recipe each treat contains approx. 1/4 tsp of brewers yeast, so for a 10 lb dog two treats would put him at the recommended daily dose. For a 20 lb dog it would be four, and so on. Of course, treats are only to be given sparingly and shouldn't exceed 10% of your dog's total daily diet.
Ingredients List
1 cup whole wheat flour
1 cup oat flour
1/4 cup rolled oats
1/2 cup chicken bone broth
1/4 cup brewer's yeast
1/4 cup nutritional yeast
4 tbsp low fat cottage cheese
3 tbsp ground flax seeds
1 egg
1/2 tsp baking powder
1/4 tsp pink Himalayan salt
Yield:
This recipe makes approximately fifty-six, 1 1/4" square dog treats
Instructions
Preheat oven to 350F
Line baking tray with silicone baking mat
Combine both flours and rolled oats in a large bowl
Add nutritional yeast, brewers yeast, ground flax seeds, baking powder and salt to flour/oat mixture and stir well until thoroughly mixed
Make well in center of dry ingredients and add cottage cheese and egg
Stir wet ingredients into dry
Add chicken bone broth a little at a time and stir until dough forms
Use hands to knead dough until workable
Turn dough out onto floured wax paper
Use lightly floured rolling pin to roll dough out to approx. 1/4" thickness
Cut into desired treat shapes using cookie cutter or sharp knife
Bake at 350F for 20 minutes
Remove from oven and allow to cool completely
Keep in airtight container in refrigerator for 5 - 7 days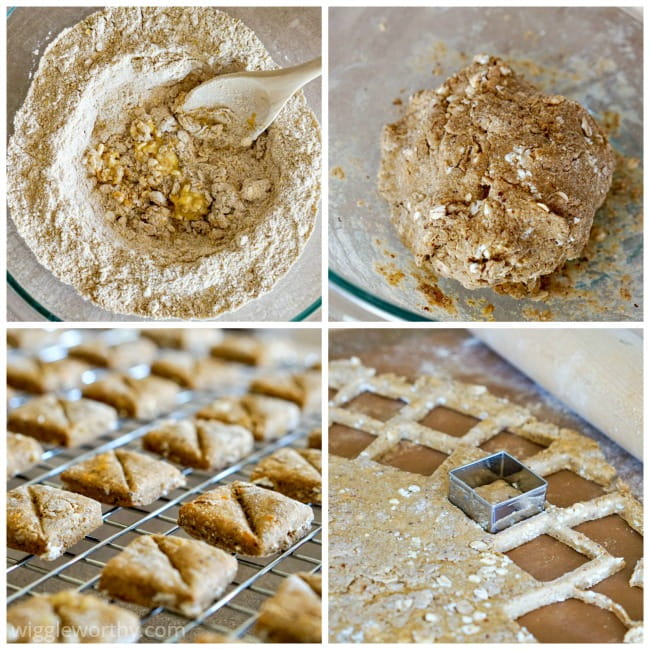 I used a sharp knife to score these treats diagonally before baking them, that way they're easy to break in half when baked. This helps me give my boys treats more often, without spoiling them. You can do this with any shaped dog treat, sometimes if I bake big treats I divide them into three or four pieces this way.


Nutrition Facts Per Treat:
Servings: 56 (one treat per serving)
Serving size: 11 g
Calories per serving: 23
Total Fat: 0.4 g
    Saturated Fat 0.1 g
Total Carbohydrates: 3.6 g
    Dietary Fiber 0.6 g
    Total Sugars 0 g
Protein: 1.2 g

Vitamin A: 11 IU
Vitamin B1: 0.4 mg
Vitamin B2: 0.3 mg
Vitamin B3: 2.15 mg
Vitamin B5: 0.2 mg
Vitamin C: 0.1 mg
Vitamin D: 1 IU 
Vitamin E: 0.6 mg
Calcium: 5 mg 
Magnesium: 12 mg
Manganese: 0.2 mg
Phosphorous: 59 mg 
Potassium: 36 mg
Zinc: 0.3 mg


You Might Also Like These Recipes...
Cottage Cheese & Chicken Broth Dog Treats