No-Bake Peanut Butter Oat Dog Treats
Delicious no-bake peanut butter oat dog treats that are packed full of nutritious ingredients and super easy to make.
As an added bonus, the recipe is versatile enough to customize ingredients and shape/size of treats.
I used creamy peanut butter, quick-cook oats, dried cranberries and ground chia seeds to make these quick and easy dog treat bars.
If you're looking for a healthy, tasty dog treat recipe that involves zero baking and has minimal prep time, this could be the one!
Ingredients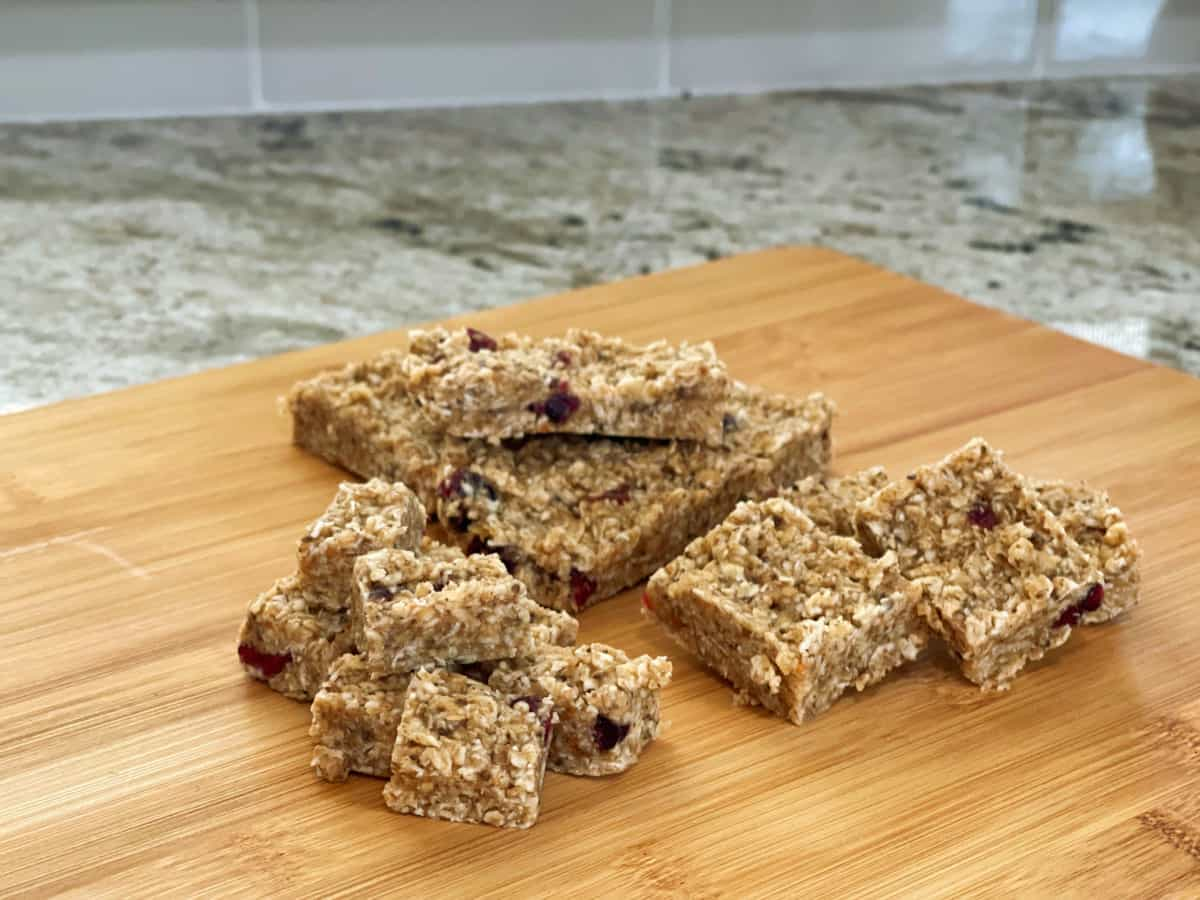 2 cups quick-cook oats
1/2 cup unsalted butter
1/2 cup peanut butter (smooth or crunchy)
2 tbsp chopped, dried cranberries
2 tbsp ground chia seeds
2 tbsp oat milk
1 tbsp dessicated coconut
Yield:
This recipe makes approximately sixty, one-inch square treats.
Instructions
Grease an 8"x8" baking tin or dish
Melt butter on low heat in a pan
Pour melted butter into medium sized bowl
Add peanut butter and oat milk
Beat with whisk until well mixed
Stir in oats and ground chia seeds 
Add dried cranberries and coconut, stir until all ingredients are well mixed together
Turn mixture out into greased tin/dish
Press down firmly to cover bottom of pan to minimum depth of 1/4"
Refrigerate for two hours
Remove from refrigerator and cut into desired size treats
Store in airtight container in refrigerator for 7-10 days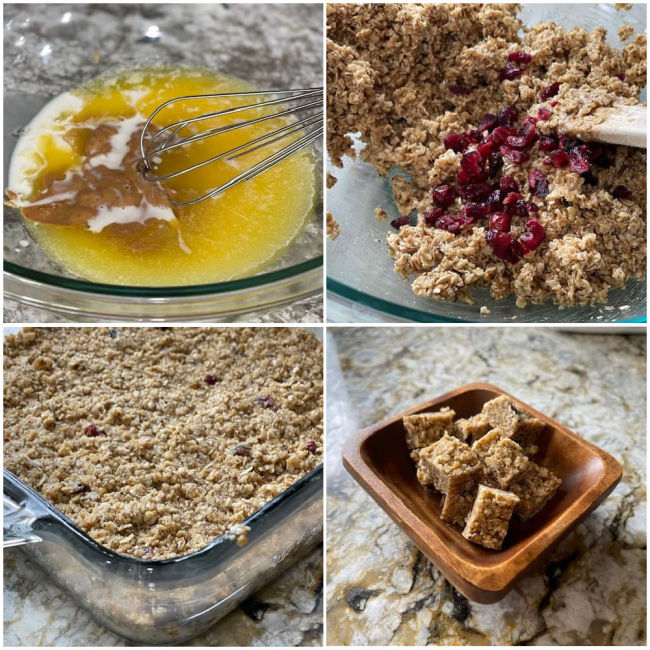 Substitutions and Tips
SUBSTITUTIONS:
For these no bake dog treats you need oats and peanut butter, but the other ingredients can be switched out depending on what you have on hand, and your dog's preferences!
Instead of the ground chia seeds you could try carob powder,  ground flaxseed or wheatgerm.


Switch out the dried cranberries for dried apricots or try crumbled, cooked bacon for a bit of a twist.


Any kind of milk works, I use non-dairy milk as some dogs don't do well with dairy, but regular milk is fine if your dog has no issues with it.
TIPS:
This recipe is versatile and you'd rather make treat balls instead of bars just follow the directions for mixing and then form them into bite-sized balls instead of filling a baking tray/dish.


When making treat balls I omit the coconut from the mixture, increase the ground chia seeds by 1 tbsp, and then roll the balls in coconut instead.


Alternatively you can roll them in carob powder, oats, ground chia seeds, whole chia seeds.. whatever you want, within reason!


When making the bars you can divide the pan up into any size treats. I make smaller ones for the small dogs and slightly larger ones for the big dogs. I find it's easiest to divide it into medium to large sized treats while in the dish, then divide into smaller sized treats on a cutting board once you've removed them.
Nutrition Facts Per Treat:
Servings: 60 (one treat per serving)
Serving size: 11 g
Calories per serving: 40
Total Fat: 2 g
    Saturated Fat 0.9 g
Total Carbohydrates: 4.3 g
    Dietary Fiber 0.8 g
    Total Sugars 0.5 g
Protein: 1.2 g

Vitamin A: 33 IU
Vitamin B3: 1.7 mg
Vitamin C: 0.2 mg
Vitamin D: 1 IU
Vitamin E: 0.6 mg
Calcium: 8 mg
Folate: 4 ug
Iron: 0.3 mg
Magnesium: 12 mg
Manganese: 0.3 mg
Phosphorous: 35 mg 
Potassium: 33 mg
Sodium: 33 mg
No Bake Peanut Butter Oat Dog Treats