Low Calorie Carrot Dog Treats
These low calorie carrot dog treats are full of healthy, tasty ingredients, so you can give them to your dog without worrying about his waistline!
Carrots are rich in vitamin A and fiber, while being low in both calories and fat, this makes them a healthy and tasty ingredient that's perfect for low calorie diets.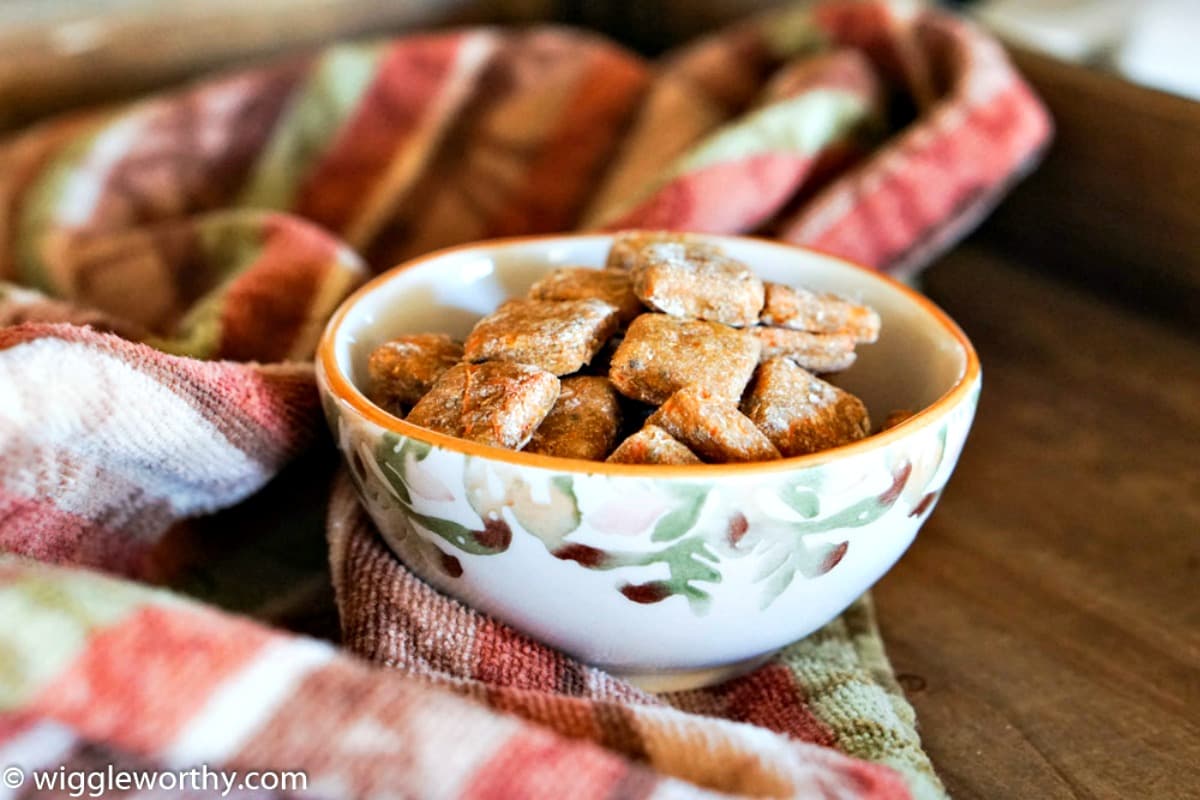 According to recent statistics from the Association for Pet Obesity Prevention, over 50% of dogs in the USA are either overweight, or obese, which is a contributing factor to many serious, even potentially life-threatening canine health conditions.

Feeding your dog a healthy diet and making sure he gets enough exercise are vital to maintaining a healthy weight, but monitoring the treats and 'extras' he gets is also important. Check out this page for more information on low calorie dog treats including baking tips.

Try this simple, no-frills, homemade dog treat recipe and indulge in some guilt-free dog spoiling.
Ingredients List
2 cups whole wheat flour
1 cup finely shredded carrots*
1 egg white
Approx. 1/2 cup bone broth
2 tbsp unsweetened applesauce
1 tbsp chia seeds
* I prefer to finely shredded carrots for this recipe because it makes cutting out small treats easier!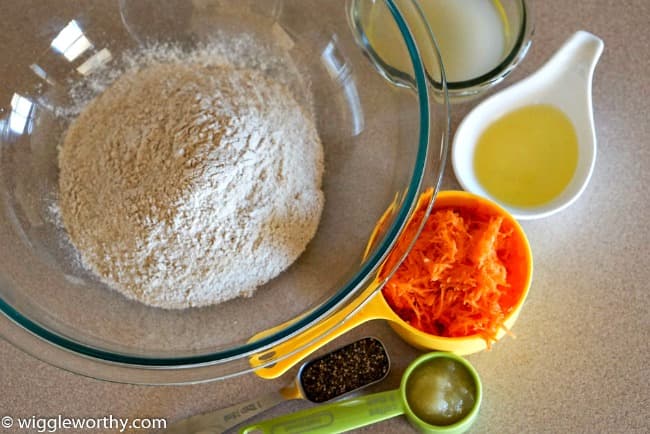 Yield:
This recipe makes approximately one hundred and twenty-five 3/4" square dog treats.
Instructions
Preheat oven to 350F
Line baking tray with silicone baking mat
Shred carrots (finely)
Put flour into large bowl
Add shredded carrots to flour 
Stir and toss until carrots are mixed in and flour-coated
Add chia seeds to flour/carrot mixture and stir well
Add egg white and applesauce to flour mixture
Mix all ingredients together until blended
Add bone broth, a little at a time, until mixture sticks together
Use hands to form dough, adding more liquid/flour as needed
Turn dough out onto floured wax paper
Use floured rolling pin to roll out to approx. 1/4" thickness
Cut treats into small shapes using tiny cookie cutters or a sharp knife
Bake at 350F for 15 - 20 mins
Remove from oven and allow to cool completely
Store in airtight container in the fridge for up to one week
For crunchier treats turn off oven and leave treats inside for 1-2 hours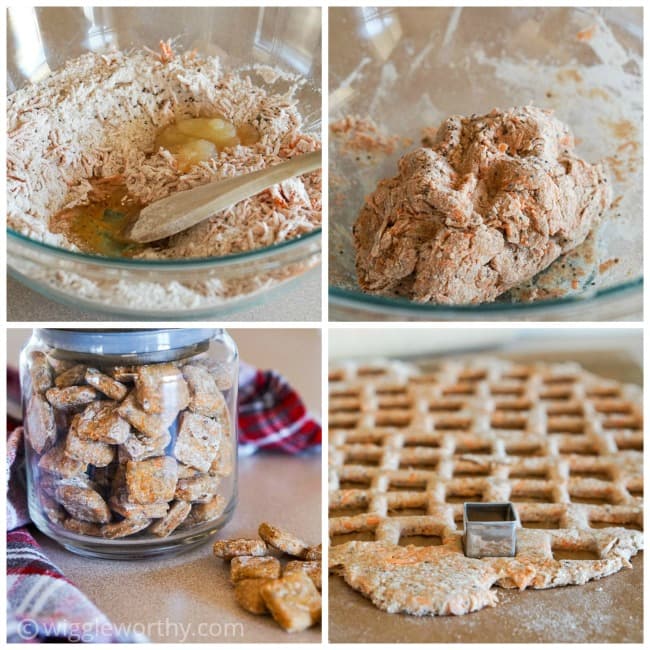 FYI....
These treats do NOT keep well outside of the refrigerator so please don't store them in the pantry, or on the kitchen counter. 

Nutrition Facts Per Treat:
Servings: 125 (one treat per serving)
Serving size: 4 g
Calories per serving: 8
Total Fat: 0.08 g
    Saturated Fat 0.01 g
Total Carbohydrates: 1.5 g
    Dietary Fiber 0.3 g
    Total Sugars 0.07 g
Protein: 0.3 g

Vitamin A: 147 IU
Vitamin B3: 0.1 mg
Vitamin C: 0.1 mg
Calcium: 2 mg
Iron: 0.08 mg
Magnesium: 3 mg
Phosphorous: 8 mg 
Potassium: 11 mg
Zinc: 0.06 mg


Low Calorie Carrot Dog Treats
Low Calorie Carrot Dog Treats