Cashew Butter & Banana Dog Birthday Cake
This cashew butter and banana dog birthday cake is full of wholesome, tasty, nutritious ingredients, so you can spoil your dog on his big day totally guilt-free!
It's a deliciously moist cake that keeps well in the refrigerator, so your pup can snack on it for days.
Cashew butter is a smooth, creamy alternative to peanut butter and pairs so well with bananas. Of course, it's easy to substitute peanut or almond butter instead if you'd rather.
About cashew butter for dogs...
One important thing to know about cashew butter is that dog's CAN'T have raw cashew butter. It can contain toxins that could make them very sick.
Cashew butter made from cooked or roasted nuts is perfectly fine (cooking destroys any toxins if present). 
Also, as with peanut butter, check the ingredient label to make sure the nut butter you're using does NOT contain Xylitol (a natural sugar alternative that is extremely poisonous to dogs).
Check out this page to find out more about which nut butters are the best to use in your dog treat recipes.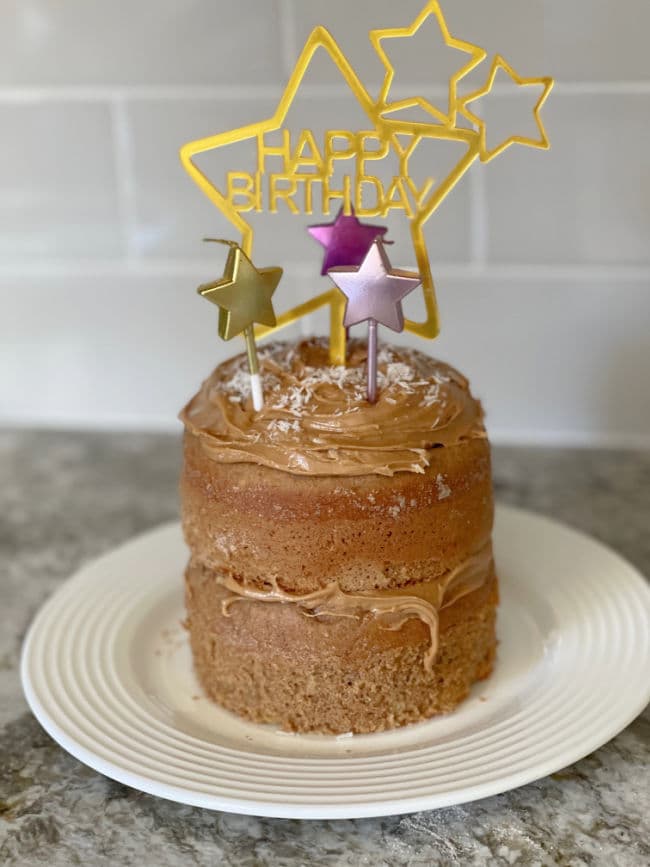 Ingredients List
1 1/2 cups whole wheat flour
2 ripe bananas (mashed well)
1/4 cup cashew butter 
1/3 cup honey
2 eggs
2 1/2 tsp baking powder
1/4 cup virgin olive oil
3/4 cup cashew milk
1/2 tsp cinnamon
TOPPING 
3 tbsp cashew butter
1 tsp honey
1/4 tsp of unsweetened, shredded coconut (optional)
Substitutions:
If you want to make this cake but don't have cashew butter, peanut or almond butter will work just as well. 
Same for the milk, substitute almond or soy, or whole or 2% cows milk instead. 
Yield:
This recipe makes three 4" round cakes, with a little left over, so a few small cupcakes are also an option.
I divided each cake into six, for a total of 18 portions.
Instructions
Preheat oven to 350F
Grease and flour cake pans
Put bananas in large bowl and mash well with a fork
Add cashew butter, honey and eggs and mix well until smooth
Fold in flour and baking powder
Add milk and beat well
Divide batter between cake pans (this is enough for three, 4" pans, each one 2/3 full)
Bake for 30 - 35 minutes until cakes have risen, and toothpick comes out clean
Place cake pans on cooling rack and leave until cool to the touch
Run a knife between edge of cakes and pans
Turn out onto cooling rack and allow to finish cooling completely
Topping & Decorating Instructions
Mix the cashew butter,  honey and cinammon together in small bowl
Swirl this 'frosting' on to top of cake using spatula or knife
Decorate with sprinkling of unsweetened coconut
Now just add candles and decorations and you're ready to help your good boy (or girl) celebrate her birthday!
Notes:
I like to use the 4" round cake pans for dog birthday cakes because they're a great size, and look super cute when decorated.
You can either frost and decorate each 4" cake separately, or double-stack them as show above.  I just used a little cashew butter to sandwich them together.
Once you're ready to divide up the cake, separate layers first and divide each layer into six portions.
If you only use one cake you can keep the others in the fridge for up to a week, or even freeze them for another special occasion!
Also, don't forget that you can use any pupcake recipe on this site to make a birthday cake for your dog! All you need to do is use baking pan/s instead of cupcake pans, and increase baking time :)
Nutrition Facts Per Treat:
Servings: 18 (one treat per serving)
Serving size: 58 g
Calories per serving: 150
Total Fat: 7.8 g
    Saturated Fat 1.5 g
Total Carbohydrates: 18 g
    Dietary Fiber 1.6 g
   
Total Sugars: 7.6 g
Protein: 3.9 g

Vitamin A: 78 IU
Vitamin C: 1.2 mg
Vitamin D: 2 IU
Vitamin E: 0.6 mg
Vitamin K: 2.1 micrograms
Calcium: 54 mg
Iron: 1.1 mg
Magnesium: 36 mg
Phosphorous: 141 mg 
Potassium: 222 mg
Sodium: 18 mg


You Might Also Like These pages...
Cashew Butter Banana Dog Birthday Cake